Tuesday, November 1, 2016
By Cory K. Doviak
NJS.com Editorial Director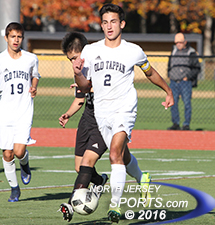 Peter Livanis scored with just over four minutes left in regulation to snap a tie and give Old Tappan a 2-1 win over Tenafly in the opening round of the North 1, Group 3 state sectional playoffs.
OLD TAPPAN – Getting a high seed and a home game in the state tournament are the perks that come after a successful regular season, but in the North 1, Group 3 bracket, that is about the extent of the advantage gained. Seeds in this section are little more than a suggestion, a number used to determine which team gets to wear the white jerseys. Northern Valley/Old Tappan knows that anything can happen when one of these teams gets hot at the right time just like it did last year when it came from the No. 12 seed to win the program's first-ever state sectional championship.
It opened defense of its title on Monday as the No. 4 seed against No. 13 Tenafly, as dangerous a double-digit seed as there could be in North Jersey.
"There is not really too many places to hide in the North 1, Group 3," said Old Tappan head coach Mark Torrie. "To get Tenafly in the first round just shows you how tough it is and if you want to win it you have to play everybody. You are going to get a tough opponent no matter what round it is."
Tenafly did prove to be dangerous as it scored the lone goal of the first half on a pretty combination, but Old Tappan used a little bit of luck and a trusty target up top to fight back for a 2-1 win and a spot in Thursday's quarterfinal round against No. 5 Cliffside Park, a 2-0 winner over Nutley in other first round action.
Senior Peter Livanis' 21st goal of the season with just over four minutes remaining in regulation proved to be the game-winner.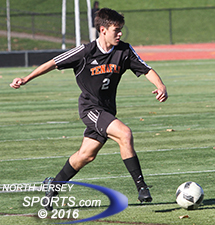 Alexios Avrassoglou scored in the 21st minute to give Tenafly the lead.
"I am just happy that we are moving on. That is all I am really thinking about," said Livanis. "At this point of my senior year I am just happy to have one more game, one more practice."
Old Tappan had a golden opportunity to dampen Tenafly's spirits less than two minutes into the game when Livanis stayed onside on a looping ball played in from the back in the middle of the field. Livanis' scoring chance went over the bar and there was another near miss in the 18th minute when Michael Patullo's well-cut, left-footed cross was just a couple of inches too high for the head of Livanis, who was making a far post run.
Instead of playing from in front and sowing the seeds of doubts in a Tenafly team that it swept during the regular season and upset during last year's playoff march, Old Tappan found itself behind just past the midway point of the opening half.
Kiren Kapadia got free down the left and stepped over the slide tackle of the last defender to open up the goal for sophomore Alexios Avrassoglou, who had little work left to do. His tap-in with 19:08 left in the opening half stood up until halftime and beyond. Old Tappan's last best look of the first half was a thumping rip of the second ball off a Colin Eifert long throw, but Joe Moon's rocket landed in the midsection of Tenafly senior keeper Jude Zeino in the 28th minute.
Had it been in arrears much longer, desperation might have set in for the home team. Trailing for too long in a win-or-go-home scenario can lead to rushed decisions and maybe a bit of panic. That never happened to Old Tappan because Bradley Johnson decided to twist one up in the wind in the general direction of the Tenafly goal seven-and-a-half minutes after the intermission. Johnson was not exactly going for goal, but the ball somehow ended up in it.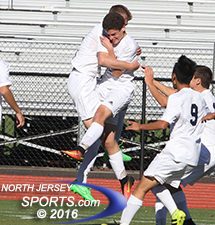 Bradley Johnson gets a hug after his unlikely goal got Old Tappan even at 1.
It was a whacky way for Johnson, a junior, to pick up his first goal of the season and his first since playing on the freshman level two years ago. Some good fortune and Old Tappan was right back even.
"It was crazy that that went in, but I will take it. You could look at it as that was the best goal I have scored all year," said Johnson. "Patullo gave me the pass and I saw defender coming and I just wanted to get the ball in toward the box as fast as I could. I never expected it to go in."
It did and then it was a 32 minute sprint to the finish. Tenafly had the next two chances, the first of which was the better. Kodai Ueyama set up Kapadia, who had time to pick a corner at the back post, but the shot finished high and wide. The other chance came six minutes before time when Brian Guevara barged in as the Old Tappan back line was deciding who should clear the ball out. Guevara tried to chip the keeper, but Jake Fiore held his line and watched as the ball went over.
The clock was ticking down toward four minutes when Anthony Contreras played a perfectly weighted ball to Livanis, making his patented skinny post run, and the senior striker finished into the lower right to give Old Tappan its first lead, the only one it needed.
"Danny Yun came down the right side and crossed it to Anthony and he gave me a really nice ball right in front of me. All I had to do, really, was hit it in," said Livanis. "There are a lot of key players on this team and I do not have to do everything myself. I just trust my teammates to find me and then it is my job to finish it."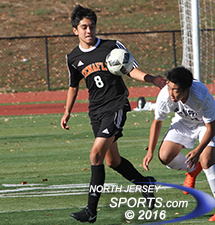 Kieran Kapadia assisted on the goal for Tenafly, which finished its season with an 8-9-1 record.
The loss ended Tenafly's season with an 8-9-1 record. The Tigers won a game in the county tournament and gave Old Tappan a scare before bowing out.
"We played well in the first half and we had some opportunities to get in behind them that we did not finish on to go up 2-0 and that could have changed things a little bit," said Tenafly head coach Bill Jaeger. "It was the story of our season a little bit. We made a little bit of a mistake and we paid the price. We had chances to put the game away for ourselves; they had chances before they won the game that we survived. It was going back and forth and I am proud of the way we battled. That is a complement to our players and a compliment to Old Tappan. Nobody gave up."
The manner of victory in the state playoffs is of no consequence. The win is the thing and Old Tappan (10-5-2) is moving on to the quarterfinals against Cliffside Park in a rematch of a highly-entertaining county tournament quarterfinal played three weeks ago and won in comeback fashion by Old Tappan.
"I knew this was going to be a tough game and I was not looking past it at all. I didn't even know who we would play next," said Torrie. "We had to get this one first and now we can look ahead."
CLICK HERE FOR MORE PHOTOS FROM THIS GAME. TO BUY A COLLECTOR'S PRINT OF THIS STORY, PLEASE VISIT 4FeetGrafix.com.