Sunday, October 30, 2016
By Cory K. Doviak
NJS.com Editorial Director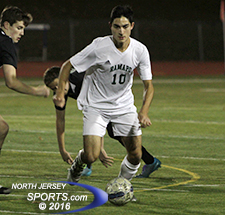 For the second time in three years, Ramapo's Sebastian Varela scored the game-winning goal in the Bergen County Tournament final. This time it was an overtime volley in a 2-1 win over Pascack Valley on Saturday night in Oakland.
OAKLAND – The exact math is impossible to do without major research that is just not possible during the busy season of playoff soccer, but we can guesstimate. The Bergen County Boys Soccer Tournament has been held every year since 1972; that much we know courtesy of the program handed out at this year's final held on Saturday night at Indian Hills High School.
In its early form, fewer teams were included in the tournament draw, but has grown in recent year's so let's say the average is about 15 teams per year have been chosen for inclusion. That is about 675 teams that have been included and, if we guess that there have been an average of about 22 players per roster, the number of participants might be somewhere around 14,850.
Anyway, you get the idea…a lot of kids on a lot of teams over a lot of years have played in the county soccer tournament and the chances of being the one who scored the game-winning goal in any of the championship matches over the last 45 years are extremely remote.
Get this…Ramapo junior Sebastian Varela has now done it twice.
Varela came up with a crafty toe-poke to beat Northern Highlands in the 2014 final and this time he showed similar creativity and touch with less than 10 seconds to go in the first overtime against Pascack Valley. On the end of Noah Kilday's chipped-in cross from the right flank, Varela volleyed home a cracker from inside the 6-yard box to give Ramapo a 2-1 win in what was one of the best championship matches played in tournament history.
"I am just so thankful for those moments. I give the credit for this victory to the entire team for everything they did leading up to [the goal]," said Varela. "It takes a total team effort to get into this kind of position in a tournament and a game and I guess I just got lucky twice."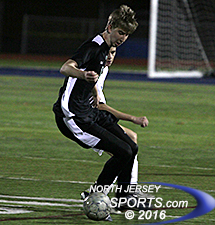 Michael Lin scored in the 10th minute to give Pascack Valley a 1-0 lead.
There was no luck involved as it was a skillful build-up that led to the game-winner as Kilday took possession from open play in the midfield and surveyed his options from the right side with time winding down.
"Coach [Evan Baumgarten] was on me all game to stay wide, to keep the defense stretched wide. I got the ball, the defender came to me and I cut the ball inside so I could use my left foot," said Kilday, a senior outside mid. "I chipped it over. I was just trying to do whatever I could to get [Varela] the ball because it was a tough game, a long game and my legs were starting to go."
Kilday's serve had the perfect arc to clear the defender sent to cover him and still fall in time to find the foot of Varela, who one-timed it. Varela had been the focus of the stout Pascack Valley defense all game long and he was far from standing there all by himself. All of the traffic made it tough on PV keeper Josh Ulin, who was probably screened. If he hadn't been, he likely would have made another in a long line of brilliant stops he had made over the first 89 minutes and 55 seconds.
"I don't remember it too well, but it was a high cross that came in and two guys went for a header. It popped out and I was right on the penalty spot," said Varela. "I just hit it as hard as I could on the volley and it went in."
Varela's name is now stamped in county tournament lore and so is that of the Ramapo program, which became just the second to win three straight Bergen County championships and the first to do it since Ridgewood 3-peated from 1973-75. The Green Raiders won their 12th title to break a tie for best all time with Don Bosco Prep and Baumgarten has now won 10 as the Ramapo head coach, another tournament record.
But there is one player who did not have a goal or an assist who deserves just as much or more of the credit for the win. He is Ramapo junior defender Connor Finn, who was right where he was supposed to be a minute-and-a-half before Varela ended the contest in style.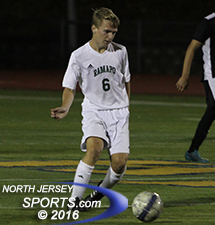 Senior Noah Kilday scored the equalizer and assisted on the game-winner for Ramapo, which won its third straight county title.
Pascack Valley, which had a 1-0 lead at halftime and had been dangerous on the counterattack all night long, put together another dangerous rush with two minutes left in the first overtime. Michael Lin ran through a ball in the midfield circle, knocked it forward and was in on a diagonal run to the left. The Ramapo defense was in scramble mode when Lin sent a perfect serve across the face of goal to set up senior Ryan Miller, who has built his reputation on back posts runs over the last three years.
Miller took the ball down and had the keeper beaten with a shot back toward the first post, but by that time Finn had taken up his station on the goal line and cleared the ball of the line with one swing of his right boot. Without that fundamental play, it would have been PV celebrating its first county championship since winning the only one in program history back in 1994. That was a 2-1 overtime win over Tenafly and that would have been the final score line again had Finn not interceded.
"Honestly, it was just right place, right time. I recovered to my spot and just cleared the ball. That is my job in that situation," said Finn. "It was crazy. At first I was kind of in shock that they got that close to ending it and then we turn it around a minute later. When Seb [Varela] scored I just lost it. It was a great feeling."
Both teams came in undefeated and both were coming off thrilling semifinal victories. Pascack Valley beat Bergen Catholic in a shootout, while Ramapo came back from a one-goal halftime deficit to beat Northern Valley/Old Tappan. They have proven to be the two best teams in the county through a season's worth of effort and this final was played at a high level of skill by both sides, nothing like last year's semifinal won comfortably by Ramapo.
Ten minutes in Pascack Valley showed just how dangerous it could be on the counter when Miller stepped to a ball, got forward and forced a Ramapo foul in an advantageous position. The free kick led to a corner kick and then to a pile up in front of the Ramapo net and eventually to a Michael Lin goal that gave the Indians a 1-0 lead.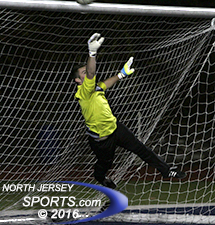 Senior keeper Josh Ulin was brilliant all night for Pascack Valley, which will need to rally in time for its state playoff opener on Monday against West Essex.
Pascack Valley was flooding the middle of the park to force Ramapo find alternate paths to goal and it was effective early even though it was the Green Raiders who had most of the possession. When Justin Schaumberger, PV's junior holding midfielder and a stalwart in the central defense, went down with a hamstring injury in the 22nd minute and did not return, it forced some changes in the PV alignment and tactics.
"It was a battle. We had to reshift some things pretty early in the match when Justin Schaumberger, who really keeps things cleaned up and organized in front of our back row, sustained a hamstring injury," said PV head coach Roy Nygren. "I couldn't be prouder of the fight in our guys. I think they really challenged and competed."
The Indians' lead help up against the Ramapo pressure well into the second half when a bad touch turned into some good fortune. A bounce of a teammates foot came sent in Kilday on the right and he buried it to tie the score at 1 with 18:12 left in regulation.
There were chances both ways down the stretch with the long throws of PV's Carson Weiss and Ramapo's Eddie Kraebel turning every ball that went into touch into a scoring opportunity. There was not all that much traffic in the middle third as most of the action was in dangerous positions, which only added to the drama of a game played on a high tactical, strategical and emotional level.
It was end to end right down to the end when Finn knocked the ball off his own goal line and Varela finally got the game-winner to go over Pascack Valley's just under six seconds before the two deserving finalists would have lined up to play a second overtime. There would have been no shootout and there probably would have been few complaints had the game ended in a shared championship.
But as it stands now, Ramapo added to its illustrious county tournament history, while PV is left little time to pick up the pieces. The Indians will host West Essex in the opening round of the North 1, Group 3 state sectional playoffs on Monday night in Hillsdale.
"Now we have to focus on the state tournament and it is not an easy thing. We have one day and this hurts. We put in a month of work here [in the county tournament] and now we have one day to get over ourselves and move on," said Nygren. "It's a chance to teach a life lesson here. We cannot live in the past, we have to live in the now and we will put our best foot forward on Monday night."
That same one day is all Ramapo has to soak in the county title and get ready for its North 1, Group 3 opener at home against Morris Hills. Still, there was a couple of minutes available right after the game for some reflection.
"It's just great for all of the kids that have been with us, that they get to be a part of this and can feel proud to be a part of the program," said Baumgarten, whose team won despite the absence of first-year assistant coach Frank Rocchio, who was away without leave. "This was a great game to be a part of. We were up against a great team with a great coach. Roy [Nygren] is a good friend and he is a terrific coach, to be honest a better soccer tactics coach then I will ever be. For us to come out on top is a neat thing."
CLICK HERE FOR MORE PHOTOS FROM THIS GAME. TO BUY A COLLECTOR'S PRINT OF THIS STORY, PLEASE VISIT 4FeetGrafix.com.