Friday, October 14, 2016
By Cory K. Doviak
NJS.com Editorial Director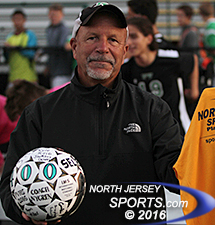 With a 4-1 win at St. Joseph on Thursday, Pascack Valley head coach Roy Nygren has now won 400 games in his career dating back to 1982. He also won a northjerseysports.com 'Player of the Day' T-shirt (right).
MONTVALE – To realize just have far a road he has travelled to get to his 400th career win as a varsity boys soccer coach, consider where Roy Nygren started. The when and where of the beginning of his coaching career was 1982 at Hasbrouck Heights. The when and where of his first coaching victory was three years later as the head coach at Hackensack.
"Three years in Hasbrouck Heights and we did not win a game. We did not win a game in three years because I never counted a forfeit against Leonia when they beat us 11-0, but played with an ineligible player," said Nygren, who is now in his ninth season as Pascack Valley's head coach. "With every team you set your goals and the goal with Hasbrouck Heights was to make sure that we could field 11 guys every game and that is what we did. We practiced after the band practice because we had four band members on that team."
Nygren started from the bottom now he's here as win No. 400 came on Thursday with Pascack Valley's 4-1 win over St. Joseph Regional in Montvale. From Heights to Hackensack to Midland Park to a four-year stint at William Patterson in the college ranks then to Northern Highlands and Don Bosco Prep before PV, Nygren has not only piled up wins, but also gotten through to so many players, past and present.
His lessons have not been lost on kids like Josh Ulin, who was in goal on the day that Nygren won his 400th and who has been a rock in the back for this year's team that is now 9-0 on the season.
"I will definitely remember this for a long time. Coach Nygren is the best coach that I have ever had, he's one of the greatest guys I know and outside of soccer he is a mentor and life coach kind of guy," said Ulin. "He is just a really amazing person and you love him. If you have been fortunate enough to play for him and you don't love him…I just can't see that happening."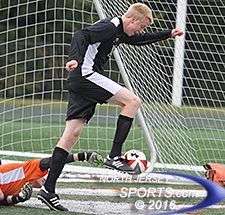 Alex Lin knocking in the first Pascack Valley goal late in the first half.
Year by year, team by team and player by player, Nygren's message has been consistent.
"From [Hasbrouck Heights] all the way to a Bosco team where we were No. 2 in the country, no matter what group you are coaching you are teaching them. Wherever you are coaching it is just finding a way to build your team, getting the players to believe in themselves and get them ready to attack life's challenges," said Nygren. "You want them to be selfless, you want them to sacrifice and know that it is not about them. They are part of a bigger picture and I think that is really important for young kids to understand that they can help others. One of the things that I try to communicate to all of the kids I have coached is that it is their team, take ownership and learn how to compete and work hard and sacrifice. Hopefully they are better husbands and better fathers because of it."
The husband and father part will come later for the 2016 team as its goals are more immediate. After beating Waldwick, 6-1, in the Round of 16 of the Bergen County Tournament and after squeezing in another regular season game on Friday against Teaneck, the Indians will set sail on what is a daunting county tournament task.
As the No. 2 seed, PV will host No. 7 Don Bosco Prep, the team Nygren used to lead and also the one he played for in his high school days, in the quarterfinals on Sunday. Advancement could me matchups with No. 3 Bergen Catholic in the semifinals and a shot at top-seeded Ramapo in the finals if the seeds hold. Ramapo ended PV's county run in last year's semifinal round and plenty of the Indians who played in that game are back for this year's run.
"We are a solid team, a band of brothers and all we want to do is win. We have the motto of 'Treble' and that is counties, leagues and states and we want to start with counties right here in front of us," said Ulin. "We can absolutely do it. We've got a great group of guys who have been through this, we are all pretty much returners and I think we have a pretty good shot."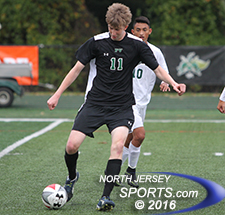 Michael Lin scored twice and set up a goal for Pascack Valley, which will play Don Bosco Prep in the Bergen County Tournament quarterfinals on Sunday.
As for Thursday's game, PV put it away late in the first half with the Lin brothers getting themselves involved. Senior Michael Lin headed on a throw-in and Alex Lin, a sophomore, won the midair joust with the goalkeeper and the tapped in what was left for a 1-0 lead. Three minutes later, Ryan Miller won the endline of the left and laid a short pass back on a tee for Michael Lin, who hammered it home from Close range.
Michael Lin was taken down in the box and converted his own penalty kick two minutes into the second half to make it 3-0 and Alex Lin closed the scoring two minutes later at the end of a free run up the left side. Ulin nearly preserved the clean sheet for himself when, in the final minute of regulation, he saved a penalty kick, but SJR's Ryan Sorrano knocked in the rebound to arrive at the final score.
Pascack Valley is certainly a threat in all three title races that will conclude in back half of the season and it starts with Bosco on Sunday.
"We are a two-seed and this is who we got, so we have to be ready to attack it. You get who you get and I am always a big believer, even when I was at Bosco or at Highlands, you have to find a way to win four [games]. Sometimes it is a bit easier of a road, but eventually you are going to get it or you or not," said Nygren. "That is how we look at it and we are going to embrace our opportunity on Sunday. We like our team, we feel pretty good about ourselves and Bosco is solid right across the board."
CLICK HERE FOR MORE PHOTOS FROM THIS GAME. TO BUY A COLLECTOR'S PRINT OF THIS STORY, PLEASE VISIT 4FeetGrafix.com.