Sunday, October 31, 2010
By Rich Barton
NJS.com Staff Writer
Ben Picache, who scored the game's first goal, getting a celebratory piggy back from head coach Sean Davore after Northern Highlands won its first ever Bergen County boys soccer title with a 2-1 overtime win over Ramapo.
OAKLAND – With a one-goal lead over Ramapo late in the second half of the Bergen County championship game, Northern Highlands' Rami Mamary was already planning in his mind how his team was going to celebrate after winning a county title. But the choreography was put on hold as Ramapo scored the equalizer in the 76th minute and had a potential game-winner with just over a minute left disallowed.
Instead of dancing after regulation, Northern Highlands was clearly reeling after letting the lead slip away. Luckily for the Highlanders, the party started shortly after the overtime did. Just 1:12 into the first extra session, Mamary's header tucked inside the far post to give third-seeded Northern Highlands its first-ever Bergen County title with an exhilarating 2-1 triumph over fifth-seeded Ramapo at Indian Hills High School.
"This is incredible, it means so much to us to work so hard and be able to say we're county champs," said Northern Highlands' P.J. Abplanalp.
Northern Highlands came into the aftermath of its first loss of the season at the hands of Ramapo this past Tuesday. The Highlanders took control as Nick Picache sent a pass out wide to his brother, Ben. With a defender running at him, Ben Picache struck a perfect volley from a tough angle into the upper right-hand corner to put the Highlands ahead 1-0, a lead it carried well into the second half.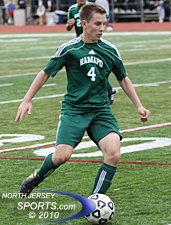 Tom Garrambone's goal got Ramapo all even with 4:25 left in regulation.
Ramapo pressed for the equalizer in the second half and it looked like the opportunity had slipped away when Northern Highlands keeper Nick Palumbo made a diving save of a Chris Nash shot in the 56th minute. Nash hit a rip on the run up the right side and Palumbo dove low and to hit right to keep the Raiders scoreless.
Northern Highlands' defense only allowed one more shot on net over the next 20 minutes. For Ramapo, it was not opportunities that were slipping away, it was time. With less than five minutes to go in regulation, the Green Raiders finally broke through. Vin Brunetti moved the ball through the midfield on the right, found Nash in the middle of the field and Nash sent in a serve that missed everyone's head. Senior Tom Garrambone let the ball bounce over his right shoulder then followed its path, spun and put a low-liner into the back of the net with 4:25 remaining to knot the score at 1.
"Obviously at that point, we knew we were right back in it," said Ramapo head coach Evan Baumgarten. "The game of soccer is all about opportunity. We were able to cash in on our chance late. Give Northern Highlands a lot of credit though, they really regrouped before overtime and took advantage of the first opportunity they had in the overtime."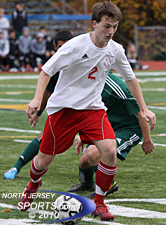 PJ Aplanalp provided the assist on the game winning goal.
It appeared the Green Raiders were about to pull the ultimate shocker as they found the back of the net again with 1:15 to play in regulation. But a foul in the box turned the goal null and void and overtime was needed to either decide an outright winner or a shared county title.
If anyone was carrying momentum into overtime, it was Ramapo and the Northern Highlands' players knew it.
"We knew we had our work cut out for us in overtime," added Abplanalp. "It was a real bummer when they scored, but I knew we would find a way to get a goal in overtime."
Abplanalp did a great job all game long of sending through balls into the corners for either of the Picache brothers. But this time, he cut back and sent a perfect ball that knifed through the Ramapo defense and towards the far post. Mamary, a sophomore, snuck in behind the defense and waited for the bouncing ball to catch up. With Ramapo keeper Mike DeVito coming over to cut off the near post, Mamary drove a header back towards the right post and the ball rolled into the side netting to touch off the most wild celebration in the program's history.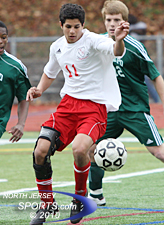 Rami Mamary gave Highlands the win with a goal less than two minutes into overtime.
"It happened so fast, I just wanted to make contact and get it towards the far post," said Mamary. "As soon as I got contact and it went past (DeVito), I knew it was going in. It feels amazing to score the winning goal in the county final in overtime. But it feels more amazing because I got to do this with my teammates and we couldn't have done it without one another."
Palumbo finished with five saves for Northern Highlands (17-1) and DeVito had six for Ramapo (16-2). Ironically, all three of the two teams' combined losses are to one another.
After winning the rubber match and ending 24 years of making the Bergen County Tournament and leaving it without a title, Northern Highlands finally hoisted its first BCT trophy in program history with one of the most exciting victories ever in the tournament.
"We just kept playing the ball forward and good things eventually happened," said Northern Highlands first-year head coach Sean Devore. "It was definitely dramatic to win four straight games in the tournament by one goal. It was one of our goals to win the county title and we earned it. I'm really happy for our boys because they deserved it with the hard work they put into being county champs."
FOR MORE PHOTOS OF THIS EVENT OR TO BUY A COLLECTOR'S PRINT OF THIS GAME STORY, PLEASE VISIT 4FeetGrafix.com.