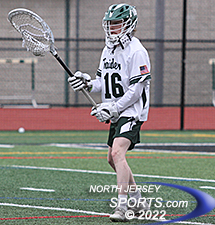 Sophomore Patrick Hogan made 12 saves in his first-ever varsity start for Ramapo, which came back to beat Tenafly, 8-5, in the Round of 16 of the Bergen County Tournament.
FRANKLIN LAKES – Life in the Gibbs Division is unforgiving. Freshmen, sophomores, first-year varsity players of any age are going to take their lumps in the rough-and-tumble league made up of some of the state's top lacrosse heavyweights. Ramapo, a program that belongs in that discussion most years, has been absorbing some tough lessons as it reloads with a host of young players this season.
"We are a very young team, we play a tough schedule and it takes time to gain confidence," said Ramapo head coach Tom Albano. "The good part about it is that the teams we play early in the season prepare you for tournament time, they toughen you up a little bit so that you can handle more situations when you get into tournament play."
The situation that Ramapo, the No. 6 seed in the Bergen County Tournament, found itself in on Tuesday evening was a tough one in the Round of 16. The Green Raiders were hosting No. 11 Tenafly, a program on the rise and a team that blew out its first round opponent.
With a tricky zone defense and a couple of timely goals, Tenafly held a one-goal lead at halftime of a low-scoring game in which every possession counted. The Tigers ramped up the pressure even more when senior Ben Roberts scored the first goal of the third quarter just two minutes into the second half.
"The boys came out flying. A lot of our seniors like Ben Roberts, [goaltender] Eric Jung (5 saves) and Michael Falek really set us up in a good position tonight," said Tenafly head coach Eric Quaranti. "We really believed had a chance."
Quaranti had reason to believe. Tenafly was up 3-2 at halftime and 4-2 with 22 minutes to play in the game before Ramapo leaned on the lessons it has learned through the first month of the season. Nick Coffaro's goal from the slot with 2:28 left in the third quarter kicked off a run of five straight scored by Ramapo, a run that spanned the final two periods as the Raiders final overtook Tenafly early in the fourth and pushed on to an 8-5 victory.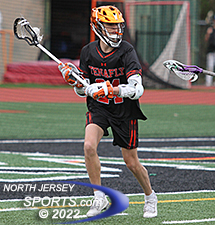 Dylan Reichel scored two goals for Tenafly, whcih fell to 8-5 on the season.
Jackson Cooney's goal, a fastbreak opportunity shortly after the draw following Coffaro's tally, tied the game at 4 heading into the fourth quarter and freshman Nick Begina's goal three minutes into the final period game Ramapo the lead for the first time and also for good.
"We just weren't finding the seams on offense early in the game and then it finally just clicked. Shots started to fall and we finally started to put it all together," said Begina, who pinched in from Jung's left to net what turned into the game-winner. "We were a man up and it was James Magerko that saw me sneak in by the backside pipe. I just got it, turned and shot and I was happy when I saw it go in."
Coffaro and Magerko added goals within a minute of each other to extend the Ramapo lead to 7-4 and that was more than enough for the hard-hitting Raiders defense, which did not allow any easy look all night. The starting back line of Ronnie Bavignoli, Evan Freeman and Robbie Travers plus those that rotated in built a sturdy wall in front of sophomore goalie Patrick Hogan.
Hogan finished with 12 saves, many of them of the difficult variety in the first half when his team really needed him to hold down the fort while the offense tried to find its stride. He was also pretty humble in recalling his early efforts.
"I did not have to do much because of the defense I have in front of me. They don't let up a lot of easy shots to the opponent, not really a lot of shots at all, so I only had to worry about the few that got through. I knew our offense would get going so we just had to wait it out," said Hogan, was making his first ever varsity start. "It was rough in the beginning because I let up two goals on the first three shots, but then I settled it after that. Once I made that first save it got me dialed in."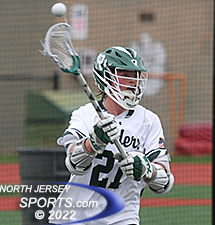 Freshman Nick Begina scored the game-winning goal for Ramapo, which will play St. Joseph Regional in the quarterfinals.
Coffaro finished with a hat trick for Ramapo, while Jackson Cooney (2G, 2A) and Begina (2G, 2 A) each scored twice. Magerko added a goal and an assist and Dylan Kucharski and Will Zachman had an assist apiece for the Raiders, who will play third-seeded St. Joseph Regional in the quarterfinals.
A program of Ramapo's pedigree never has the luxury of a pressure-off rebuild. This year's team was short on varsity experience coming into the season, but its improvement has been steady and it is again amongst the final eight teams left playing in the Bergen County Tournament and will be a handful in the state playoffs.
"That is high school sports for you. It comes in waves and you are not always going to have stacked teams full of experience every year," said Albano, who is in his 11th season as Ramapo's head coach. "These years are great because it allows you to do a little more coaching. That is why we got into this, to be able to work with the young guys and help them grow as lacrosse players. Sure, you are going to take some lumps early, but as these kids continue to progress you look forward to moving ahead with them."
Falek and Dylan Reichel had two goals each for Tenafly (8-5), which is building its program brick by brick as well. A first round blowout and then giving Ramapo all it could handle for three-plus quarters on the road are pretty good indicators of which way the program is heading under Quaranti, whose passion for the process is evident.
"We have to start to get accustomed to the physicality of these Gibbs Division opponents, against established programs like Ramapo. We are getting better and better and we were right there tonight, but I guess it just was not meant to be," said Quaranti. "We will learn from this. We will get better and we have a lot of guys returning next year, a lot of sophomores and freshman that were on our sideline tonight that got to see what it takes from close up. I am super proud of these guys and I want to keep it all positive because we have a lot of season left to play."
FOR MORE PHOTOS FROM THIS EVENT PLEASE CLICK HERE. TO BUY A COLLECTOR'S PRINT OF THIS STORY PLEASE VISIT 4-FeetGrafix.com.