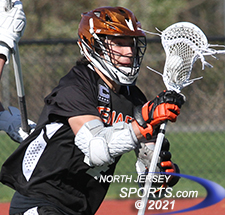 Ben Roberts, who scored the game-winner in overtime in Tenafly's season opener, added three goals and five assists as the Tigers improved to 2-0 with a 12-2 win on the road at Old Tappan on Friday.
OLD TAPPAN – It was not that long ago that there was no such thing as a Tenafly High School boys lacrosse program. Then came a man with a plan and there are now black and orange jerseys sprinkled all over the township and being worn by kids of all ages.
That man is Eric Quaranti, the high school head coach who can field teams at all three levels and the point man for a program that has been built, with plenty of community help, from the recreation level right on up.
"It would be impossible to try to tell people how much effort it took to build this program and I am not just talking about me. It was so many people from town pitching in and it all started with a fall clinic through the recreation program back in 2014," said Quaranti. "We had to start a high school program and a recreation program at the same time, so we are really just catching up now in terms of having kids coming up through our junior levels and continuing right through high school. With the help of guys like Brian Wool and David Reichel, we were able to build the Junior Tigers and Gavin Cousineau, now a senior and one of our captains, and his eighth grade class was the first class to wear black and orange at the youth level. We are starting to see the fruits of our labor now."
Those fruits include two wins in as many games to start the 2021 high school season. Ben Roberts scored an overtime goal as Tenafly opened with a thrilling win over West Milford and then backed that up with a complete performance in a 12-2 win on the road at Northern Valley/Old Tappan on a picture perfect Friday afternoon.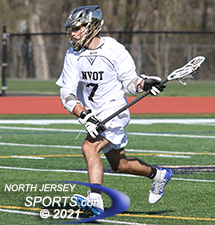 Old Tappan's Chris Holloway scored the goal that tied the game at 1.
The aforementioned Cousineau won 15 of the 16 face-offs he contested, scored four times and added an assist. He tallied the game's first goal with a twisting charge through the middle 1:48 in. After Old Tappan tied it 1:32 later, Cousineau won the next draw, which then spent little time in the basket of Roberts, who set up Matt Wortmann for the goal that put Tenafly (2-0) in front for good with 8:33 left in the first period.
"We have to show up to every game as if every opponent is the toughest one we are going to play all season. We can never let off the gas pedal," said Cousineau, who will play at Rensselaer Polytechnic Institute next year. "We are such a young program and we have such a young team that we are going to make some mistakes, but now we are seeing these younger guys, this freshman class come up and contribute. You can just see how the level of lacrosse has risen and Tenafly is going to see some great years coming up in the future."
The present is pretty good, too, as Tenafly controlled the action from start to finish. After allowing the goal to Old Tappan's Chris Holloway, which tied the game at one, the Tigers did not allow another shot on goal for the rest of the first half and through the entire third quarter. Tenafly had a 3-1 lead after the first quarter, a 5-1 lead at the intermission and stretched its advantage to 8-1 through three periods.
When Old Tappan was able gain possession it ran into a young but well organized Tenafly defense. Julian Martin is the only senior on the starting backline line, Jarrett Margolis and keeper Eric Jung are juniors, Ethan Dicturel is a sophomore and long-stick midfielder David Levine is a freshman who also gets involved.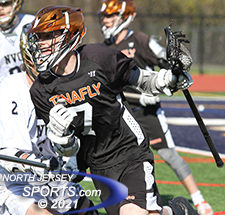 Matt Wortmann scored 3 goals for Tenafly, which will play Paramus on Monday.
Roberts, a junior captain, scored the final two goals of the third quarter as Tenafly pulled away and he finished with three goals and five assists.
"We came out a little flat offensively today, but our defense did a great job. Eric Jung played really well in net and I think our defense only allowed one shot in the first half. We eventually stepped up, some new guys scored and it was a great team win," said Roberts, who has committed to UMASS-Lowell. "This year we want to be league champs, we want to make a run in the counties, we want to make a run in the states. We have set our goals high."
Cousineau led the way with four goals and an assists and freshmen Jason Cherezov and Cooper Roberts also scored for the Tigers. Cooper Roberts' goal came off an assist from his older brother. Old Tappan's second goal was scored by Brendan Rie with 7:51 left in the game.
Now 2-0 overall and 2-0 inside the Curcio Division, Tenafly is building up a head of steam heading into Monday's league contest against Paramus. The Tigers have been on the rise with 8 wins in each of their first varsity seasons in 2016 and 2017, 11 in 2018 and 12 in 2019. The trajectory has moved them up into a league that includes the likes of River Dell, Pequannock, Clifton, DePaul and Fair Lawn.
"They bumped us up and we have accepted the challenge. We have our eyes set on the league. After missing all of last season the first goal is to play every game, but winning a league championship and getting a banner up on the way is the ultimate goal for this program," said Quaranti. "In this league you can never sleep. We are expecting one-goal games every time out and we already got one against West Milford. We have a lot of guys with promise; we have a strong freshman class and we have a tough one coming up that we have to get ready for. Twenty-four hour rule to enjoy this win and then it is right back to work."
FOR MORE PHOTOS FROM THIS EVENT PLEASE CLICK HERE. TO BUY A COLLECTOR'S PRINT OF THIS STORY PLEASE VISIT 4-FeetGrafix.com.