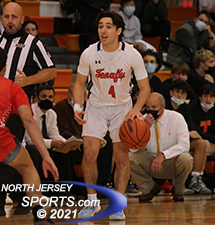 Senior point guard Ben Roberts drew three first half charges in a stellar defensive effort for Tenafly, which opened its season with a 51-27 win over Ridgefield Park.
TENAFLY -- It was an unofficial interview, a quick chat last Saturday morning in which Tenafly head coach Jeff Koehler laid out all of the obstacles that could derail the progress of his team, which has high expectations placed upon it from both those inside and outside the program. That is the natural disposition of most head coaches, who tend to obsess over any contingency, especially the ones that could deliver a negative impact.
On Opening Night at least, none of those trepidations came to pass unless being behind by a 5-2 score 1:50 into the game counts as enduring adversity. With a 12-0 run that ate up most of the rest of the first quarter, Tenafly pulled away from Ridgefield Park and never looked back on the way to a 51-27 victory inside the Eugene "Red" Littler Gymnasium.
"You know that as a coach as soon as you say, 'Hey, we are going to be good,' than everything that can go wrong will. You have to stay humbled because it's a long season and there are going to be ups and downs," said Koehler. "Tonight was a good night, but we have to put it behind us now and get ready for a good Glen Rock team on Monday."
Ridgefield Park (0-1) got a game-opening 3-point play from Giancarlo Camilo and a baseline bucket from Ramel Camilo to take the early 5-2 advantage, but it was not long after that Tenafly turned up the heat on both ends of the floor and began to cash the results. Extending the floor defensively and the player rotation to nine in the first half alone, the Tigers got everyone involved. Senior point guard Ben Roberts hit the 3-pointer that tied the game for the last time at 5-5, senior wing Yoav Regev scored in transition to put the home team ahead for good at 7-5 with 4:22 left in the fourth quarter and Tenafly extended that lead to 15-8 by the end of the opening period.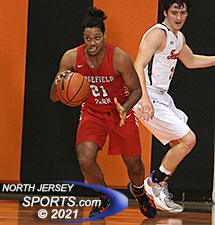 Ridgefield Park will lean heavily on senior Romel Camilo as it tries to get healthy.
Roberts, also an outstanding lacrosse player, led the defensive charge, literally, as he drew two in the first quarter and three in the first half, all against Romel Camilo, Ridgefield Park's top scoring threat whose minutes were curtailed by the early foul trouble.
"We had our scouting report down to a tee. We were looking at film; we watched all three of their scrimmages and studied their tendencies. Coach Koehler set the game plan for us and we just executed," said Roberts. "[Romel Camilo] is a really good player. He gets to his spots well, he drives hard, he is a big, strong player. All respect to him and he is a class act as well, but we were able to put him in foul trouble early, they had to take him out and things fell into place for us from there."
Regev scored on a reverse layup off a feed from John Celli to open the second quarter scoring, the first two points in an 11-0 run that just about put the game away. When Reilly Benowitz hit a 3 from the corner to finish off the run Tenafly (1-0) had built a 26-8 lead with still 4:42 left in the first half.
Regev is one of seven seniors on the Tenafly roster and one of four in the starting lineup, a group trying to navigate its way through the COVID era that saw last season limited to just nine games. With fans in the stands and quality win to start the season, all was right in the high school hoops world, at least for one night.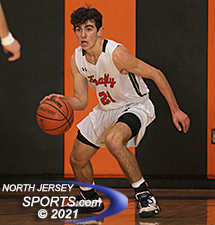 Reilly Benowitz and two 3-pointers and finished with 8 points for Tenafly.
"Last year we only played nine games, it was hard to get the chemistry and we graduated a couple of real good players. This year this group of seniors is best friends. We've done everything we could together to get ready for senior year," said Regev, who finished with a game-high 16 points. "The game plan was to take charges, play good team defense and have good ball movement. We checked all of those off and we got the win."
Regev, a tough matchup who can post up smaller guards or take forwards off the dribble, was the only double digit scorer for Tenafly, but that is basically by design as the Tigers pass up good shots for better ones with no on player dominating the ball. Benowitz (8 points) and Regev made two 3-pointers each, Celli finished with 8 and Roberts scored all 6 of his points in the first quarter as the Tigers established their lead.
Yuval Guttman scored 7 points off the bench, Jack Neuman, the senior forward who does much of the Tigers' dirty work on the glass and on the floor, added 5 points and Louis Alaimo made a fourth quarter free throw for Tenafly, which used 12 players in the game and that does not even include 6-foot-8 sophomore Mikkel Leutgelo, who is nursing a shoulder injury, but should be back soon, nor Bobby Kwon, a versatile player who will unfortunately miss his senior season with an ACL injury.
"I was happy that we spread the ball around. Some of the scrimmages we had it was one or two guys scoring," said Koehler. "We are not going to win if everybody is not chipping in and feeling like they are part of the offense and that was what we did out there tonight."
This was not the way that Ridgefield Park envisioned its season kicking off. This senior class is the one that won the Bergen County Freshman Tournament in 2019, but the only player on the floor on Friday night who had any prior varsity experience was Romel Camilo, who finished with 6 points after battling through foul trouble. Senior point guard Jose Muniz is out with a knee injury and senior Eric Wilson is out until around the New Year with a non-COVID related illness.
Fredys DeLaCruz, who is running the point in Muniz's absence, finished with a team-high 10 points, Giancarlo Camilo scored 6 of his 8 points in the first quarter and Jalexin Pimentel had the other 3 points for Ridgefield Park.
"Tenafly is an outstanding team, a well-coached team that played with a lot of energy and enthusiasm and they deserved to win tonight," said Ridgefield Park head coach Chris Gaskin. "We have to take the lessons from what happened out there tonight, learn from it and try to build from here. We have a lot to improve on and we have to get to work."
FOR MORE PHOTOS FROM THIS EVENT PLEASE CLICK HERE. TO BUY A COLLECTOR'S PRINT OF THIS STORY PLEASE VISIT 4-FeetGrafix.com.