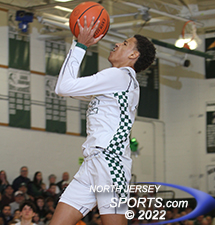 Nate Burleson, Jr. sliced his way to a game-high 20 points for Ramapo, which won the North 1, Group 3 state sectional title with a 58-47 win over Tenafly.
FRANKLIN LAKES – There was a time in high school basketball when there was no shot clock, when zone defenses were en vogue, when players passed the ball from the high post to others cutting back door. One player even wore low-top sneakers and employed a George Mikan-like hook shot. (Here, We Googled him for you).
Was it 1968, the last time that a Tenafly boys basketball team played in a section final? No. It was 2022, March 8, 2022 to be exact and it all played out in front of a crammed-in crowd in Franklin Lakes.
Ok, so the shot clock is still not a thing, although surely it will be soon. The rest of the throwback scenario is true. Tenafly's zone kept it in the game, so much so that when John Celli scored off a back-door cut with 2:23 left in regulation, the Tigers were down by just three points and the roof was about to pop right off the gym at Ramapo High School.
That was the high-water mark, however, as the next time down the floor the player with the low-cut kicks hung in the air, made a shot, got fouled and added a free throw. Peyton Seals' conventional 3-point play, with exactly 2:00 left on the game clock, doubled Ramapo's lead and finally took the starch out of never-say-quit Tenafly.
The Green Raiders hit 9 of 12 free throws in the final minute to finally put the game away and are heading back to the Group 3 state semifinal for the first time since 2019 after a hard-earned 58-47 victory.
"Tenafly is a very good team, a veteran team, a senior-oriented team and I just knew they were going to be tough. They were not going to go away no matter where we were in the game and they were going to make their runs," said Nick Veir, now a sectional champion in his first season as Ramapo's head coach. "I am super proud of my guys for having the composure to handle the pressure. We knew we were in for a dogfight, but I felt like our guys executed and we made enough plays in the end to get it done."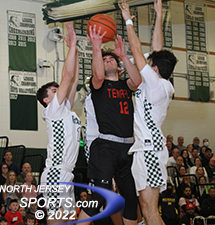 John Celli finished wtih 20 points for Tenafly, which finished the season with a 20-5 record.
Nate Burleson, Jr., the junior and a late edition to the Ramapo roster after coming over from Don Bosco Prep after the school year had started, made a lot of necessary plays at the beginning as the Raiders tried to solve the Tenafly zone. Conventional wisdom is to turn to jumpshots, but Burleson instead sliced his way through. On a night when Ramapo did not shoot particularly well from behind the 3-point line (it made just two in the game) Burleson, aided by slick passing out of the high post by Seals and Grant Sloan, scored most of his team-high 20 points by cutting, elevating and finishing.
"That is what my Dad [former NFL receiver Nate Burleson, Sr.] has been telling me to do. Get to the rim," said Burleson, Jr. "I can jump, I am athletic and I had to use my abilities."
Burleson slashed to the basket, closed the first quarter scoring and gave Ramapo a 13-11 lead. He did the same near the end of the second quarter and before Wyatt Eglinton Manner's basket gave the Raiders a 25-18 lead at halftime and they spent most of the third quarter trying to shake the Tigers, who used just one sub for a short stint before emptying the bench in the final seconds.
Riley Benowitz was fouled taking a 3-pointer and made all three free throws to open the second half scoring, but Ramapo responded with a quick 6-0 run to bump its lead into double digits, 31-21, with 5:35 to play in the third period. Sloan scored two of those field goals off assists from Seals and it looked like the Raiders had all of the answers.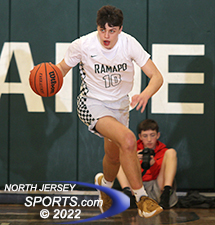 Peyton Seals finished with 16 points for Ramapo, which will play Colonia in the Group 3 semifinals on Thursday.
Tenafly's Jack Neuman completed a 3-point play at one end only to see Eglinton Manner bury an open look from the corner to nullify it. John Celli, the crafty Tenafly senior who had his whole bag of tricks open all night, scored on a baseline cut and an assist by Ben Roberts, but Burleson and Seals worked the same thing to keep it a 10-point game, 36-26, at the midway point of the third.
Roberts, who dominated from the point in the semifinal win over Teaneck without scoring a single point (11 assists), kept Tenafly hanging around. He bounced one of a defender's back on an inbounds pass and took the carom in for an uncontested layup and got all the way to the basket for the hoop that cut the deficit down to 6 and Celli got the Tigers back to within 4 with a 3-pointer from the corner before the aforementioned hook shot, a reliable option in Seals' toolbox, gave Ramapo a 39-33 lead heading into the fourth quarter with the crowd from both sides completely jacked up.
Celli scored the first four points of the final quarter, two on a short jumper off an inbounds play and two on an old-school post move that made it 39-37 and forced Ramapo into its first time out of the night. The Raiders actually turned the ball over out of the stoppage, but Seals blocked a shot, controlled the ball and then hit Burleson on the break for a dunk that was followed by a Sloan steal and lay-in.
Benowitz hit a 3 to get Tenafly to within 45-42 with 3:04 to go and Celli made a 3-point game for the final time at 47-44 with 2:23 to go, but the Tigers could not afford to sit in the zone any longer and as soon as they came out to play man, Seals recognized it, pushed into the lane and created the 3-point play at kind of put a capper on the evening's festivities.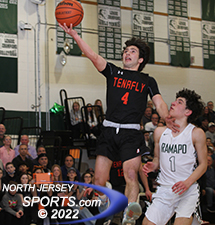 Ben Roberts helped lead Tenafly to its best season since 1968 and maybe ever.
"Even though we are an inexperienced group and we are young, we are a real close group, we have good chemistry, we are good friends off the court and we all just want the best for each other," said Seals. "And we all want to win so we all try to make the right plays all of the time."
Ramapo advances to the Group 3 semis where it will play North 2 champion Colonia while Tenafly saw what was probably the best season in school history and definitely the best since 1968, come to an end with a 20-5 record.
"I will always think back to think what else I could have done. It's always my fault as a coach and I will always think about what I could have done differently or what something else I might have said to make a difference, but I am so proud of the guys. They worked so hard and they were right there," said Jeff Koehler, the head coach of three different sports at Tenafly. "This was one of the favorite teams I have ever had. I could have, literally, left the gym and those guys, those captains (Bobby Kwon, Celli and Roberts) would have run practice better than I could have if I was there. That is when you know, like with my volleyball program a couple of years ago that won [a section title], that you have a championship level team. I am going to miss this group."
Kwon missed the entire season with a knee injury and would, which opened the spot for Benowitz, the only junior in the starting lineup. Benowitz scored all of his 9 points in the second half and the rest of the Tigers' points came from the four senior starters. Celli closed out his career with 20, Roberts added 6 and Newman and Yoav Regev had 5 apiece for Tenafly.
Burleson (20 points), Seals (16) and Sloan (11), the only senior on the Ramapo roster, all finished in double figures. Eglinton Manner added 9 and Chris Cervino had the other field goal for the Raiders, who improved 22-6 on the season and will carry a six-game winning streak into the semifinals, which will pit a team from Bergen County against a team from Middlesex County in the oddest of neutral sites. That game is scheduled for Phillipsburg High School, smack dab on the Pennsylvania border, with a 7:00 p.m. start time on a school night.
"I give all the credit to my players. They are well beyond their years, they are a great group and they have played together growing up, youth basketball, so they have a good chemistry," said Veir. "They just have IT. Whatever IT is, they have IT and I am just super fortunate to be their coach."
FOR MORE PHOTOS FROM THIS EVENT PLEASE CLICK HERE. TO BUY A COLLECTOR'S PRINT OF THIS STORY PLEASE VISIT 4-FeetGrafix.com.