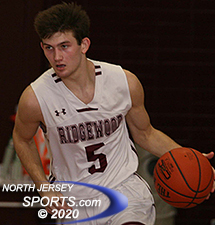 Matt Favieri made all four of his third quarter threes and finished with a game-high 27 points for Ridgewood, which advanced to the North 1, Group 4 state sectional semifinals with an 84-54 win over North Bergen on Thursday night.
RIDGEWOOD – The tenor going into last night's North 1 Group 4 quarterfinal between Ridgewood and North Bergen was similar to one of a boxing match. With contrasting styles and no common opponents the teams took the first quarter to feel one another out searching for any weakness to exploit. When foul trouble plagued North Bergen late in the first quarter the Maroons knew it was time to pounce.
Ridgewood took advantage of that void in the second quarter before Matt Favieri provided the knockout blow in the third.
A buzzer-beating jumper by Favieri to end the first quarter touched off a 19-2 run that put the Maroons in control. Favieri put to rest any hopes of a comeback by hitting all four of his three-point shots in the third quarter as No. 3 seed Ridgewood put together a magnificent performance to advance to the North 1, Group 4 semifinals with a 84-54 win over sixth-seeded North Bergen on Thursday night at Ridgewood High School.
"We took care of the ball, we shot it really well, and we defended," said Ridgewood guard Devin Johnson. "This time of year you have to be really focused and trust each other."
The crowd was packed for the opening tip and the Bruins had an upset bid on their mind. The score was tied late in the first quarter when their lone post presence, Francisco Paulino, picked up his second foul. D'Avion Ellis nailed a three to put North Bergen ahead but Favieri answered back with a jumper at the buzzer to trim the lead to one, 13-12, after one quarter.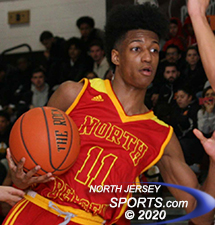 D'Avion Ellis scored a team-high 20 points for North Bergen, which finished the season with an 18-7 record.
More importantly, it got the Maroons on track and kick-started the game's most crucial stretch. Devin Johnson and Favieri led the way, combining for 11 points during the 19-2 run as Ridgewood was comfortably ahead, 37-23, at halftime.
"We had to defend and we had to rebound first," Favieri. "If we contested shots and didn't allow second shots that our offense would come around."
Paulino returned for the second half and scored on his first touch to cut the lead to 12. North Bergen never got any closer as the Maroons remained scorching hot on the offensive end of the floor. Favieri added bookend three-pointers around a pair of layups by Powers. In a span of five possessions and less than two minutes, the Maroons pushed the lead up to 20.
Favieri kept making shots from long-distance with two more threes as Ridgewood followed up a 25-point second quarter with a 29-point third to punch its ticket to the semifinals before the fourth quarter even started.
"Once I saw my first shot go in coming out for the second half I felt confident that the next one would go and I just got hot at the right time," added Favieri.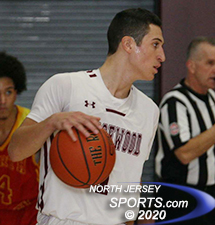 Devin Johnson and Ridgewood will host Randolph in the sectional semifinals on Saturday.
Favieri netted 14 of his game-high 27 points in the third quarter for Ridgewood (20-7). Devin Johnson added 20 points and Powers added 10.
Ellis led the way for North Bergen (18-7) with 20 points.
What was already a great night for Ridgewood got even better when second-seeded East Orange Campus was upset by No. 7 seed Randolph in the North 1, Group 4 quarterfinals. That means the Maroons will get another home game on Saturday. While the excitement is palpable in the Ridgewood locker room they know there is no reason to celebrate just yet.
"We're happy with how we played but we still have a long way to go," said Johnson. "It showed tonight that we're really starting to peak at the right time. Our team is not just one player and it's all about team defense and getting the open guy the shot on offense. We can't get too excited about this win. It's back to work at practice and get ready for Saturday."
TO VIEW MORE PHOTOS FROM THIS EVENT PLEASE CLICK HERE. TO BUY A COLLECTOR'S PRINT OF THIS STORY PLEASE VISIT 4-FeetGrafix.com.