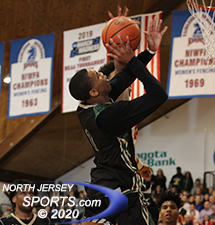 Nazir Williams scored a game-high 26 points for St. Joseph Regional, which won its first Bergen County title since 2016 with a 67-61 victory over top-seeded and two-time defending champion Bergen Catholic.
HACKENSACK – St. Joseph walked off the Rothman Center court at halftime on Friday night University trailing Bergen Catholic by three points and, boy, did it feel good.
"The fact that we weren't down by 13 was huge," said SJR head coach Mike Doherty, whose team lost both regular season meetings to Bergen Catholic and trailed by 13 at halftime of each game. "It was 13 points both times and it felt like a big 13, too. Being down three was okay."
It was also temporary as St. Joseph roared out of the locker room with a 10-0 run and once the Green Knights took the lead on back-to-back buckets by Daniel Lans, a fastbreak layup and a three-pointer from the corner, they never gave it back.
St. Joseph, the No. 2 seed in the 64th Oscar F. Thompson Memorial Bergen County Jamboree, ended top-seeded Bergen Catholic's two-year reign as Bergen County champion with a 67-61 victory on the campus of Fairleigh Dickinson University.
"Going into halftime we were up three, but I did not have a good feel about our defensive rhythm. It seemed like we could get in a rhythm and we could not string any stops together," said Bergen Catholic head coach Billy Armstrong. "All the credit goes to Coach Doherty and St. Joe's. They were terrific the biggest thing was that they played within themselves, they made big shots and the maturity that they showed was absolutely tremendous."
For the second straight weekend against a non-public peer in a county tournament game, SJR came out firing. In last weekend's semifinal victory over Don Bosco Prep the Knights put up 20 first quarter points and against BC they held an 18-17 lead after the opening period. It was a fast pace, but not frenzied as the Knights were weary all out track meet against Bergen Catholic, which starts four guards around the legitimate post presence of Matt Zona, the senior Notre Dame University commit.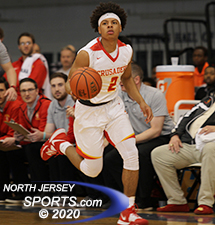 Sophomore Julian Brown scored 25 points to lead Bergen Catholic, which fell to 19-6 with the loss..
Raejon Figures made a three-pointer from the corner to give BC a 22-20 lead and the Crusaders held the lead for just about the rest of the second quarter. There was one tie at 25-all, but BC went on an 8-0 run powered by Julian Brown and Figures three-pointers right after that to flirt with a double-digit advantage before being reeled back in.
The Crusaders missed the front end of two straight one-and-one opportunities in the final two minutes of the second quarter and did not score in the final 3:37 of the first half as they settled for the slight three-point half time edge.
Zona did not get many paint touches, especially in the second half when he scored just 4 of his 13 points and St. Joseph made it tough on the perimeter by hanging back just enough to made Bergen Catholic think an off-the-dribble three-pointer was often its best option. The idea was to stay in front of Julian Brown and Will Richardson, who torched SJR the first two times these teams played, and deter drives to the basket. The strategy was mostly successful as Brown, who led BC with 25 points, was held to 10 second half points and Richardson was limited to just 8 points in the game.
Meanwhile, St. Joe's took fastbreaks of opportunity, but was also effective in half court sets when it forced the Crusaders into defensive stances for extended possessions.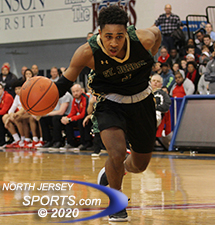 Daniel Lans scored 16 points for St. Joseph, which will open the Non-Public North A state sectional tournament as the No. 3 seed next Friday.
"We knew coming in that we had to do something different," said SJR senior Nazir Williams, who scored a game-high 26 points and stunted BC's comeback by making 9 of his 10 fourth quarter free throws and 13 of 15 in the game. "We read all of the reports that we had to be patient and I hope we showed that we could do that in this game."
Joe's led by as many as 9 points in the third quarter after Ansley Almonor's three-pointer from the corner made it 48-39 before Richardson made a deep one of his own to get the Crusaders back to within 48-42 after three periods of play.
BC was able to make a one possession game at 52-49 with 5:01 left and at 54-51 with 4:13 left, but not again after Dyree Rogers turned the corner for a layup that put SJR up 56-41 with 2:20 remaining. The Crusaders just could not get the stops and easy baskets they needed to close the gap any further as SJR won its first Bergen County championship since 2016.
Williams (26 points) and Lans (16) fueled the St. Joseph offense with the other pitching in when necessary. Almonor (9 points) made two third-quarter three-pointers from the same corner, Rogers scored 6 of his 8 points in the second half and Albert Serrano Malcolm Capers each added four points for the Green Knights, who improved to 21-5 on the season as it heads off to the Non-Public North A state sectional tournament. SJR is the No. 3 seed and has a first round bye before hosting the winner of the first round matchup between Pingry and Delbarton.
"Guys like me and you, for guys who grew up in Bergen County, this is like the NCAAs. There are 50-plus schools in Bergen County playing basketball and we were down to the last two teams. It was a packed house and it was special," said Doherty. "To me, this is the pinnacle. For anyone that grows up in Bergen County, this is it. Having gone to St. Joe's, having played in the tournament and coached in it, it is always fun. Certainly we are going to put all of our efforts into making a deep run in the states, but this is great."
Brown, Zona and Figures (12 points) all finished in double digits for BC, which fell to 19-6 on the season before it heads into the same Non-Public North A state sectional bracket. The Crusaders are the top seed and will host either eighth-seeded Union Catholic or No. 9 Dwight Englewood in the quarterfinals.
"Games like this, a county final, are very emotional, so we could go either way from here," said Armstrong. "I have confidence in my guys that they will regroup and respond in the right way."
TO VIEW MORE PHOTOS FROM THIS EVENT PLEASE CLICK HERE. TO BUY A COLLECTOR'S PRINT OF THIS STORY PLEASE VISIT 4-FeetGrafix.com.