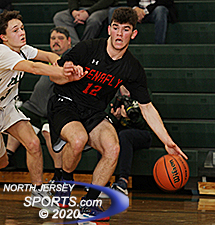 Sophomore John Celli scored a career-high 24 points for Tenafly, which picked up its first win of the season, 45-34, on Tuesday night at Pascack Valley.
HILLSDALE -- There are reasons that explain Tenalfy's slow start to the basketball season. Seven graduated seniors who took up a whole lot of varsity playing time over the past three years are and there is basically a brand new roster taking their place. Heading into its fifth game of the year on the road at Pascack Valley on Tuesday night, there was no room for excuses. The Tigers needed a win.
"We are obviously trying to find ourselves. We have had a rough start at 0-4, but the kids are working hard every day and they are learning. There are so many things that we have to learn, situations that we have never been in as a team," said Tenafly head coach Koehler. "That being said, we really needed a win. We really did."
Tenafly got what it needed as it made some timely shots and played solid on the defensive end to turn a two-point halftime deficit into a 45-34 victory in which it held Pascack Valley to just 11 second half points.
Sophomore John Celli got hot in both the second and fourth quarters and combined with Andy Cho to carry just about the entire point-scoring load. The pair combined for 39 of Tenafly's 45 points and five more than amassed by Pascack Valley in the game.
"When I got going my teammates kept giving me the ball. We knew we had to keep scored to keep [PV] from going on a run. We watched their film, we know they are efficient on offense and that we had to keep them from being able to open a lead on us," said Celli, who knocked down three of the Tigers' five three-pointers in the game. "My teammates were feeding me, I owe it to them for getting me the ball, and it felt good because this was the first time this year that I really got going on the offensive end."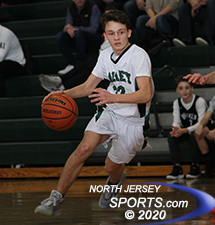 Freshman Tristan Harges finished with 10 points for Pascack Valley.
It has been a rough start for Pascack Valley (1-5) as well, but for a different reason. The Indians have been decimated by injury and illness and were without three starters in Thomas Dean, Austin Kollery and Nate Dedrick. Still, PV was able to put together an 18-point second quarter.
Freshman Tristan Harges' three-pointer from the wing 1:31 into the second period sparked an 8-0 run that gave PV its largest lead of the night at 15-9, but Celli got hot soon after to reel the Indians back in. He hit two jumpers from the wing, including a three-pointer. In all, Celli went on a personal 10-2 run in just 1:28 of game time to put his team up 19-7. Pascack Valley answered with a 5-0 run of its own with Jake Wolf's conventional three-point play putting his team up four before the Indians' settled for a 23-21 halftime advantage.
After that, offense was hard to come by for the home team, which made just three second half field goals, including two three-pointers by Ryan Thomas, who finished with team-high 13 points. Harges (10 points) also finished in double figures, but Wolf (6 points) was the only other Pascack Valley player to make at least two field goals. Craig Moorhead's jumper from the foul line extended and Brett Cotton's three-pointer, which both came in the second quarter, accounted for the only other five points that the Indians scored.
"It's been tough. It's been turnovers and not finishing things that have been our Achilles [heel]," said Pascack Valley head coach Al Coleman. "We talk about shot selection and turnovers, but until we learn the proper value of the basketball and the value of a possession and until we start to finish some of our opportunities it is going to be a struggle. If we can start to do the little things well, which we are capable of, the big things will come from that. It's on me as the head coach to get these guys better."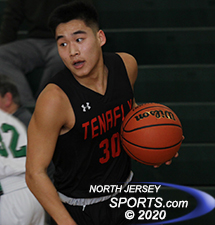 Andy Cho made three 3-pointers and finished with 15 points for Tenafly.
There were only 14 points scored by the two teams combined in the third quarter and Pascack Valley was still hanging on after Thomas' three-pointer gave it a 28-24 lead with 4:52 left. Tenafly answered with a quarter-ending 6-0 run and Cho's buzzer-beater from the corner gave the Tigers the lead for good at 30-28.
Celli then scored the first nine points of the fourth quarter to break the game open. His triple from the corner with 3:55 to play gave Tenafly a double digit lead for the first time at 39-28 and he scored on the fastbreak with 1:57 to go to basically put the game away at 41-31.

Celli finished with 24 points, a game and career high, Cho finished with 15 and Johnny Coppolino, Eddie Ward and Jesse Ryno, the only Tiger with any kind of varsity experience from last season, each made one field goal to round of the scoring for Tenafly, which hopes to kick on from here after hitting the win column for the first time.

"It's a league win, it's a road win and I feel like tonight we finally got in a groove," said Celli. "I really feel like we bonded in the fall and during the scrimmages and we played pretty well against Ramsey, which is one of the best teams in the county. Hopefully, after the bad start, we can recover and get to the Jambo by some miracle and try to go from there."
FOR MORE PHOTOS FROM HIS EVENT PLEASE CLICK HERE. TO BUY A COLLECTOR'S PRINT OF THIS STORY PLEASE VISIT 4-FeetGrafix.com.