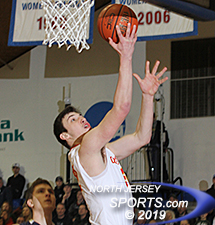 Zach Freemantle altered his offensive approach and it paid off in a game-high 22 points for Bergen Catholic, which advanced to the Jambo semifinals with a 60-50 victory over Ramsey on Sunday at FDU.
HACKENSACK - It is a lost art, the midrange game, at all levels of basketball. Two point shots from outside the paint and inside the three-point line are just too much risk for too little reward, at least according to current wisdom. If a player is going to step out, might as well take it all the way past the arc. If he is going to try for two points instead, then the closer the better.
Analytics have their place, but so too does sound judgment and a feel for the game. Up against Ramsey's active 2-3 zone, Bergen Catholic's Zach Freemantle found the soft spot and exploited it. The 5-foot-8 senior made three jumpers from the baseline in the second half and did a lot of damage from other places with medium length jumpers.
"It's funny because the contested two is supposedly the shot you do not want to take anymore," said Bergen Catholic head coach Billy Armstrong. "And then [Freemantle] starts making jumpers from the short corner and they were all big."
Bergen Catholic, the No. 2 seed, got out to a 10-2 lead against No. 7 Ramsey and led wire-to-wire in Sunday's quarterfinal round of the Bergen County Jamboree, but that was not indicative of the challenge that the Crusaders got. Ramsey, with 6-foot-9 junior Sean Hansen holding his own against Bergen's size, was within four points when the fourth quarter started and gave it a real good go before falling, 60-50, at the Rothman Center on the campus of Fairleigh Dickinson.
Freemantle, a 6-foot-8 senior who has committed to play in the Big East at Xavier University for next season, was an unlikely zone buster. It's not often in a high school game that a kid who is asked to play mostly with his back to the basket can shift gears and dominate with mid-range jumpshot.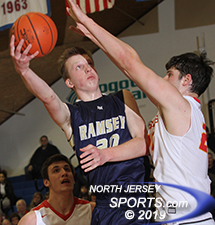 Junior Sean Hansen led Ramsey with 19 points, including the 1,00th of his career, which came on post move with 3:22 left in the first quarter.
"You saw the zone. They had the bottom guy go all the way up [to guard the foul line] and they left that spot right there wide open," said Freemantle, nodding toward the sweet spot. "I stood there, caught and shot it. That was the open area and I stayed in it."
Bergen Catholic needed to continue attacking the basket from all angles well into the second half because Ramsey, which looked like it might wilt against BC's pressure defense early in the game, steadied itself before it could be blown out. The Rams trailed 19-12 after the first quarter and got to within three points twice in the second quarter before settling for a 32-27 deficit at the break.
"We saw that they did not have as deep of a bench as us. We started with the press, we threw bodies at them and tried to run them out of the gym," said Freemantle. "But they are a good team with good players. They did not go away and we knew we were going to have to go out and win the game. They were not going to hand it to us."
This game was a coming out party of sorts for Hansen. It is not that he was an unknown quantity, but he scored a team-high 19 points, including the 1,000th of his career, while matched against Freemantle and Matt Zona, a 6-foot-8 junior. Hansen showed his range with three three-pointers, his toughness by getting off the deck after a hard fall and willing his team back into the game with the last of his treys. That one came with 39 seconds left in the third quarter and made it a 43-39 BC lead heading into the final period.
The game turned the other way for good after Hansen's next basket. He scored on a tough move in the post to get Ramsey to within 45-41 with 6:04 left to play. Freemantle answered from his spot in the baseline to force a Ramsey timeout and a turnover right out of the stoppage led to a fastbreak bucket for Sean Regis and that was followed by another Freemantle special from the short corner. Doug Edert then made two free throws and Zona scored inside to cap an 11-0 spurt that put the game away for Bergen Catholic.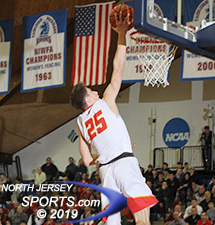 Doug Edert scored 13 points, including two on this breakaway dunk, for No. 2 BC, which will play No. 3 Ramapo in the semis.
"I thought we played really well and I thought Sean Hansen was just absolutely outstanding. I thought he was the best player on the floor for stretches until Freemantle started hitting those little short-corner jumpers," said Ramsey head coach Kevin McGuire. "That combined with us coming down and having three empty trips in a row was really what ended up deciding the game. We were up against a really good opponent and I am proud of the way my guys stepped up to the challenge."
Hansen, playing in a Division 1 venue, looked like a Division 1 player. He was the only Ram to finish in double figures with 19 points. Point guard Jaden Quinerly scored all 8 points in the second quarter to help start the Ramsey comeback, while Steven Turk and Brooks Thompson added 6 apiece. Kevin Foelsch added two third quarter field goals, Owen Korz knocked down a fourth quarter three-pointer and Ryan Ducey and Dylan Costanzo split the other four points for the Rams, who will look to finish the regular season strong in preparation for the defense of its North 1, Group 2 state sectional title.
"I am really pleased with my team's reaction to this game. They are upset. There is no moral victory, there is no well it was close for three quarters…They are [angry]," said McGuire. "I am glad they are, but I also thought we played great and I am looking forward to what comes next. We have a couple more games in the league this week, we have a Senior Night coming up and then it is the state playoffs. We are playing pretty well, we are healthy and we are ready to go."
Freemantle scored a game-high 22 points for Bergen Catholic, which got all of its points from a group of four players. Zona and Edert finished with 13 points each and Jason Earle had 7 for the Crusaders, who will play No. 3 Ramapo in the semifinals next Sunday at FDU.
Armstrong might even take a moment to enjoy the hard-fought win over a quality opponent, emphasis in the might.
"I am trying to [enjoy the win], but as a coach my mind right after the game goes to, 'Ok, what do we have to be better at?' On the other side of it, I have learned that winning is really, really hard and when you have good players like we do, sometimes you take it for granted," said Armstrong. "Anybody can beat anybody on a given night even when you have talented players, especially this late in the season. Everybody has gotten better, everybody wants to compete, everyone wants to win, so I try to remind myself to take those moments to enjoy a win before I get back to work, which will probably be in about an hour."
FOR MORE PHOTOS FROM THIS EVENT PLEASE CLICK HERE. TO BUY A COLLECTOR'S PRINT OF THIS STORY PLEASE VISIT 4-FeetGrafix.com.