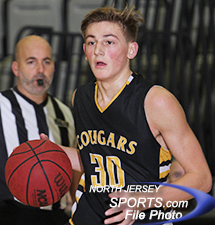 Junior Kristian Radovich helped lead Cresskill to one of its most impressive wins of the season so far, a 60-35 win over Emerson on Tuesday night.
CRESSKILL - Cougars sophomore Brian McQuillen came off the bench late in the first quarter to ignite the offense and send Cresskill to an impressive 60-35 victory over Emerson Tuesday night. In an early season game Emerson got past Cresskill with a one-point victory after the Cougars missed a ton of free throws. The Cougars had revenge on their mind for this game.

"It was definitely a revenge game," said Cresskill junior Kristian Radovich. "In practice we were looking forward to this game. In the first game they threw a new defense at us - a box-and-one. We weren't ready for it because we didn't prepare for it. This time, in practice, we prepared for it and came out ready. When we first played these guys it was early in the season, late December, early January. Not many of us had varsity experience so we were still learning to play with each other. Now that we are deeper into the season we've definitely developed as a team."
"We had a bad taste in our mouth from the last game," added Cougars coach Dan Egorow. "We wanted to make sure that we came out there and played hard. We wanted to make sure that Emerson didn't give us that type of game again."
Cresskill was leading 8-4 when McQuillen drained a pair of three-pointers within a minute of each other to propel the Cougars to a 14-4 lead. He led all scorers with 19 points, including five treys.
"Game by game I'm getting more comfortable," he said. "My teammates set me up. Without them I wouldn't get the easy threes. They were driving and kicking and all I had to do was make the shot. They were making it easy. It's a credit to my teammates."
While McQuillen and Radovich (17 points) were spurring the offense, the Cougars' defense was stifling the Cavos.
"I think our defense is the foundation of our team," said Radovich. "We usually hold teams to under 40. Defense is where our whole game starts."
"We hammer home defense here. With coach [Marty] Rivard here on the bench [as assistant coach] I have to," Egorow said, with a laugh. "It's impressive how they have come along. Davis Rogovich did a good job on [Peter] Durocher (4 points), holding him down. Unfortunately he got into foul trouble and had to sit out, but then other guys stepped up. Aidan [Feulner] did a good job and Brian McQuillen, who we know can shoot the lights out, did a great job on [Bryan] Atkinson. I was really impressed to see his defense has come along so much. He (Atkinson) is one of the best athletes in our league and Brian stuck with him, kept him in front and did his job."
Early in the second quarter Emerson senior John Dime (9 points) scored twice from in close, sandwiched around a three-pointer by sophomore teammate Jimmy Csapo, to cut the Cresskill lead to 14-11. Csapo finished with a team-leading 15 points. But a three by McQuillen, another by Radovich and a short jumper by Radovich boosted the lead back up to 22-11. Cresskill carried a 31-15 lead into intermission and never looked back.
The Cougars are essentially a brand new team this year as they lost 10 seniors from last season's Group 1 state finalist team to graduation last June.
"From the first scrimmage to now we've definitely improved," McQuillen said. "We're working hard and getting each other better. We may not be the most talented team but we're going to work harder than everyone and give it our all."
"We said in the beginning of the year there was going to be some bumps and bruises, taking our lumps in the early season," Egorow said. "But we just wanted to get better every single day. Our goal was by February to be where we're at right now - where other teams were probably at in late December. Our goal was to make sure we were there by February."
While McQuillen and Radovich were scoring in double figures no fewer than five of their teammates also scored points.
"We don't have any selfish players on the team," Radovich said. "Everyone's main focus is to win. No one is looking out for themselves just to score. Everyone's looking to distribute the ball. If someone has a mismatch we take note of that and try to get them the ball. Whatever way we can score - that's the way we go."
"They just gel together," said Egorow. "They complement each other so well and no one is selfish. The nicest thing about working with them is they want to see each other succeed. The juniors, who have been together so long, are so unselfish. And [senior] Sam Gellman doesn't light up the scoreboard at all but he does all the little things that people don't see. He's in help defense, he gets that one rebound that you really need, he slides over and picks up the guy who rolls to the basket. He does so much that goes unseen but it's what the coaching staff really looks for."
Cresskill improves to 12-7 and will play at Hawthorne Christian Academy Thursday. The Cougars defeated the Defenders, 54-48, Jan. 10.
"I don't think the scoreboard does justice for what Emerson is," said Egorow. "They are a fantastic team and coach [John] Ziemba does an amazing job with them. In that last game against Emerson we missed eight foul shots. It's been our Achilles heel. Today, heading into halftime I think we were 2-for-7. It's really something we have to focus on and make sure this doesn't come back to bite us in the end.
"It's a good sign of maturity that they are ready to take that next step and make sure that we don't lose by one on a last-second shot or that foul shots come to harm us."
TO BUY A COLLECTOR'S PRINT OF THIS STORY PLEASE VISIT 4-FeetGrafix.com.