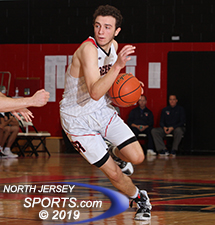 Nick Eiler was one of three double-digit scorers for 6th-seeded Saddle River Day, which earned its first-ever trip to the Jambo quarterfinals with a 61-33 win over No. 11 Westwood on Saturday in Allendale.
ALLENDALE – Saddle River Day was the curiosity of the Bergen County Jamboree's Round of 16. The Rebels, holding the banner for the small school NJIC, were undefeated coming into the first game of Saturday's quadruple header at Northern Highlands High School. And, because it was seeded seventh and did not appear in the play-in round, there was still a question of just how good Saddle River Day was compared to the more established Bergen County boys basketball programs.

This just in: Saddle River Day is really good.
The Rebels scored 15 of the game's first 17 points and were on a 100-point pace for most of the first two quarters against No. 11 Westwood. SRD scored 23 points in the first quarter and 21 in the second to blow the game open on the way to a 61-33 victory and the Jambo quarterfinals where it will play third-seeded Ramapo next Sunday at Fairleigh Dickinson University.
"I came here my freshman year and we made it to the Jambo. We thought we were good and then we lost the first game in a buzzer beater against Bergen Tech and that was heartbreaking," said junior point guard Dylan Besserer, whose older brother Chris was a standout on some good Old Tappan teams. "I didn't play in that game, but I was there and just to see how far we have come is pretty amazing. Last year we had a lot of the same talent that we have this year, but now it seems like all the puzzle pieces are together."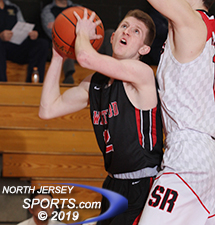 Senior Dylan Cipolla scored 10 points for Westwood, which was short-handed due to the flu..
Saddle River Day does have three starters that did play in that Jambo game two years ago and they combined to be the catalyst this time around. Seniors Connor Cyran, Kevin Ranaghan and Nick Eiler combined to score 49 of SRD's 61 points and they scored a combined 34 points in the first half, one more than Westwood's game total.
"It's one big family here and I feel like we are all just working toward this goal," said Eiler. "At the beginning of the season the goal was to make a good run in the Jambo. We knew we had the talent to do it and today was a pretty good start."
It was a pretty good start indeed as Sebastian Gianotti's steal and layup 35 seconds into the game gave SRD the lead for good at 2-0 at it was up 15-2 when Ranaghan buried a three-pointer from the corner with 2:21 left in the opening period. The Rebels led 23-4 after the first quarter and by 46-17 at halftime.
"I started as a freshman here and then my sophomore year we had a big year and made the Jambo. The progression was going well until last year when we took a step back," said Ranaghan. "I think the reason for our success this year is that everybody has played with each other for at least one year and some of us for two. The chemistry is there for us and we have also made a major improvement on defense."
Holding Westwood to four first quarter points and to just five first half field goals showed just how tight the SRD defense was, but the Cardinals were not exactly at their peak. Head coach John Michael Santulli declined to make any excuses after the game, but the reality was that the flu has decimated the Westwood roster. The Cardinals had just 60 percent of their starting lineup available with Dylan Cippola, Scott Rosenfield and Steven Riedel available, but slots four through eight in the usual rotation were all waylaid by illness.
"There are no excuses. When you get to the Jambo you show up and play with what you have," said Santulli. "We were missing some guys that definitely would have helped us, but, that being said, we did not execute what we practiced in preparation for this game and it cost us."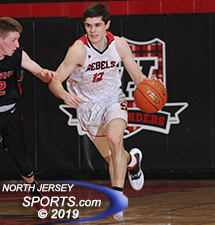 Kevin Ranaghan and SRD will play No. 3 Ramapo at FDU next Sunday..
Rosenfeld (10 points), Cipolla (10), Riedel (8) and Jaden Brown (5) did all of the scoring for Westwood. Cyran (20 points), Ranaghan (15) and Eiler (14) made it three players in double figures for Saddle River Day. Besserer, who was in control of the offense as facilitator and turnover limiter, and Gianotti each finished with 5 points and Sean O'Neill's second quarter field goal rounding out the scoring for the Rebels.
So now Saddle River Day heads for unchartered territory as it will make its first-ever appearance in the Jambo quarterfinals and it will do it on the big court at FDU against third-seeded Ramapo. No matter what happens, the Rebels have already shown that they belong at this depth.
"There is definitely still pressure. We don't want to settle for one win in the Jambo and then out. We are looking to win," said Eiler. "We are going to compete, we are going to play our style of basketball and just keep the winning mentality going."
FOR MORE PHOTOS FROM THIS EVENT PLEASE CLICK HERE. TO BUY A COLLECTOR'S PRINT OF THIS STORY PLEASE VISIT 4-FeetGrafix.com.