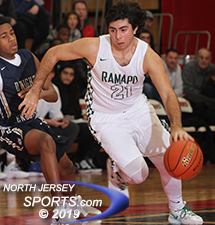 Senior John Whooley gave Ramapo a viable third offensive option and that propelled the Raiders to a 74-54 win over Dwight-Englewood in the Bergen County Jamboree's Round of 16.
ALLENDALE – Ramapo is one of the best public school boys basketball teams in the state this season and even gave Bergen Catholic a game when the two met up in Franklin Lakes a couple of weeks ago, but there is still plenty of work to do. With games getting bigger and the stakes rising, Ramapo is still looking for ways to grow. A lot of the bases are covered with size inside, athletic length on the wings, a steady pass-first point guard and a fifth starter who loves the nuances of playing defense against the opposition's best player.
Senior John Whooley is that fifth starter and he not only understands his role, but wholeheartedly embraces it.
"I have come to know exactly what my role is. I am a defensive guy, defense first and I only shoot it if I am open," said Whooley, a catcher during the baseball season who is committed to Villanova and is one of three Division 1 athletes in Ramapo's starting five. "We have a 6-10 guy [Neal Quinn] on this team and on offense it is a lot smarter for us to throw it up for him because no one can match up with him down there."
So what happens when Whooley steps out of his comfort zone, starts taking the ball to the basket and finishing layups in traffic?
"What you saw today, when John Whooley is playing like that we are really tough to guard," said Ramapo head coach Joe Sandberg. "Whooley is kind of that key that we have been looking for. If he turns the corner offensively than that is another piece that other teams have to worry about."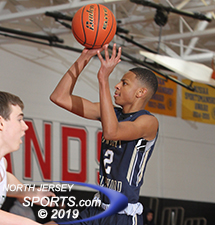 Freshman Jayden Lemond finished with 11 points for Dwight-Englewood
Whooley did more than turn the corner; he paved the way for the Ramapo offense on Saturday in the Round of 16 at the Bergen County Jamboree. Whooley scored 12 of his 16 points in the first half and nailed two three-pointers in the process as the third-seeded Raiders outscored No. 14 Dwight-Englewood in every quarter on the way to a 74-54 victory at Northern Highlands High School.
Ramapo will play No. 6 Saddle River Day in the quarterfinals next Sunday at Fairleigh Dickinson University.
Dwight-Englewood scored the first two points of the game on a Judah McIntyre layup 23 seconds in to take its only lead of the game. Quinn, the senior transfer from Northern Highlands who will play in the Patriot League at Lafayette next year, tied the game for the only time with a putback of his own missed shot and KC Hunt, Ramapo's other Division 1 signee (baseball, Mississippi State) scored on a driving layup to make it 4-2 1:06 into the game. From there, the Raiders would never be caught as they scored 14 straight points after falling behind for the lone time in the game.
Ramapo led 18-8 after the first quarter and Hunt scored the final three points of the second quarter to break the game open at 38-21 by halftime. There were some chippy moments throughout the game and especially in the second half with the outcome just about decided, but Ramapo kept its cool and was not drawn into any type of retaliation.
"I love when it gets like that. There was a lot of energy in the house and on the court and this game was really fun to play in," said Hunt. "We are feeling confident. We are playing pretty well, we have a big week this week with Ridgewood, Hackensack and then Saddle River Day, so we have to be ready. We got this one out of the way with a win and it is time to move on to the next one."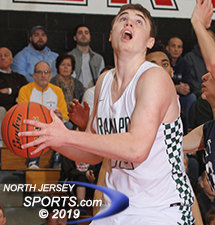 Senior Neal Quinn scored a game-high 24 points for third-seeded Ramapo, which will face No. 6 Saddle River Day in the quarterfinals on Sunday at FDU.
Dwight-Englewood, which has won at least one game in the Jambo in each of the last three seasons, saw the county tournament curtain call for two of the players that have helped the Bulldogs attain that decision. McIntyre went out kicking with a team-high 18 points while senior Jordan McKoy, after a scoreless first half, finished with 9 points. The crew charged with maintaining Dwight-Englewood's status as a perennial Jambo qualifier, showed out as freshmen Jayden Lemond and David Mager finished with 9 and 8 points, respectively. Harrison Ruff and Sam Lieberman each made three-point field goals and Tyler Koutros made two fourth quarter free throws to round out the scoring for Dwight Englewood.
Quinn led all scorers with 24 points and Hunt's 20 and Whooley's 16 made it three Raiders in double figures. Kyle Hroncich, Ramapo's senior point guard scored all six of his points in the first half as he team pulled away and junior forward Max Pernetti scored his four points on two third quarter field goals. Senior Justin Hu sophomore Sean Clapp split the other four points for Ramapo, which might have its hands full in the next round against a similarly senior-heavy Saddle River Day team that is currently undefeated and full of confidence.
"Just the little bit I have seen of Saddle River Day, they kind of play like us. They are tough; they have some guys that can do different things. We have Neil inside, which is to our advantage, but they are a good team. They play hard and the coach [Anthony Gallo] does a good job," said Sandberg. "We have been to the quarterfinals a couple of times, we have been able to win it a couple of times and get to the semifinals and to get there again we are going to have to prepare. Hopefully we show up at FDU and play well."
FOR MORE PHOTOS FROM THIS EVENT PLEASE CLICK HERE. TO BUY A COLLECTOR'S PRINT OF THIS STORY PLEASE VISIT 4-FeetGrafix.com.