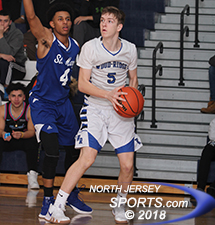 Ryan Connelly's three-pointer with 1:13 to go was the dagger in Wood-Ridge's 67-57 win over St. Mary that locks up the Blue Devils' spot in the Bergen County Jamboree.
WOOD-RIDGE – It was the kind of shot that when Wood-Ridge senior Ryan Connelly rose up to shoot it, it became one of those 'No, no, no,' moments. Wood-Ridge had turned a 15-point second half deficit into a four-point advantage with a minute-and-a-half to play against St. Mary on Tuesday night in a game of utmost importance to both teams.
Connelly probably should have pulled the ball out, run some clock and forced the Gaels to foul, but he decided that a three-pointer launched from the right corner was a better option.
"I guess he didn't hear me yelling, 'Pull it out!" said Wood-Ridge head coach Jimmy Maher. "But that is not the first time they didn't hear me telling them not to shoot."
In fairness to Connelly, he had an open look, he is a good shooter and the shot went in. There were no apologies necessary.
"I have a lot of confidence. I am a senior and I have to hit a big shot, right?" said Connelly. "Gotta step up and help get us this win."
Connelly turned a four-point lead into a seven-point advantage that just about ended the festivities. With a 25-point second half swing, Wood-Ridge pulled off a 67-57 victory that moves the Blue Devils to 9-2 on the season and locks up their spot in the Bergen County Jamboree still a full week away from the selection meeting.
St. Mary came in a 7-4 and needed to start a three-game winning streak to play its way into the Jambo. Behind Nick Boyd's 10 first quarter points the Gaels built a 23-16 advantage after the opening period and Boyd made a layup with 14 seconds left in the second quarter that gave his team a 37-25 lead at the intermission. Boyd then got free off an inbounds play and made a layup and a free throw for a three-point play that opened the third quarter scoring and gave St. Mary its largest lead of the night, 40-25.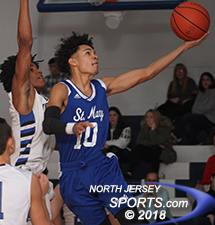 Nick Boyd finished with a game-high 29 points for St. Mary, which fell to 7-5 on the season.
"We executed that out of bounds play right out of the half, a play we drew up and we got a three-point play out of it. It worked exactly how we drew it up and you think you have all the momentum in the world," said St. Mary head coach Brian Gaccione. "We had a 15-point lead and you think that might be enough, but give Wood-Ridge credit. They are in first place in the league for a reason and they came back and put it on us."
Wood-Ridge's comeback started right after Boyd's three-point play as it ran off 10 straight points in just 2:07. Moshe Wilson's bucket off an assist from Liam Winslow forced a St. Mary timeout and Sarver's fastbreak basket off a turnover right out of that timeout finished off the run and had the Blue Devils within 40-35 with 5:48 left in the third period.
While Wood-Ridge got some shots to fall and was aggressive in attacking the basket, it was actually a tactical switch defensively that sparked the comeback. Wood-Ridge picked up on the other side of half court and forced St. Mary into some rushed decisions made under duress.
"It all starts with our defense and it has been like that the whole year. Once we start getting stops and playing a little faster, then the shots starts falling," said Maher. "That is exactly what happened tonight and exactly what happened on Tuesday night when we played [Hasbrouck Heights]. This is two big wins in a row now."
Having Wilson, a sophomore who loves nothing more than playing defense, to spearhead the ball pressure certainly helps when Wood-Ridge wants to turn up the tempo.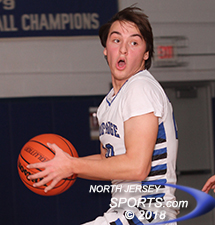 Lirak Hasangjekaj (16 points) was one of three double digit scorers for Wood-Ridge, which improved to 9-2 on the season.
"It's effort. I keep the intensity level up. I am the heart. I told all of my teammates that we were still in the game. We had to communicate better and have the heart of a lion," said Wilson, who came to Wood-Ridge three years ago when his family moved into town from Arkansas. "We were losing and I could not let that happen. I had to comeback with it. There was still time in the game and from where I am from in Arkansas, we come with a lot of intensity. I am focused on basketball. That is what I want to do and I put my all into it."
Wood-Ridge still had work to do as St. Mary pushed its lead back to as many as eight and was up 49-42 after Boyd closed the third quarter scoring with a layup nine seconds before the buzzer. But the fourth quarter belonged to the Devils, who outscored St. Mary 25-8 in the period and 16-2 over the final 4:49 of the game.
Sarver, the junior sharpshooter, hit two free throws to get the Devils to with two points before giving them the lead for good, 55-53, with his three-pointer the next time down the floor. St. Mary could not find a way to halt the run as Wood-Ridge kept the pressure up defensively and kept the ball moving on offense. Five different Devils scored in the final two minutes of the game and they made 6 of 8 free throws down the stretch to keep the Gaels at distance.
Sarver led Wood-Ridge with 21 points while Lirak Hasangjekaj (16 points) and Connelly (14 points) made it three Devils in double figures. Wilson scored all 6 of his points in the second half, Winslow finished with 5 points and 6 assists and Stephen Crandall (4 points) rounded out the scoring for Wood-Ridge, a perennially solid Group 1 program that is now 9-2 and back in the Jambo after a one-year hiatus.
For Maher, who took over for long-time head coach Ed Rendzio (now at Waldwick) last year, he is heading for the Jambo for the first time as a head coach.
"It's huge. It is really a testament to the kids sticking to what we started to do at the end of last year when we did start to turn the corner. We did win a few games down the stretch, we did make a nice little run and I think everyone saw how we did that and that was playing defense first and foremost," said Maher. "From the summer to the fall to now, we have continued to get better and that is because of the commitment to defense."
Boyd finished with a game-high 29 points and Mehki Hinds scored all 12 of his points in the first half. Jalen Garcia added 9 points, Rob Corozza had 4 and Nick Gillies had 3 points for the Gaels, who got all of their scoring from their starting five. At 7-5 with two games left before the Jambo cutoff, St. Mary, another perennial qualifier, is probably no longer in contention for a spot in this year's tourney.
"We are eliminated out of the Jambo. We knew we were going to have to win three in a row to get to .650 and get in. An NJIC school making it at 9-5? Not going to happen. Those days are over," said Gaccione. "We just have to get better every day. We have a lot of kids playing varsity for the first time and this was always going to be a rebuilding year. I am disappointed because I think we let some games slip away. Tonight was one of them."
FOR MORE PHOTOS FROM THIS EVENT PLEASE CLICK HERE. TO BUY A COLLECTOR'S PRINT OF THIS STORY PLEASE VISIT 4-FeetGrafix.com.