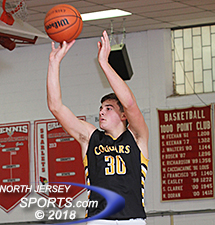 Luka Radovich scored a game-high 29 points as top-seeded Cresskill held off a challenge from No, 5 Paterson Charter in a 64-52 win in the North 1, Group 1 state sectional semifinals on Friday night.
CRESSKILL – Fifth-seeded Paterson Charter gave Cresskill all it could handle in the North 1, Group 1 semifinal match-up on Friday night, but in the end the top seed settled down and got past the Lions, 64-52.
"They are a terrific team," said Cresskill coach Dan Egorow. "They're so well-coached, they're well-prepared, they knew us inside and out. They even tried to out-match us - they went small in the beginning, which I thought was brilliant by (Paterson Charter head coach Jerry Wimberly). That was a true battle for us."
Paterson Charter ran out to a 15-10 lead heading into the second quarter as junior Rajan Cameron and sophomore Sadiki Miller each tallied 4 points.
"In the first quarter they were making shots," said Cresskill senior Luka Radovich, who had 5 of his 29 points in that first quarter. "We couldn't really stop them. We didn't know what type of offense they were coming out in. So we were still trying to figure out what they were running while they were putting points on the board."
"We came out shaky," added Cresskill senior Harrison Lucibello. "There were a lot of people here and we were nervous. But we got the chills out and we played well. We calmed down in the second quarter and played our game confidently. We were just running around in the first quarter."
Cresskill did calm down in the second quarter and kept chipping away at the lead. A put-back by Radovich got them within one, as did a basket by senior Wellington Ventura two minutes later. The Cougars finally took the lead on a basket from in close by Radovich. Lucibello added two free throws and Radovich's two foul shots gave Cresskill a 26-22 lead heading into the halftime intermission.
"We're not really used to being down in the first quarter," Egorow said, "but I was proud how our guys rallied back. We kind of absorbed their blow and I thought we settled down. We just got back into our own rhythm, our own game, which is important for us."
"When you're playing a seasoned team, you can hit them for a minute but they're going to come back and take your best shot," said Wimberly. "We thought we could crumble them for a little bit but they had some senior leadership. They had a nice guard, No. 5 (Lucibello) that handled everything and made sure everybody was under control. And No. 30 (Radovich) is a heckuva player, a heckuva player and they had good complimentary players. I figured we could knock them out but it didn't work out that way."
The Cougars took control of the game in the first half of the third quarter with a 10-4 run to grab a 36-26 lead. Lucibello took a feed from Radovich and scored, Ventura scored inside and Radovich scored three times from in close.
"The lanes started opening, we tapped the lanes and good things started happening," said Lucibello.
"We knew they didn't have a lot of size and we obviously have more size than them," added Radovich. "We knew we had to get it inside and that worked in this game."
The Cresskill defense also stepped up and the lanes which had been opened earlier in the game were shut down.
"That's Cresskill basketball," Egorow said. "We pride ourselves in playing defense. Coach [Mike] Doto did it for the past nine years. Coach [Marty] Rivard set the foundation for it and I hope to continue the tradition. The guys buy into it, which is important. We were just going to pack in the paint. They're such good athletes, they attack the hoop so well. So we wanted to pack in the paint and not allow them to drive by us all the time, although they did do it a bunch of times [earlier]."
"In practice we talked about them," said Radovich. "We knew their personnel and we knew what they did. They are very athletic and quick but they don't have a lot of scorers [from the outside] so we tried to force them to shoot, not let them penetrate, and try to let them stay outside."
Cameron had a team-high 17 points, sophomore Bashir Byred added 11 and Miller chipped in with 10 for the Lions. In addition to Radovich's 29, Lucibello contributed 13 and Ventura 12.
Paterson Charter is a very young team with two juniors, two sophomores and a freshman in the starting lineup. Three other sophomores came off the bench. Wimberly hopes his team will benefit from the experience of playing against this veteran team.
"This is a great experience for us - a big experience for us," he said. "They're a heckuva team over there - senior heavy - and that's how seniors are supposed to play. They are supposed to step up like that. Hopefully we can learn a lesson from this and come back next year and try to emulate what they just did. I take my hat off to them. They are coached very well. You couldn't ask for a better game."
Egorow was asked if being challenged as they were by the Lions will help his team going forward.
"Absolutely," he said. "You're only going to see tougher and tougher competition as you go forward. This kind of brings our guys together and also lets us know we have to play our best basketball every night. We just can't just show up. We have to be prepared and we have to work hard."
Cresskill moves on to the sectional final on Tuesday against long time rival New Milford.
"We're now exposed to getting hit with the first punch in the first quarter, absorbing it and rebounding back," Radovich said. "We know New Milford is going to have their runs, we're going to have our runs. We just need to keep our heads up and keep playing together."
TO BUY A COLLECTOR'S PRINT OF THIS STORY PLEASE VISIT 4-FeetGrafix.com.