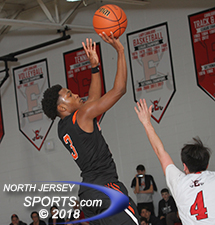 Anthony Palmer hit six 3-pointers on his way to a game-high 26 points for Hasbrouck Heights, the No. 6 seed, which beat No. 3 Emerson, 58-44 in the North 1, Group 1 state sectional quarterfinals.
EMERSON – The team that can force its favored tempo has a distinct advantage in state tournament games. A team that can change speeds at will to suit game situations is going to be an even tougher out. That describes Hasbrouck Heights, the No. 6 seed in the North 1, Group 1 state sectional tournament, which sped the game up early on the road on Wednesday night and then slowed it down later to subtract possessions from No. 3 Emerson, which needed as many as it could get to try to mount a comeback.
Heights played a technical masterpiece and led wire-to-wire in a 58-44 victory that puts the Aviators into Friday night's state sectional semifinal where it will get a home game after No. 7 New Milford came from 17 points back to upset No. 2 Bogota.
"We knew they were going to try to slow the pace and shorten the game, so the game plan going in was to take any opportunity to push the ball and get to the rim," said Hasbrouck Heights head coach Mike Cebula. "When we had the lead at halftime I think they had six field goals and four or five of them were on passes behind the defense for layups. That is the price you pay for pressing, so in the second half we pulled back and tried to force them to use the clock on offense. We kind of shortened the game to our benefit."
Emerson won the opening tap, but Hasbrouck Heights' Anthony Palmer made a steal and turned it into a layup at the other end to give the Aviators the lead for good just 17 second into the game. Josiah Purdie's steal and layup gave Heights a 14-7 lead before settling for a 14-11 advantage after the first quarter. Emerson got as close as 17-15 after Pete Durocher and John Dime scored back-to-back baskets, but every time the Cavos threatened, Heights had an answer.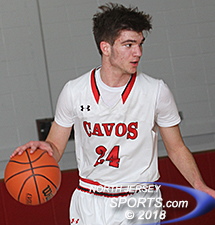 John Dime finished with a team-high 18 points for Emerson.
Palmer scored five straight points and Purdie added a steal and a layup and then Palmer set up Matt Moretto for a layup with a behind-the-back pass to turn a two-point lead into a 26-15 spread that Emerson could only cut by one before the halftime buzzer.
Palmer, who loves that spot just a step or two to either side of straight on at the top of the key, made six three-pointers in the game and one of them opened the third quarter scoring. A bucket by Moretto on the fastbreak pushed the Aviators lead up to 31-16 less than a minute into the second half in front of the nattily-attired Emerson student section, which was in full throat even with its favorite team trailing all night long.
"I think we play better in a hostile environment, at least I think I do. I love it when the crowd is loud and going crazy," said Palmer, who never cooled off as he hit two three-pointers in each of the second, third and fourth quarters. "It was loud, but we stayed focused on the game. We knew it was going to be noisy, but it was up to us to come in here and get the job done with letting the crowd affect us."
Emerson had its best stretch of offense right after Palmer's third three-pointer of the night when it committed to making sure junior John Dime got sufficient touches. Dime, the Cavos' leading scorer, went on a personal 8-0 run over the course of 2:27 to get Emerson back to within 31-24 with 4:19 left in the third quarter.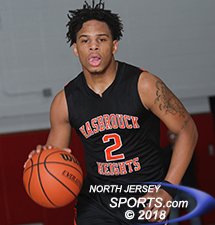 Josiah Purdie scored 13 points for Hasbrouck Heights, which will host 7th-seeded New Milford in the semifinals.
Then Palmer hit another trey from his sweet spot and Purdie connected from deep 27 seconds later to end the run and, pretty much, the game. Emerson closed the third quarter with five straight points to get back to within 37-29, but Palmer banged another three to open the fourth quarter and the Cavos never got back inside double digits the rest of the way.
"Anthony Palmer is a very good player, a hard worker and he deserved to have a night like this. He missed couple of games with a nagging leg injury, but it was great to get him back and have him have this kind of game," said Cebula. "This is the right time of the year to be playing well and with the guys that we have on this team, we are ready to go and it helps to have two guys like [Palmer and Purdie] and a bunch of role players that do their jobs and make it a total team effort. We need everyone. Every guy that is in the varsity practice, one through 22, is important."
Dime (18 points) was the only Cavo to reach double figures. Durocher added nine, but no other Emerson player made more than two field goals. Emerson made just two three-pointers in the game and both of them came in the fourth quarter with the outcome pretty much already decided.
Palmer finished with a game-high 26 points, Purdie added 13 and Moretto (12 points) stepped up to be that all-important third scoring option. Kunga Tsering added four fourth quarter points and James Klenk made three fourth quarter free throws to round of the scoring for Hasbrouck Heights, which will head into the semifinal home game with plenty of confidence.
"We had a lot of energy tonight, we played defense well, we forced a lot of turnovers and we made a lot of shots," said Purdie, also a first-team All-County football player. "It starts with the way we practice. We get after it every day, the coaches do a great job of preparing us and we just want to keep it going, keep winning and moving on."
TO BUY A COLLECTOR'S PRINT OF THIS STORY PLEASE VISIT 4-FeetGrafix.com. FOR MORE PHOTOS FROM THIS EVENT CLICK HERE!