Saturday, March 4, 2017
By Cory K. Doviak
NJS.com Editorial Director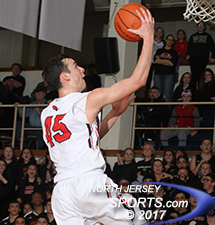 Joe Paulillo scored a team-high 15 points, including the two free throws with :01.1 seconds left that gave Westwood a 41-39 win over Jefferson in the North 1, Group 2 state sectional semifinals.
WASHINGTON TOWNSHIP – When ninth-seeded Jefferson pulled a shocking quarterfinal upset of top-seeded Pascack Hills, it blew the North 1, Group 2 state sectional tournament bracket wide open. It made all of the teams left, including the Falcons themselves, co-favorites to win the section title. That was why it was impossible to figure out who was supposed to win Friday night's semifinal even with less than one minute left to play in regulation.
After Jefferson's Steven Breeman hit both ends of a one-and-one with 1:05 to play, Westwood, the No. 4 seed, had the ball and what would be the last legitimate chance to break the tie score. With Jefferson content to let the final possession play out while sitting snuggly in the zone that has served it so well, Westwood point guard Colin Liddy held the ball uncontested until there were 12.5 seconds left when head coach John Santulli took a time out.
Then the ball was back in Liddy's hands, but this time he had to move. He turned the corner on the right, made a beeline for the basket from the wing and then went strong. Just because the shot did not go in, does not mean that it did not serve its purpose. The Jefferson defense had to collapse to contain immediate threat and that left rebounding space for Joe Paulillo, who grabbed the ball, went up strong and was rewarded with a gutsy foul call, the kind that sometimes goes unpunished in the cacophony of the waning seconds of any game, let alone one of the do-or-die playoff variety.
With :01.1 left on the clock, Paulillo had two shots to make one that would break the tie and all but seal the Cardinals' spot in Monday's state sectional final at Newton.
He made both and Westwood won 41-39.
"I was just thinking 'Knock them down,' That was really it. That was all that was going through my mind. I had the fans behind me, my team behind me and I had to knock them down. I really didn't feel like going into overtime," said Paulillo. "This feels amazing. We have put a lot of blood, sweat and tears into this season. We have put a lot into this and I think we deserve it. I can't even describe it. I am out of breath. I am sorry."
Steven Breeman scored 20 of Jefferson's 39 points, including 8 in row in the fourth quarter that got the Falcons back even at 39 with 1:05 to play.
Paulillo had nothing to apologize for. It was him that finally got the Cardinals going after they gave up the first 10 points of the game. His finish from the baseline with 2:22 left in the opening quarter finally got Westwood on the scoreboard and his 8 first half points help keep the Cardinals within shouting distance when Jefferson did its best to pull away.
Sean Batelli made two 3-pointers in Jefferson's 10-0 game-opening run and he made two more in the second quarter, the second of which gave the Falcons a 17-8 lead with 4:13 left in the half. A 7-0 run the other way, however, got Westwood firmly back in the game and it went into halftime trailing by only 20-15 in the kind of defensive slog that Santulli was certainly expecting.
"We knew this was not going to be a pretty game. We are both kind of mutts that work real hard," said Santulli. "We are sometimes challenged in the halfcourt, especially against zone teams, but we play real good defense, too and we knew that this one was going to be all about gutting it out."
Jordan Steward provided two key third quarter baskets, a 3-pointer that open the second half scoring and another on the fastbreak off a long lead lob pass by Steven Riedel, that gave Westwood its first lead of the game at 25-24. That basket came in the middle of an 8-0 run that was spurred by the Cardinals ability to get out in the open floor and into the offensive end before the Jefferson defense could set up.
Westwood was up 30-26 after Paulillo made a steal and a layup, but Jefferson, behind another 3 from Batelli and a mop-up bucket under the basket, recovered to take a 31-30 lead heading into the fourth quarter.
But when Batello and Breeman were not scoring, neither was Jefferson and the duo went quiet for the first five minutes of the fourth quarter, which allowed Westwood to make its bid to pull away. Paulillo's runner to open the final period kicked off a 9-0 Cardinal run that included making 5 of 6 free throws in one-and-one situations. Joe Kramer made the last two to put Westwood up 39-31 with 3:14 to play.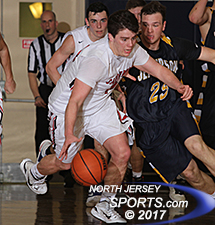 Colin Liddy's hard drive to the basket gave set up the sequence that led to the game-winning free throws for Westwood, which will play at Newton on Monday for the section title.
"We knew it was not over. As quickly as that momentum swung for us, we knew that the momentum could swing just as quickly for the other team," said Kramer. "We had to be ready for that because we knew they had another run in them."
That run did come and it came in form of Breeman, who was not about to let his team succumb quietly. He drilled two 3-pointers within 30 seconds of each other and then made both ends of a one-and-one with 1:05 to go. His personal 8-0 spurt got Jefferson back even at 39, but it would never get the ball over halfcourt again.
Westwood held for the last shot and Jefferson acquiesced, which led to Liddy's late run at the basket that led to Paulillo's game-winning free throws. Kramer got his finger tips on Jefferson's final inbounds play, which was supposed to be a baseball pass in the mixer at the other end of the floor. Instead, it fluttered into the arms of Paulillo at halfcourt as the final buzzer sounded.
Breeman, who scored a game-high 20 points, and Batelli, who made five 3-pointers, combined to score 36 of Jefferson's 39 points. Logan Hollerriter made a second quarter field goal and Joe Morici made a free throw to account for the rest of the Falcons' scoring.
Paulillo (15 points) was Westwood's lone double digit scorer, but Steward added 8 points and Liddy and Kramer each added 6 in a game where every score was precious. Riedel scored all 4 of his points after halftime and Eric Rigg had the other deuce for Westwood, which will now take its playoff circus west to Newton, the No. 3 seed that upset No. 2 Hawthorne on the road.
"First of all, I have a ridiculous amount of respect for Jefferson. That is a great team that won two games on the road just to get here and just beating [Pascack] Hills on the road is like winning a state championship in itself," said Santulli. "Coming into this season I never thought this would happen, I never thought that we would be on our way to the section final, but, even though this is corny, we just say before every game, 'Let's just go 1-0.' We have gone 1-0 three times in the state tournament and hopefully we can go 1-0 one more time.
CLICK HERE FOR MORE PHOTOS FROM THIS GAME. TO BUY A COLLECTOR'S PRINT OF THIS STORY, PLEASE VISIT 4FeetGrafix.com.