Friday, March 3, 2017
By Cory K. Doviak
NJS.com Editorial Director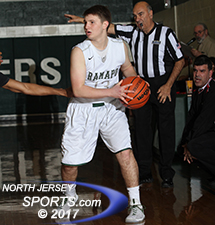 In his first-ever varsity start, Ben Bitensky hit the 3-pointer early in the first quarter that gave Ramapo the lead for good in a 48-28 win over Bergenfield in the North 1, Group 3 quarterfinals.
FRANKLIN LAKES – There could have been a slight inclination for Ramapo to overlook its opponent in Thursday night's North 1, Group 3 state sectional quarterfinal. Bergenfield pulled a first round upset on the road against second-seeded Sparta, but the Bears were still the No. 15 seed and the decided underdog heading up to Franklin Lakes.
Ramapo, however, a team that does not have a single senior in its starting lineup, does not see itself as the kind of team that can take any opponent lightly.
"Think about it…they were coming in here thinking we are not such a great team. We barely got into the county tournament, we are 15-10 and we have had our ups and downs. We are not in the position to think we are better than anybody," said Ramapo junior Jason Oppler. "Our coaches stress it enough; it doesn't matter who we play, the focus has to be on us and being ready to play our game."
So if there was not going to be an emotional letdown for either team then the result was going to come through execution and Ramapo executed better on both ends of the floor. Ben Bitensky, a junior making his first ever varsity start, knocked down a 3-pointer 43 seconds into the game to wipe out Bergenfield's only lead. The Green Raiders, despite foul trouble and relative inexperience, rode the home crowd to a near wire-to-wire 48-28 victory.
"I meant a lot to get out in front early. We prepared well for this game, we scouted them well and we knew what they had. My teammates picked me up early because I was a little nervous to begin with," said Bitensky. "It was a well-rounded game. We used a lot of guys, everyone stepped up and we did well."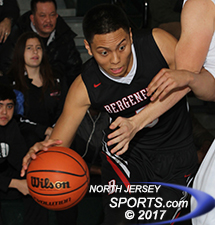 Justin Pineda and Bergenfield shook up the bracket with their first round upset of No. 2 Sparta.
Ramapo, the No. 7 seed, will visit No. 3 River Dell on Saturday in the North 1, Group 3 semifinals while No. 1 Old Tappan and No. 4 Teaneck, the defending section and Group 3 state champion, battle it out on the top side of the bracket.
"Coming into this season there were not a lot of expectations for us," said Ramapo head coach Joe Sandberg, who graduated six seniors from last year's team that was the top seed in both the Bergen County Jamboree and the state sectional tournament. "Jason [Oppler] and KC [Hunt] have taken the lead and when I looked at this bracket when it first came out I said, 'You know what? We have a chance at this.' We are starting to play well, we are starting to play as a unit, the guys are playing for each other and anything can happen."
The state tournament is all about matchups. Two years ago the Green Raiders were the No. 1 seed in the state bracket and lost in the quarterfinals to No. 8 Teaneck. Last season the Raiders made and hosted the final, but it was Teaneck again that tripped them up. This year, the luck of the draw reversed itself and Ramapo beat Morris Hills in the postseason opener, got a second home game when Bergenfield shocked Sparta and, while River Dell can say the same thing, the path to the title means having to beat either Old Tappan or Teaneck, the two co-favorites that split their regular season series, but not both.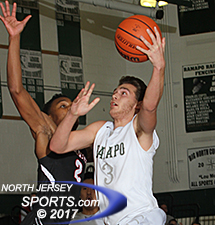 Jason Oppler had 13 points for Ramapo, which will play River Dell in the semifinals on Saturday.
But first the Raiders had to take care of Bergenfield which, after falling behind 19-2 to start the game, got back in it. Hunt sat for most of the second period with two fouls and the Bears took advantage Bryant Almanca hit a 3-pointer to open the second quarter and Bergenfield climbed back to within one point on two separate occasions, 16-15 and 18-17, before John Whooley canned a 3-pointer off a Justin Hu kick-out to give Ramapo a 21-17 lead at the half.
Jason Hope scored inside to cut the Bergenfield deficit in half right out of the locker room, but that was the high-water mark for the Bears as Ramapo, with Hunt back on the floor, held them scoreless for the rest of the third period and reeled off 13 unanswered points. Whooley hit a 3 and Hunt followed with a bucket close the run and the quarter with Ramapo up 34-19. The Raiders played keep away to great effect in the fourth quarter to close out the win.
Alijah Gonsalves, Garrick Guzman and Dave Capala all scored 5 points for Bergenfield and Hope and Justin Pineda each made a pair of field goals for Bergenfield, which exits the state tournament knowing that it disrupted the scheduled order of events.
Ramapo was led by Whooley's 17 points, 13 from Oppler and 10 from Hunt, who scored all of them in the second half. Bitensky added 6 points and Robert Dvoretsky had the other 2 for the Green Raiders.
CLICK HERE FOR MORE PHOTOS FROM THIS GAME. TO BUY A COLLECTOR'S PRINT OF THIS STORY, PLEASE VISIT 4FeetGrafix.com.