Thursday, March 2, 2017
By JC Baumuller
NJS.com Correspondent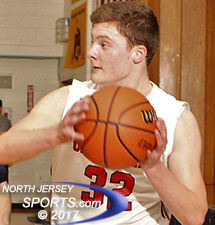 Steven Riede made a couple of big hustle plays for Westwood, which advanced to the North 1, Group 2 semifinals with a 71-55 win over Pequannock.
WASHINGTON TWP – Junior Colin Liddy tallied 23 points to lead Westwood past Pequannock, 71-55, in the quarterfinals of the North 1, Group 2 state playoffs Wednesday night.
"He's our team leader," Westwood coach John Santulli said. "He's only a junior but he's been a leader from the day he stepped on the court. Last year was one of the best teams I ever coached. We only won 11 games but our three seniors were incredible leaders and he learned so much from them."
Liddy was on fire in the first half, scoring 15 – all on 3-pointers – as the Cardinals grabbed a 41-31 lead at intermission.
They had led by 15 with less than a minute to go but Pequannock guard Ryan Hitchcock drained a 3 and then a steal and long pass to Hitchcock's teammate, David Jachera, resulted in a layup as the buzzer sounded.
"I would have liked to play a little better defensively because that's usually what we are," Santulli said. "I think that might be the most points we gave up in a half. I think it's also the most points we scored in a half, so luckily we had them."
Pequannock continued its run into the third quarter when senior Austin Van Wingerden drove and scored and a minute and a half later drained a 3 to cut the lead to 41-36. But the Cardinals went on a 12-5 run to close out the quarter, utilizing pinpoint passing to get open looks.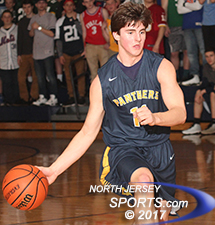 David Jachera finished with 11 points for Pequannock.
"We don't have a lot of 'put it on the floor' kind of players so our penetration has gotta be via the pass," said Santulli. "And we're a very unselfish team. We've worked on it a lot. So making that extra pass is very important for us to get open shots."
One play that typified Westwood's passing skill was when sophomore Steven Riedel saved the ball underneath his own basket, getting the ball to senior Jordan Steward. Steward then zipped the ball inside to sophomore Joseph Paulillo, who scored. He finished with 14 points.
"I have to give it to my teammates," he said. "My teammates passed the ball to me when I was open."
He was also relentless on defense. Paulillo stuck close to the player he was guarding, disrupting Pequannock's offensive flow and causing turnovers.
"Every practice we work on defensive flies in the beginning of practice," Paulillo said. "I take pride in my defense. I feel that if I do that it lifts the whole team up."
"He has incredible energy," Santulli said. "He has a motor like nobody I ever played. His motor just never, never stops. When he learns the game he's going to be a heckuva player."
Paulillo is one of four sophomores who have earned playing time this season.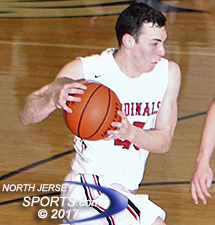 Joseph Paulillo had 14 points for Westwood, which will host Jefferson in the semifinals.
"We're very young," Santulli said. "We start two seniors, but all four of the kids that came off the bench are sophomores. Our kids know we have great loyalty to our seniors and the young kids come in and play a lot. [Steven] Riedel played a ton of minutes in the first half. [Joseph] Paulillo is going to be a great player. [Dylan] Cipolla [gave us minutes]. [Scott] Rosenfeld made a huge 3. Chemistry-wise they all love each other and work well together."
"Without them I don't think we could do this," Liddy added. "They're really stepping up and helping us out."
Pequannock cut the Cardinals' lead to 53-46 in the first 24 seconds of the fourth quarter but the Westwood defense stepped up and didn't allow another point until Van Wingerden scored with 3:19 to go in the game. By then Pequannock trailed by 18 and they would get no closer than 14 the rest of the way.
"Offensively, other than the turnovers, this is probably about the best game we've played all year," Santulli said. "Defensively, whenever we let down, they took advantage of it. They're a very well-coached team. They got layups and made open 3s but I'm really proud of our kids."
"I thought we played well as a team," said Liddy. "We all dug in on defense. From the start our plan was to get stops and push and power, push in transition to get away from the zone. They play excellent zone and that was the key."
The No. 2 seeded Cardinals welcome No. 9 Jefferson, a 38-37 upset winner over No. 1 Pascack Hills, Friday night at the Immaculate Heart Academy gym.
"Our motto is 'Team Together,'" Paulillo said. "When we play together and we play as a team I believe we can achieve the highest of the highest."
"We have a lot of chemistry here," said Liddy. "We've been playing together a lot and we've been growing as a team. We just have to stay strong all the time."
CLICK HERE FOR MORE PHOTOS FROM THIS GAME. TO BUY A COLLECTOR'S PRINT OF THIS STORY, PLEASE VISIT 4FeetGrafix.com.