Wednesday, March 1, 2017
By JC Baumuller
NJS.com Correspondent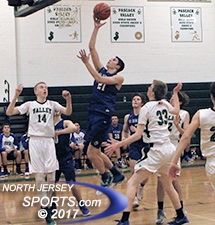 Jake Runyon scored this basket with 20 seconds left in the game to put his team in front and NV/Demarest from there in a 51-49 upset of Pascack Valley in the opening round of the North 1, Group 3 state sectional tournament.
HILLSDALE – Demarest junior Zack Stimmel canned a pair of free throws with 2.1 seconds to go in the game and the Norsemen held on to defeat Pascack Valley, 51-49, in the opening round of the North 1, Group 3 state playoffs Tuesday night.
Stimmel was asked what he was thinking as he stood at the foul line with his team leading, 49-48.
"[I'm thinking] deep breaths," he said. "We spend so much time in practice [shooting free throws]. Coach emphasizes it wins games. I think we shot 7-for-8 in the fourth quarter. I took a couple of deep breaths and did what I did. In the heat of the moment I just knocked them down. I'm thankful I did."
Stimmel's foul shots gave Demarest a 51-48 lead and Valley had one more chance tie the game when it inbounded the ball with a long pass to junior Alex Lin.
But Norseman junior Jake Runyon fouled Lin before he could get a shot off.
"I'd seen Lin throw it in from everywhere," said Demarest coach Joe Dionisio, "so if we were able to get a clean foul on the pass I didn't mind doing it. I'm not a believer of it, but I didn't want Lin to catch and shoot."
"I just made a smart basketball play," said Runyon. "I knew we were up three and I knew there was little time left on the clock. I knew by the time he turned around and I fouled him there would be less time and we were up three."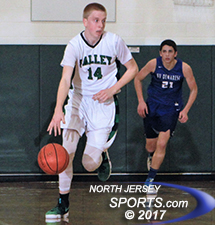 PV's Alex Lin tied the game 47-47 on a foul shot with 33.1 seconds to go
As a result of being fouled, Lin went to the free throw line to shoot one-and-one with .8 of a second left. He canned the first foul shot, but as he lofted his second attempt toward the basket the Indians were whistled for a lane violation and Demarest got possession of the ball. That enabled them to kill the clock and earn the victory.
The fourth quarter was the culmination of a hard-fought game. Valley carried a two-point lead into the final frame and upped the advantage to five with a free throw by senior Legend Dominguez and a put-back basket by senior Matt Domville. A 3-point play by Runyon cut the lead to two and, after Dominguez drained another free throw, Stimmel tied the game at 43-all with a long 3-pointer.
Norseman junior Endrit Kaleci tallied a pair of free throws to give Demarest the lead, but after the teams exchanged points, Lin tied the game 47-47 on a foul shot with 33.1 seconds to go. Runyon drove and scored 13 seconds later to give Demarest the lead for good. He finished with a game-high 17 points.
"We knew the second we went back into the lead that defense was going to win this game and it did," said Runyon. "We were up one in the fourth quarter and our defense stepped up and we didn't let them score in the end. That's how we won all those games – with the defense."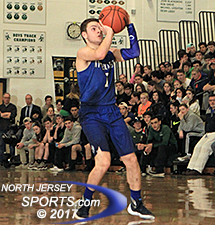 Zach Stimmel scored some big points late for Demarest, which will play River Dell in the quarterfinals.
In the first quarter Demarest grabbed an 8-6 lead on a 3-pointer by junior Joe Rotonde. But Valley went on a 9-0 run highlighted by a short jumper by Dominguez, a 3-pointer by Lin and drives to the basket by Domville and senior Noah Baumgarten.
"It's a game of runs," said Stimmel. "They went on their run and we just had to hang in there. We couldn't let go. Coach told us to give everything we had and we did. We scored more than them in the end and it's great."
By the first quarter's end Valley held a 17-14 lead and the game stayed close through the remainder of the first half.
Lin opened the third quarter scoring with two free throws, but Demarest took the lead with an 8-0 run. Junior Justin Schaumberger got it going with a basket from in close and then Rotonde and junior Austin Alberici swished back-to-back 3s to give the Norsemen a 35-31 lead. After a timeout Valley took back control of the game and they went into the fourth quarter with a 39-37 lead.
The Norsemen were very excited after the game, especially considering they began the season 0-7.
"We fought hard all year to get back to respectability," said Dionisio. "We knew coming in here was going to be very difficult. They've got so many offensive weapons and of course Al [Coleman] is a terrific coach. We knew it was going to be a barn-burner and a rock fight and it was."
Point Legend Dominguez made a free throw early in the fourth quarter to give Pascack Valley a 43-40 lead.
"Being 0-7 was a lot of pain," added Runyon. "Coming out here and getting a win in the states means so much because we earned it. We practice hard, we won I don't know how many of the last whatever. We've played hard, we came out with a lot of energy, we wanted it more and it means a lot."
Demarest moves on to play River Dell on Thursday night. This collection of juniors and sophomores has come a long way and they can keep it going.
"We are young but they've played enough games now," Dionisio said. "Just because we're juniors and sophomores we're experienced, we're gaining experience all the time. We put in such a great effort over the past four or five weeks that they've settled into a 'play real hard' kind of mode. It's working out for us."
"We don't want to look ahead – we think we can win games now," said Stimmel. "We're excited with the team we have but it's exciting to know we're just juniors and we have another year together. It's awesome. I love playing with them. They're my friends outside of basketball, in basketball and you can really feel that chemistry."
CLICK HERE FOR MORE PHOTOS FROM THIS GAME. TO BUY A COLLECTOR'S PRINT OF THIS STORY, PLEASE VISIT 4FeetGrafix.com.