Tuesday, February 28, 2012
By Rich Barton
NJS.com Staff Writer
Connor Walsh and Waldwick grabbed their first state tournament win in 11 years with a 60-36 victory over Hasbrouck Heights on Monday.
WALDWICK – To say the Waldwick players were in unchartered territory on Monday night was beyond an understatement. After just nine wins in their previous four seasons combined, just qualifying for the state tournament this year was an achievement in itself. To earn a home state tournament game and play in front of a filled gymnasium for the first time in over a decade may have been too overwhelming of a situation for them to handle. But with the crowd behind them and both their adrenaline and confidence sky high, the Warriors knew that after years of waiting, it was finally their time to shine and shine they did.
Sophomores Doug Palmodessa and Connor Walsh combined for 39 points as eighth-seeded Waldwick took the lead in the first minute and never trailed after that in notching its first state tournament victory since 2001, cruising to a 60-36 triumph over ninth-seeded Hasbrouck Heights in the first round of the North 1, Group 1 state tournament at Waldwick High School.
"I have to be honest, I couldn't focus all day in school because I just kept thinking about the game and how important it was to us," said Palmodessa. "Just getting to play at home in front of a crowd like this was awesome. It's a great feeling to play your best when it matters the most. Last year was really frustrating, but it was a good learning experience for us. To go from where we were last year until now, it's night and day. Under Coach (Adam) Kaplan, we're a totally different team now."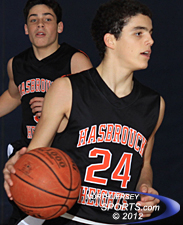 Mike Schrobackhad 21 points to lead Hasbrouck Heights.
Palmodessa got off to a hot start on both ends with a couple of early steals and layups, the latter of those two giving the Warriors a 15-9 lead. They maintained that lead throughout and broke the game open with an extremely rare six-point possession with less than a minute to play in the half. Walsh nailed a three-pointer from the corner and was fouled in the process. He missed the ensuing free-throw but James Moran was able to haul in the rebound and kick it out to Palmodessa, who knocked down another three-pointer as Waldwick grabbed a 36-23 lead at the intermission.
"Giving up six points on one possession was a killer for us," said Hasbrouck Heights' head coach Mike Cebula. "I thought we had a lot of open looks all night but, especially in first half, they just didn't fall. Containing their point guard (Palmodessa) was our number one priority and he carved us up in the first half anyway. We have a good group of guys though and almost all of them come back. So we'll learn from this and use it as motivation to get better over the summer."
The Aviators never got closer than the halftime margin in the second half as seniors John Simeone and James Moran scored early to bump the lead up to 17 and give Waldwick some more breathing room.
"I was real happy with the way we played tonight and these kids deserve to play in front of a crowd like this," said Waldwick head coach Adam Kaplan. "I still don't think we played a complete game, but I think this was as close as we've come all season. We had some lapses, but our energy was there right from the opening tap. Just to make the states and compete I felt was a realistic goal for us. To get a home game and win the way we did tonight is a testament to the work our kids have put in throughout the season and in the off-season to improve."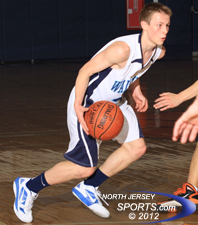 Doug Palodessa had 21 points, 5 assists and 4 steals for Waldwick, which will play top-seeded Wood-Ridge in the quarterfinals.
Palmodessa finished with game-highs of 21 points, five assists, and four steals for Waldwick (12-12). Walsh added 18 points and 10 rebounds, while Moran chipped in with eight points. Mike Schroback had 21 points and Joe Crabbe added 11 for Hasbrouck Heights, which finished the year with an 8-15 record.
Waldwick now gets the unenviable task of trying to slow down the state's most high-powered offense in Wood-Ridge, which put up 113 points in its first-round victory over Wallington on Monday night. But for the Warriors, getting to play another game is just another perk in a season that has already been a huge first step toward building a program that is a consistent winner.
"Tonight was great and we want to have that feeling every year," said Walsh, who experienced a run to the Group 1 state baseball final last year as freshman playing up on the varsity level. "We were definitely nervous early on. But when we ran a backdoor play right off the bat, which Doug hit me for a layup, I think we treated it like just another game from there. We focus on rebounding and defense so much and I thought we did both real well. Just playing a team like Wood-Ridge is a great opportunity. We've already achieved what we wanted to do; everything else from now on is a bonus."
FOR MORE PHOTOS OF THIS EVENT OR TO BUY A COLLECTOR'S PRINT OF THIS GAME STORY, PLEASE VISIT 4FeetGrafix.com.