Sunday, February 19, 2012
By Cory K. Doviak
NJS.com Editorial Director
Josh Marquez came off the bench to score 14 points for DePaul, which knocked off HCA, 60-54, in the Passaic County Tournament semifinals.
PATERSON – There were plenty of times when it looked like Hawthorne Christian Academy's charmed run was going to a screeching halt against second-seeded DePaul in the semifinals of the Passaic County Tournament. When 6-foot-7 sophomore Alex Thomas was called for his second personal foul just 4:28 played in the game, the Defenders were in trouble. When DePaul stretched its lead to nine points twice in the second quarter, to 11 in the third quarter and when Nick Aust and Paul Little also got in foul trouble, Hawthorne Christian could have been run right out of the gym.
But rather than crash and burn, Hawthorne Christian got all the way back to within one point with just over six minutes to play in the game before making a graceful exit in a 60-54 loss to DePaul, the No. 2 seed that kept its composure and kept from becoming another chapter in the tournament fairy tale that tiny HCA was trying to write. DePaul will play top-seeded Eastside, a 68-52 winner over rival Kennedy, in next Saturday's county final at Wayne Valley High School.
"I thought we came out ready to play, but once they survived that run that we tried to make, we knew we were in for a game. Every time we went on a run and made [the lead] 10 or 11, they would always find a way to come back," said DePaul head coach Bart Fazio. "But I always feel that our defense can make that stop and I think that in the last three or four minutes, except for that one bank shot that the kid [Chris Aust] threw in, our defense shut them down pretty good."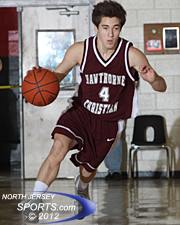 HCA's Chris Aust made one 3-pointer in all four quarter and finished with 14 points.
The low point for Hawthorne Christian came inside the first 20 seconds of the second half when DePaul's Devon Jacobs hung a third foul in Thomas on his way to scoring the first points of the third quarter and then making a layup after following up his missed free throw to put the Spartans up 37-26. From there Hawthorne Christian moved into full catch-up mode and it very nearly made it all the way back in numerous occasions over the final 15-plus minutes.
Down 38-28 when Sanders Green made a free throw with 6:20 to go in the third, Hawthorne Christian decided to go to Thomas and live with the results and he responded with three field goals in just over one minute to get HCA to within 40-34. DePaul looked like it had reasserted itself when Jacobs' hard take on the baseline saddled Little with his fourth foul with the Spartans up 44-38, but Chris Aust knocked down a three-pointer to draw the Defenders to within just three points heading into the final quarter.
"In games throughout the course of the season we have tried to work on game management situations and even in practice we work on it and today I thought Alex [Thomas] and Chris [Aust] not picking up their third fouls after they got two early, we did a good job of managing the game and staying in it," said HCA head coach Kevin Standford. "DePaul is the best defensive team we have played all season and they made it tough for us in every way, but we got ourselves into the fourth quarter with a chance to win it. That's all we could have asked for coming in here today."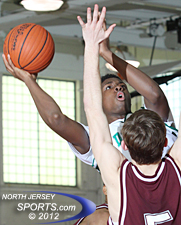 DePaul sophomore Juwuan Carter finished with a game-high 17.
HCA got to within a single point twice in the fourth quarter, both times on Thomas buckets that made it 44-43 and 46-45 with 6:12 to go in the game, but three straight missed free throws on two key possessions allowed the Spartans to stay in front. Green flipped in a tough runner to put DePaul up 51-45, and Josh Marquez made both ends of a one-and-one to make it 55-47 with 1:49 left.
Hawthorne Christian got to within one possession one more time at 55-52 courtesy of Chris Ault's banked three-pointer with 49 seconds left, but DePaul made three of its final four free throws to put the game away and move to within one win of its first county title since 2007.
"Our while thing was to weather the storm early and then stay with them and compete. We competed. We got it down to a one-possession game in the fourth quarter, but then we shot ourselves in the foot by an offensive putback or letting somebody get open on a really simple play," said Thomas, who will get two more cracks at the county tournament in his career. "I think if we hadn't killed ourselves with turnovers and giving up offensive rebounds, we had a good chance to not only compete, because we did that even with all of our mistakes, but to win."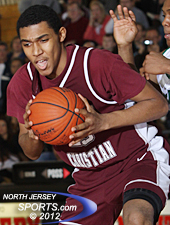 HCA's Alex Thomas scored 14 of his team-high 15 points in the second half.
Thomas finished with a team-high 15 points with Chris Aust and Little following close behind with 14 apiece. Nick Aust scored all 5 of his points in the first quarter, Jemari Ross, the only substitute HCA used in the game, scored 4 points and Jake Hart made a second quarter field goal to round out the scoring for the Defenders, who were a combined 5 of 11 from the free throw line and fell to 19-3 on the season.
Juwuan Carter led all scorers with 17 points and made 8 of his 10 free throw attempts for DePaul, which shot 17 of 27 from the line as a team. Marquez, who was held out of the starting lineup and the first half of the first quarter, finished with 14 points off the bench. Jacobs (13 points) and Ky Hester (10 points) made it four Spartans in double figures. Sanders had the other 6 points for DePaul, which shook off a lopsided loss to Don Bosco Prep on Thursday night that cost it a chance at a league title to improve to 18-5 on the season. Now it is off to the county final against top-seeded Eastside.
"We played Bosco, they beat us by 30 and we played selfish that day. I told the guys in practice that we were not going to win unless we play together and that it was going to take a team effort to win today and win a county championship," said Jacobs, a senior who will play football at Rutgers University next season. "I know those guys [at Eastside]. I am from Paterson and to be able to play them with a chance to win the county title is a great opportunity that I am looking forward to."
FOR MORE PHOTOS OF THIS EVENT OR TO BUY A COLLECTOR'S PRINT OF THIS GAME STORY, PLEASE VISIT 4FeetGrafix.com.