Monday, February 13, 2012
By Cory K. Doviak
NJS.com Editorial Director
Chris Meyers stabilized Hackensack down the stretch and it resulted in a 75-70 win over Paramus Catholic in the quarterfinals of the Bergen County Jamboree.
MAHWAH – With neither team able to separate itself from the other a run of a couple of points by either team was going to make a big difference in the opening game of the quadrupleheader of quarterfinals played on Sunday in the Bergen County Jamboree. So when Chris Myers beat the third quarter buzzer with a three-pointer from the corner and Hackensack then went on to score the first four points of the fourth, the Comets finally had some breathing room against a Paramus Catholic team that had somehow kept itself in the game despite a bevvy turnovers.
Paramus Catholic spent the next seven minutes trying to track down Hackensack and some missed free throws helped the Paladins in that endeavor. They got to within a point with 49 seconds to go, but Hackensack found a way to close the door on a 75-70 victory that sends the Comets into the Final 4 for the second straight season.
"I think at this point in our development as a team people have gotten used to us playing great and having pretty wins. But in order to get to the next level I think sometimes you have to win an ugly game or two and today was an ugly game against a very good team," said Aaron Taylor, who has taken Hackensack to the Jambo semis in each of his first two seasons as the head coach. "I am proud of my guys for keeping their poise. Yeah, we missed a lot of free throws, but we have been talking about being a good defensive team and I think we are getting there. Being able to miss free throws and then being able to get another stop at the other end shows that we are committed on the defensive end."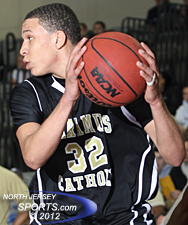 Paramus Catholic's Kyle Menard made five 3-pointers and finished with a game-high 25 points.
It looked like Hackensack had taken control for good when Jaimik Moore scored on the fastbreak off an assist from Myers to give the Comets a 57-50 lead with 6:11 to play. Paramus Catholic had a basket wiped out on the other end when Kyle Menard got the short end of a block/charge call Rashard Figures hit a jumper from the corner to put the Comets up nine. But when Hackensack missed the front end of its first one-and-one after reaching the bonus with 4:34 to play, it was a sign of things to come.
Hackensack made just 12 of its 23 free throws in the fourth quarter which kept the pressure on its defense. Every time Paramus Catholic made it a one possession game, which it did four times in the final 3:40, the Comets did just enough to keep themselves in front.
Jalen Henriquez's two free throws brought PC to within 60-58, but Moore doubled the lead with a layup of a drive and dish by Myers. Lionel Gaines made a jumper from the corner to get PC within 62-60, but Moore again answered and Hackensack was up 67-61 after Arthur Marshall scored in transition at the 1:12 mark.
Things got really dicey when three-pointers by Menard and Mike Allford sandwiched a Hackensack free throw as PC pulled with 68-67 with 49 seconds to go, but Figures finally gave the Comets the 2-for-2 trip to the free throw line that it desperately needed.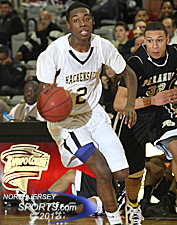 Rashard Figures finished with 16 points for Hackensack, which will play Don Bosco Prep in the semis.
"We had to just keep on playing and going hard no matter what was going on the free throw line," said Figures "We did not play well in the first half, but we didn't let that stop us and we didn't shoot our free throws well in the fourth quarter, but as long as we keep playing hard we believe that good things will happen for us."
Hackensack came up empty from the line with 28 seconds to go, but Myers, the shortest player on the court, somehow came out of the scrum with possession and turned it into one made free throw. And when Paramus Catholic committed the last of its 23 turnovers by throwing away the ensuing inbounds pass, Myers made two free throws with 22 seconds left to put Hackensack up 73-67 and into the semifinals.
"The whole second half I just tried to get in the lane a lot and draw fouls. That was why it came down to making free throws and we were finally able to make a couple," said Myers, Hackensack's junior point guard. "Last year's run gave us a lot of experience and this year we feel like we are prepared for any situation and any kind of game. We know what to expect in this tournament and we are ready to do what we have to do to win it."
What Hackensack does well is share the ball. The Comets are unselfish on the offensive end and make the extra pass, even when that means giving up a fastbreak layup to a teammate a couple of steps ahead. Hackensack put five players in double figures with Moore's 19 leading the way. Figures finished with 16, Keon Lewis added 11, Marshall had 10 and Myers, who spent the first half setting up his teammates, scored all 12 his points in the second half and seven of them in the fourth quarter. Mershan Monroe (7 points) rounded out the scoring for the Comets, who were a combined 17 of 34 from the free throw line.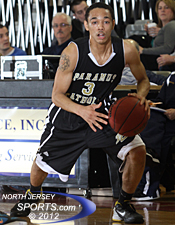 Mike Allford's 3-pointer had PC with one point with 49 seconds to play in the game.
Menard's 25 points led all scorers and Paramus Catholic, the No. 11 seed that upset No. 6 Old Tappan last weekend, also got 13 from Allford and 10 from Henriquez to make it three double digit scorers. Ahmir Dobbs had 6 points, Gaines added 5, Anthony Rafes and Darius Christmas each had 4 and Ranier Garcia pitched in with a first quarter field goal for the Paladins.
Hackensack, the No. 3 seed, will take on No. 2 Don Bosco Prep in the semifinals next Sunday at Ramapo College and playing with just one senior in the rotation, Hackensack is gearing up for more postseason success this year and beyond.
"I believe that in most of the games we play we can be the better team and I think it is very hard to prepare for us because we have a lot of guys that can make plays for us. We have a Rashard [Figures], we have a Chris [Myers], Jaimik [Moore] is becoming a factor on the boards, and we have guys like Mershan [Moore], Gene [Marshall] and Keion [Lewis] that can make plays for us," said Taylor. "Our guys know that it doesn't matter what you numbers look like if you lose. We have to be unconcerned about who gets the credit and just get the win. We have been able to do that for the most part this year."
FOR MORE PHOTOS OF THIS EVENT OR TO BUY A COLLECTOR'S PRINT OF THIS GAME STORY, PLEASE VISIT 4FeetGrafix.com.