Monday, February 13, 2012
By Cory K. Doviak
NJS.com Editorial Director
Tom Sweeny came off the bench to score all 12 of his points after halftime for Don Bosco Prep, which pulled away from Dwight-Englewood, 66-49, in the Jamboree quarterfinals.
MAHWAH – To beat second-seeded Don Bosco Prep in the quarterfinals of the Bergen County Jamboree, seventh-seeded Dwight-Englewood was going to have to play a near perfect game. Through 22 minutes and 22 seconds on Sunday on the big court at Ramapo College, the Bulldogs were pretty darn close to doing it. They had established Wesley Dickinson in the post and he had piled up 21 points. They had established the pace of play in a walk-it-up style that had the winning point total projecting into the upper 40s or low 50s, right about where they wanted it. And Dwight-Englewood had a lead, a three-point advantage after Dickinson made two free throws with 1:39 left in the third quarter.
Boy, it sure is amazing how fast everything can change on the big floor inside the Bill Bradley Athletic Center on the campus of Ramapo College.
In the span of 1:07, Don Bosco Prep wrested back control. Tom Sweeny and Leontee Carroo each scored off the offensive glass to give the Ironmen the lead back and the final 3.5 seconds of the third quarter were a disaster for Dwight-Englewood, which saw a turnover on what should have been the final possession of the first half turn into a 94-foot baseball pass and a Sweeny layup. The fourth quarter was more of the same.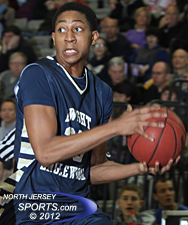 Dwight-Englewood's Wes Dickinson scored a game-high 23 points.
In the final 8:07 of the game, Don Bosco Prep went from down by three points to a 66-49 win and the Jambo semifinals where it will play third-seeded Hackensack for the right to get back to the final for the second straight year.
"We battled. We were right there with a lead with a minute to go in the third quarter. I wanted a last shot so we could go into the fourth quarter with a little bit of a lead, but we took a quick one, we missed it and it resulted in a bucket at the other end," said Dwight-Englewood head coach Eli Goldberger. "That's just the way it goes against Bosco. You can't make many mistakes."
For as well as it was going for Dwight-Englewood for the first three quarters, there was some underlying issues that Don Bosco was about to exploit. For one, Dwight-Englewood relies heavily on its five starters and one player off the bench to eat up most of the game's minutes and fatigue was rapidly becoming a factor as Bosco rotated fresh bodies on Dickinson and could have gone deeper had its eight-man rotation not been enough. Also, Bosco had yet to commit to its fill-court press as head coach Kevin Diverio bade his time until the Bulldogs legs were most vulnerable.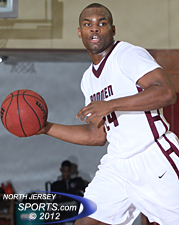 Bosco senior Leontee Carroo scored a team-high 13 points.
"The press was the big thing. Once we went to it the lead grew from 5 to about 16 real quick. They battled us all game long and we had some depth that we could use. It was a senior, three sophs and a freshman that made that run, so to do that without the usual cast of characters on the floor, I was happy to see that," said Diverio. "Sweeny came in for DaJon [Todmann] when he picked up his third foul and really sparked us. It wasn't planned, but those were the guys we had on the floor at the time and they really played well in that stretch."
After the teams exchanged three-pointers to start the fourth quarter, Bosco ran off 13 straight points in the span of 1:41 to end D-E's Jambo run. Sweeny hit two jumpers from the exact same spot on the elbow, Carroo scored two straight buckets and a free throw on the fastbreak courtesy of two turnovers, Paul Jorgensen got a steal and set up Justin Salem for a transition basket and Sweeney followed up a missed shot. With 6:28 to go in the game the Ironmen led 41-38. With 4:47 to go the lead was 54-38.
"We got that little spurt at the end of the third quarter and that set us up going into the fourth quarter," said Sweeny, a 6-foot-6 sophomore. "We knew that spot in the zone at the high post was open. Our guards did a great job getting us the ball there and me and DaJon knocked down a couple of jumpers from there and that really opened some things up."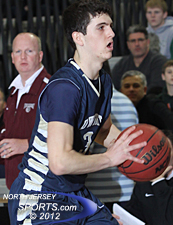 Dwight-Englewood point guard Robbie Zoeller scored 11 points.
Having overcome a nine-point deficit in the second quarter to get within 26-24 at halftime and turning an eight-point third quarter deficit into a 35-32 lead, Dwight-Englewood was out of answers.
"We turned the ball over a little more than we could afford to today and in the fourth quarter when fatigue was a factor, their pressure just wore us down. Hats off to them, they are a really good team and we knew it was going to take an almost perfect performance to beat them," said Goldberger. "We just kind of ran out of gas. We knew it was going to be a possession by possession game and we were going to have to win by a score in the 40s. We got in the 40s, unfortunately they got into the 60s and that was that."
Dickinson finished with a game-high 23 points and Robbie Zoeller held up at the point guard position to finish with 11. Austin James (7 points), Brian Breslin (6 points) and a Keion Osbourn's fourth quarter field goal accounted for the other two Bulldogs' points.
Don Bosco's depth was evident on the score sheet as nine different players made at least one field goal and two of the Ironmen that finished in double figures came off the bench. Carroo finished with a team-high 13, Sweeny scored all 12 of his points in the second half, Salem added 11. Jemal Mosely scored 7 and Jorgensen, Todmann and Jack Ely all finished with 6.
Don Bosco Prep is now two wins away from its first Jambo title since 2008 and next up is third-seeded Hackensack, which eliminated No. 1 Paramus Catholic.
"Win and move on. That is all it is about in this tournament," said Diverio.
FOR MORE PHOTOS OF THIS EVENT OR TO BUY A COLLECTOR'S PRINT OF THIS GAME STORY, PLEASE VISIT 4FeetGrafix.com.