Friday, February 25, 2011
By Cory K. Doviak
NJS.com Editorial Director
Sophomore point Shaakir Lindsey made all four of his free throws in overtime to help Teaneck seal a 72-67 win, its 24th in a row, and its second Bergen County Jamboree in the last three years.
HACKENSACK – It was shaping up to be the textbook ending. After Don Bosco Prep tied the score with 1:34 left in regulation in Thursday night's Bergen County Jamboree final, Teaneck put on a clinic of how to handle a late game situation. With all of the pressure that goes with trying to win a county championship with one successful possession, Teaneck ran the spread offense perfectly, milked 1:18 off the clock and called a time out with 16 seconds to go.
All the Highwaymen needed to do was wait about 10 more seconds, make a basket and start to celebrate. But when their last shot bounced off the left side of the rim, Teaneck, despite having led for all but 2:21 of the second half, was forced into overtime by a Don Bosco Prep team that head repeatedly pulled itself back from the brink.
"We felt like we were the better team the whole time, but Bosco played a great game and you have to tip your hat to them for hanging in," said Teaneck head coach Jerome Smart. "But when we went to overtime, we knew that all we had to do was win one little four minute quarter."
Senior Donta Davis made two free throws 1:11 into the overtime to give Teaneck the lead for good and then all but sealed the win when he stole an entry pass with 20 seconds left for the final key play in a game full of them. When the final buzzer sounded, Teaneck had plenty to celebrate; a 72-67 win, its 24th straight victory and its second Bergen County championship in the last three years.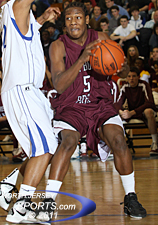 Junior point guard Jamel Mosely scored 11 first quarter points to help Bosco race out to a double digit lead.
For Davis, who came off the bench to score a team-high 19 points, pull down 11 rebounds and block two shots, his lone steal of the game was the stat that finally finished off Don Bosco Prep, which had come back from eight points down with less than four minutes left in the fourth quarter for force the extra session.
"I saw [Jamel] Mosely going to the basket and I just tried to get my long arms out there and try to get my hands on it," said Davis, who was a sophomore role player during Teaneck's run to the 2009 Jambo title. "As soon as I took that pass out of the air, I just said 'Yeah, it is over now. We just won a county title."
It was official when Chris Jones made two free throws with six seconds left to make it a two possession game. Bosco had finally run out of answers and was also just about out of players. It finished the game with three key players -- Leontee Carroo, Paul Jorgensen and Gary Nova – on the bench after fouling out and with two others with four fouls when the last second ticked off the clock.
"It was an overtime game and we were down two starters and Leontee, who has been great throughout this whole tournament and again tonight. I was really happy with the way our guys just continued to battle," said Don Bosco head coach Kevin Diverio. "We lost, but we lost to an excellent team and we never stopped competing. We had our shots and the ball just didn't bounce our way down the stretch."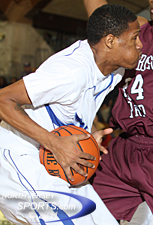 Donta Davis' steal with 20 second left in OT was the last stop Teaneck needed.
But the ball certainly bounced Bosco's way early on, especially the one thrown at the basket by Mosely, who came out firing. He scored 11 first quarter points as the Ironmen raced to its first double digit lead at 13-3 just 5:24 into the game and had a 19-9 advantage heading into the second quarter.
Teaneck needed just about the entire second quarter to close the gap, but it eventually did as Chris Jones scored five straight points in the middle of a 10-2 run that got the Highwaymen their first lead of the game. He hit a 3-pointer from the top of the key drew Teaneck to within 27-26 and his layup after a save on the endline by Joel Hernandez put the Highwaymen in front for the first time at 28-27 with 1:09 left in the first half. Jones also beat the buzzer with a quick release from the baseline and Teaneck went into the locker with momentum and a 33-28 lead.
Bosco has used its quality depth to wear down its three previous Jambo opponents, but that figured to be a bit more difficult against a Teaneck team that used all of its nine-player rotation in the first quarter alone. Getting to the half and then to the fourth quarter with a lead (Teaneck was up 47-43 after three quarters of play) was playing right into the strengths of the Highwaymen.
"We use a lot of people, at least nine every game, and that spreads our fouls out a little bit and saves our legs for the second half," said Smart, who is in his first season as Teaneck's head coach after taking over for the legendary Curtis March, who won four Jambo titles. "With our depth, we know we should be able to finish strong."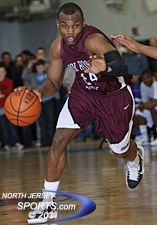 Bosco's Leontee Carroo scored 17 points off the bench before fouling out in OT.
It looked like Bosco was just about finished off when Teaneck's sophomore point guard Shaakir Lindsey flip in a circus layup to put the Highwaymen up 51-46 and then made two free throws to up the lead to 57-49 with 3:49 left in regulation, but Bosco proved to be anything but an easy out.
Mosely made two free throws and freshman Paul Jorgensen, who used this Jambo as his coming out party, went hard to the basket, made a layup, drew a foul and made the free throw to cut the Teaneck lead to 57-54 with 3:18 left. Carroo followed with a layup off a Jorgensen steal and assist and then got free again on the fastbreak after a Teaneck turnover. When Carroo made the second of his two transition layups, Bosco was back in front at 58-57.
A Teaneck miss led to a turning point and Bosco came back the other way with a chance to extend the lead. Instead it was a turning point in the other direction. Nova took the ball hard to the basket and made his runner, but was called for a charge. Not only did the points come off the board, but that was Nova's fifth foul and he was the first of the Ironmen to head to the bench with 2:08 to play.
Davis' fastbreak bucket gave Teaneck its last lead of regulation before Carroo made a free throw to tie the game at 59. Don Bosco Prep survived Teaneck's makeable last look of regulation, but could never regain the lead. It got as close as 67-66 with 34 seconds left in overtime on two Tim Hamlett free throws, but Lindsey answered with two free throws, Davis stole the entry pass on Teaneck's next turn on defense and the Highwaymen added the county title to the league title they have already won this year.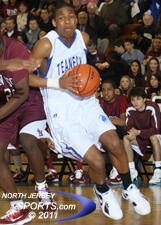 Chris Jones scored 15 points for Teaneck, which will set its sights on a North 1, Group 3 state sectional title.
Much has been accomplished, but there is much more to do.
"We still have a lot of work to do. Our goal is to win a state title. We said that from Day 1 and a lot of people thought that was cocky," said Smart, whose team is the No. 2 seed in the North 1, Group 3 state sectional bracket and will open that tournament at home on Tuesday against Indian Hills. "But I think now people realize that we have a legitimate shot at doing that."
Davis scored 17 of his team-high 19 points after halftime and Lindsey made 7 of his 8 free throw attempts in the fourth quarter and overtime to finish with 17. Jones carried the load early as he scored 11 of his 15 points in the first half, DeQuan Russ added 9 points, Anthony Upshaw (6 points) made two of Teaneck's five first half 3-pointers and Kris Hargraves made a field goal and two free throws for the Highwaymen, who were a combined 23 of 32 from the line.
Mosely (24 points) and Carroo (17 points) scored 41 of Bosco's 67 points, Jorgensen added 8, and Nova finished with 7 for Don Bosco Prep, which will enter the Non-Public North A state sectional tournament as the No. 2 seed with a first round bye.
FOR MORE PHOTOS OF THIS EVENT OR TO BUY A COLLECTOR'S PRINT OF THIS GAME STORY, PLEASE VISIT 4FeetGrafix.com.