Monday, January 3, 2011
By Cory K. Doviak
NJS.com Editorial Director
Daniel Brogan came off the bench to score 11 points in Old Tappan's 52-39 win over St. Mary in the Jack Reilly Tournament final.
FORT LEE -- At some point in every season, there will be a game where a basketball team steps on the floor and just about everything it throws at the basket finds its way through the hoops. It will happen for Old Tappan, the defending North 1, Group 3 state sectional champion and probably pretty often, but in the meantime the Knights, with a starting lineup comprised of five seniors and high hopes for this season, are finding other ways to win games.
"Thank God we can play defense," said Old Tappan head coach Dennis Rossi. "Because we certainly can't shoot."
Okay, so the final of the Jack Reilly Tournament played on Sunday at Fort Lee High School did not look like the 3-point shooting contest at the NBA All-Star Game, but Old Tappan leaned on its defense and its depth to overcome foul trouble and St. Mary (Rutherford), 52-39.
Old Tappan scored only 22 first half points, but the last two of them were enough to take the lead for good. Nick Bianco's bounce pass out of the post to a cutting Mike Matteo with 44 seconds left in the second quarter gave the Golden Knights the 22-20 lead they took into halftime and a modest but effective 6-0 run to start the third quarter gave them the breathing room they carried the rest of the way.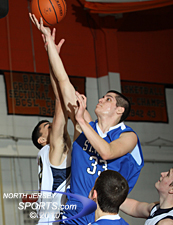 Kyle Dadika scored a team-high 11 points for St. Mary.
Senior point guard Shane McLaughlin got a steal and a layup for the first points of the second half, he made two technical free throws courtesy of a borderline call against St. Mary head coach Matt Stone and Bianco scored an easy bucket off a drive and dish by Chris Beserer to moved Old Tappan in front 28-20 1:15 into the second half. St. Mary was put in chase mode after that and could never get closer than six points the rest of the way as Old Tappan won the Jack Reilly Tournament for the third straight year.
"We had a tough day from the field, but I thought we played really good defense. We knew that [Kyle] Dadika and their bigs were very good, so that was the point of emphasis for us on the defensive end," said McLaughlin, who was named the Tournament MVP. "We know it is early in the season, but winning this tournament was a goal of ours. It's a good tournament because we are not playing a bunch of teams in our league. We played Montclair in the first game, a good team, and tonight we were up against a quality team. It's a tough tournament and we are happy to win it."
Beserer's 3-pointer from the corner with 1:48 left in the third quarter gave Old Tappan its first double-digit lead at 37-27 and Brogan's conventional 3-point play put the Knights up by 13 before Dadika's slicing layup drew St. Mary to within 40-29 after three quarters.
OT's Shane McLaughlin scored 18 points and was named Tournament MVP.
St. Mary's was hindered by foul trouble as point guard Harun Tolbert picked up his fourth foul just 29 seconds into the fourth quarter with his team trailing by nine points. Tolbert, who can get by defenders and create for his teammates, sat for just about all of the next four minutes and the Gaels could have helped themselves a little bit more from the free throw line. They shot just 11 of 21 from the stripe in the game and made just 4 of 9 in the fourth quarter and made just five second half field goals without a 3-pointer.
"I feel like the best part of our game is our defense. When we are playing hard on the defensive end, it usually sets up our offense and that is where we got most of our points tonight," said Bianco. "We get most of our energy from our defense and it leads to transition with Shane pushing the ball up the floor fast. When we play good defense, our offense comes."
Shane McLaughlin (18 points, 4 assists, 3 steals), who was joined on the floor at times by his younger brother, freshman Troy McLaughlin, was one of two double-digits scorers for Old Tappan. The other was Brogan, who came off the bench to score 11 and was named to the All-Tournament Team. Beserer had 9 points, Bianco and Tim Brophy each added 6.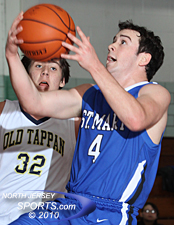 Tom McPherson (9 points) had both of St. Mary's 3-pointers.
Dadika led St. Mary with 11 points, David Capriola had 10 and Tom McPherson had 9, including both of the Gaels' 3-pointers, which both came in the first half. Tolbert finished with 6 points to go along with 5 assists and Connor Cuccinelli, who was hit by foul trouble early, had St. Mary's other 3 points.
Old Tappan improved to 5-0 on the season, not bad for a team that has yet to find its consistency from the outside.
"We'll get better as the season goes on, that is always what you hope for, and we have plenty of room to improve," said Rossi. "But this is a tough tournament to win and we done it three years in a row now, so it is a good accomplishment for this stage of the season. We'll take it and we'll get back to work."
FOR MORE PHOTOS OF THIS EVENT OR TO BUY A COLLECTOR'S PRINT OF THIS GAME STORY, PLEASE VISIT 4FeetGrafix.com.