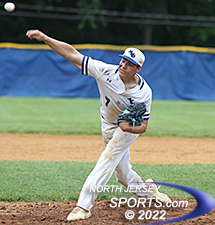 Andrew Argenziano did not allow a hit in 5 2/3 innings during NV/Demarest's 6-3 win over Newton in the opening round of the North 1, Group 2 state sectional playoffs.
DEMAREST – Had everyone been healthy at the starting line of the season, the Northern Valley/Demarest baseball team would have been a contender for league and state sectional titles and it certainly would have been a Bergen County Tournament caliber team with a chance to make a deep run. Instead it was like somebody had tied the Norsemen's shoelaces together as they face-planted out of the gate.
The pitching staff was hurt. Senior Andrew Argenziano, who will pitch at Columbia University next season, did not pitch at all at the beginning of the season, had his pitch counts limited to the single inning range when he did return and had not thrown more than 60 pitches in a game at all in the regular season. Malcolm Solomon, the junior who came on strong last year to become No. 1A in the rotation, has not thrown a single pitch all season due to a shoulder injury and is instead a courtesy/pinch running specialist.
Jesse Greenberg, the standout catcher that both Argenziano and Solomon were supposed to throw to, is now a designated hitter as he heels from Tommy John surgery, has not caught a single inning.
"There was concern. I am not going to lie," said Demarest head coach Marc Houser. "At one point I think we had eight guys hurt and two guys with COVID, so you can see what kind of impact that would have on a roster."
The Norsemen opened the season with just four wins in their first 12 games, just five in their first 13 and missed out on a spot in the county tournament when it lost a hastily arranged independent matchup against Emerson on a rainy day on borrowed turf in Wood-Ridge.
So, with the North 1, Group 2 state sectional tournament getting underway on Wednesday, Demarest should have been nowhere to be found, right? Instead, it is just the opposite.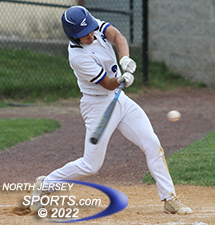 Demarest senior Ryan Sabot singled, stole second and scored the game's first run in the bottom of the first inning.
With a 6-3 win over Newton in which it carried a combined no-hitter into the top of the seventh inning, Demarest continued its torrid play. The fifth-seeded Norsemen have now won 10 of their last 11 games and are heading to the sectional quarterfinals for the first time since 2018 where they will either visit No. 4 Jefferson or host No. 13 Dumont on Saturday. That game was suspended by rain on Wednesday and will resume on Thursday afternoon.
"These kids have stayed the course. They have learned how to practice and they are doing the little things. We had a play today where we beat the throw to second base and our runner read it and scored from third. They are buying in and they are playing like a team," said Houser. "The way they practiced yesterday me and [pitching coach and world renowned mound tamper Derick] Talty looked at each other and said, 'They are locked in."
Demarest has been getting healthier as the season has progressed and Wednesday marked the first time this season that Argenziano (5 1/3 IP, 2 R, 1 ER, 0 H, 7 K, 7 BB) was unencumbered by any kind of pitch count other than the 110 limit imposed on all New Jersey high school pitchers. He threw 99 of them against Newton, did not allow a hit and used his centerfielder, Chris Short, for three straight putouts in the top of the first inning and he would have a sizable lead the next time he took to the hill.
"This was the first time I was able to throw over 60 pitches and it felt great to come out and be able to try to throw a complete game. I didn't get there, but I was trying." said Argenziano. "It's very exciting. We came into the states on a seven-game winning streak and we feel like we have the kind of team here that go pretty far."
If they can hit like they did in the opening inning against Newton, the sky is the limit. The Norsemen sent 10 hitters to the place in their first turn at bat, six of them got hits, five of them scored and the positive vibes continued in the home dugout.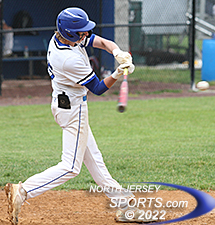 Demarest's Kyle Miller drove in a pair of runs with a first inning double.
"In the beginning of the year we just got killed by injuries. I had Tommy John, Andrew's shoulder, Malcolm is still hurt, but we really had to understand that this is what we have. It was not, 'What if we had this guy, or what if we had that guy?' This is what we have and we were still striving to be state champions," said Greenberg. "This team is like brothers. We are not just a bunch of teammates, we love each other. That is our saying, E-L-E. Everybody Love Everybody. This group of seniors, I have been playing with them since Day 1, since first grade and we want to go out on a high note."
The high note against Newton was that bottom of the first inning as Ryan Sabot (1-for-3, R, SB, BB) got the ball rolling with a leadoff single and stole second. Greenberg (2-for-2, R, 2 SB, 2 BB) then blooped a one-out single to right to put runners on the corners before Argenziano (1-for-3, RBI, BB) doubled to right to put Demarest in front for good. Kyle Miller (1-for-4, R, 2 RBI) followed with a two-run double, Daniel Bettinardi (1-for-2, 2 R, RBI, BB) singled in a run and so did Chris Short (2-for-3, RBI, who put the finishing touches on the first inning five-spot.
Dan Argenziano (0-for-3, RBI) drove in Demarest's run in the bottom of the third to make it a 6-0 game. Newton scratched out two unearned runs in the top of the sixth even while still hitless, but got an infield single from Jack Young to break up the no-no, and then a clean single to left by Brayden Nolan. Matt Iatesta's RBI single to left delivered the final run of the season for Newton, which finished with a 9-12 record.
So now it is on to the quarterfinals for Demarest and the injuries of the past have blossomed into the quality depth of the present. Instead of Andrew Argenziano or Solomon throwing to Greenberg, the Norsemen will run out the battery that has become its top combination this season, which has also been one of the best in the county.
Senior left-hander Max Boos has gone from the third option to a first team All-County selection. He sports a 7-0 record, the second most wins in Bergen County behind on NV/Old Tappan's Alex Kranzler, and a 1.92 ERA throwing to the glove of junior Patrick Cagney, who has moved NVD's catching situation from strength to strength.
"Last year I only pitched 15 innings. I went from that to throwing 43 innings so far this year. I had no idea I was going to be in this spot, but once I found out that Malcolm, Andrew and all these pitchers were hurt I had to step up and do my part," said Boos, who changes speeds off his change of speed pitches and is a relentless strike-thrower. "I started playing with these guys when I was 8 years old on club teams going to Delaware, Diamond Nation, all of these far away tournaments. We are so close as a team, we want to keep going and for my start on Saturday I am going to come in locked."
FOR MORE PHOTOS FROM THIS EVENT PLEASE CLICK HERE. TO BUY A COLLECTOR'S PRINT OF THIS STORY PLEASE VISIT 4-FeetGrafix.com.