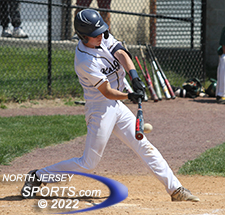 Alex Gioffre connecting on a 2-out, 2-run single during a 3-run fifth inning for Old Tappan, which won the Bergen County Basebeall Tournament for the first time since 2004 with a 9-7 win over St. Joseph Regional.
DEMAREST – With the Bergen County Baseball Tournament switching back to its three weekend format for the first time since 2016, one ace was not going to do it this year. Northern Valley/Old Tappan rode its horse as far as it could and junior right-hander Alex Kranzler dropped the Golden Knights off in Demarest on Sunday with one game left to win. Kranzler won three games in the tournament, but the 113 pitches he threw on Sunday meant he was an outfielder only as third-seeded Old Tappan met No.4 St. Joseph Regional for all the marbles.
It was all hands – and arms and legs and every other body part for that matter – on deck for both sides and before it was all over a combined seven different pitchers would climb the beautifully tamped pitching mound with every strike thrown and every out recorded being a precious commodity.
There were twists and turns aplenty in front of a generous crowd on Memorial Day. St. Joseph scored two unearned runs in the top of the first inning to kick off the festivities, made up a three-run deficit with one swing of the bat in the top of the sixth inning and had the tying run in scoring position again in its final turn at bat.
Old Tappan, however, cut the Green Knights off at every turn. A three-run bottom of the sixth and a gutsy performance by Lou Mosca on the bump in the top of the seventh was just enough for NVOT, which won a Bergen County baseball championship for the just the second time in program history and for the first time since 2004 with a 9-7 victory at the Home Office of Bergen County baseball, the pristine diamond behind Northern Valley/Demarest High School.
"This game was either way. Somebody watching in and rooting for Joe's was waiting for Joe's to take it and somebody for Old Tappan was waiting for Old Tappan to take it," said Old Tappan head coach Tim Byron. "It was who was going to get the big hit, who was going to make the play and who was going to make the fewest errors."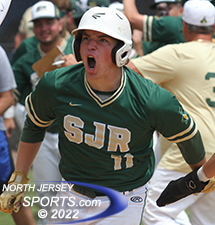 SJR's Chad Falcon celebrating his 3-run homer in the top of the sixth inning that tied the game at 6.
A couple errors in the opening inning put Old Tappan in immediate trouble with Brady Knuckles and Julian Rondon each driving in runs, but starter James Keating (5+ IP, 5 R, 3 ER, 2 H, K, 3 BB) settled in to give OT what it needed most: length on the mound. While SJR got just three innings from its starter, junior lefty Chad Falcon (3 IP, 3 R, 0 ER, H, 3 BB), who would be heard from again, Keating, the senior right-hander battled through five-plus innings and when he handed the ball over to the bullpen with two balls on the second batter in the top of the sixth, Old Tappan was in front, 6-3.
Keating, who spent the first 16 years of his life in Dallas, Texas, is new to this whole Bergen County Tournament thing, but has quickly grasped its significance.
"Last year I didn't really know too much about it, but this year advancing every week through to the quarterfinals, then to the semifinals and now here today, I see all the fans that we have come out to support us and it is a big deal," said Keating, who got the final two outs and the save in the semifinal win over Ramsey on Sunday. "This team took a lot of pride in coming out here and playing well and I had a lot of fun today."
Old Tappan was one out away from escaping that sixth inning with no damage done, but Falcon, a St. John's commit, remerged to pull SJR right back even. He cranked an opposite field, three-run home over the left field fence to tie the game at 6.
Undaunted, Old Tappan, which scored in four of its six turns at bat, got right back after it in the bottom of the sixth in vintage style. Keating (0-for-3, 2 R, 2 SB, HBP), who was named the tournament's Most Valuable Player, got it started by wearing a pitch with one out then stole second and went to third on a Faybel Ventura (1-for-2, 3 R, 2 BB) single and then scored when Kranzler (1-for-3, 2 RBI, 2 R, 2B) painted the left field line with an RBI double that finally put the Golden Knights ahead for good. Lou Mosca (3-for-4, RBI, R) then squeezed home Ventura with a first-base-line-hugging bunt single and Kranzler scored on a wild pitch to make it 9-6.
Old Tappan's Lou Mosca, who picked up the save, getting down the bunt that squeezed in a run in the bottom of the sixth inning.
The three-run lead was put in immediate jeopardy when Ryan Foody was hit by a pitch leading off the top of the seventh and Knuckles (1-for-3, RBI, SB) rifled a line drive single off an infielder's glove, which facilitated another trip to the mound for Byron and the switch of Mosca from left field to the pitcher's mound. He got the first hitter he faced to pop up, but then Angel Colon (1-for-3, R, RBI, 2B) smacked a double to left to drive in a run, but, more importantly, get himself to second base as the tying run with one out.
A called strike three put Old Tappan on the brink and then a pop up that landed in the glove of first baseman Elan Ofeck carved out Mosca's place in program history as the guy who earned the save in the county championship season of 2022.
"I was just confident because of the team I have behind me. They are the greatest group of guys you could have out there and we all come to play every day. I knew we could get it done," said Mosca, a senior right-hander. "I threw fastballs only to the last kid. I wanted to get ahead and keep the ball outside and as soon as I saw the ball go up in the air I knew Elan was going to grab, going to make the play and it was a great feeling when he caught it."
Ofeck's catch ended St. Joseph's reign as county champ, but the quest for the 2023 crown has already begun.
"Truthfully, I was worried about just making the tournament this year, about getting enough wins early to get into the tournament, and here we were in the final," said SJR head coach Mark Cieslak. "We are only losing one guy [Colon] next year. All of these guys are coming back, so this was a good experience for them," said SJR head coach Mark Cieslak. "We were down, we fought back and we did not quit. We had the tying runs on base at the end of the game and you can't ask for more than that except maybe for one more hit."
St. Joe's will have some time to rest before it opens its state tournament run on Friday. After a first round bye, the third-seeded Green Knights (21-7) will host the winner of the first round game between No. 6 Pope John and No. 11 Hudson Catholic in Montvale.
Rest is not in the cards for Old Tappan (24-4) despite its status as the top seed in the always loaded North 1, Group 3 state sectional bracket. Both Kranzler and now Keating will be unavailable to start when the Golden Knights host Tenafly, the No. 16 seed that becomes a dangerous underdog as its ace, Robert Gansel, will be on full rest for the Wednesday matchup.
But that is another problem for another day, even if the reckoning is coming soon.
"I would say we have tonight to hang out and then tomorrow in practice we will be right back to it," said Keating. "We have states to go after and we have to get ready."
FOR MORE PHOTOS FROM THIS EVENT PLEASE CLICK HERE. TO BUY A COLLECTOR'S PRINT OF THIS STORY PLEASE VISIT 4-FeetGrafix.com.