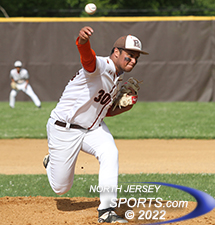 Senior Jack Silver beat leukemia and helped Pascack Hills beat rival Pascack Valley, 4-3, on Senior Day in Montvale.
MONTVALE – These moments have, thankfully, become plentiful in high school sports. A community comes out to support one of its own who has overcome some sort of hardship and made it back to the public arena where he or she can feel the love. On Monday in Montvale, it was Pascack Hills senior Jack Silver who was sent to the mound to throw out the first pitch.
And then he threw 43 more.
Diagnosed with leukemia on November 14, 2020, battler through three rounds of chemotherapy and the recipient of a bone marrow transplant on March 14, 2021, Silver did not take to the bump for any type of ceremony. He was there to compete in one of North Jersey's best rivalries as Pascack Hills hosted Pascack Valley on Senior Day in Montvale.
Silver, whose high school baseball career was delayed first by the lost COVID season of 2020 and then by the scariest of illnesses, now officially has some stats. He allowed four hits and just one earned run in four innings, a quality start in a no decision that eventually turned into a 4-2 Pascack Hills victory in front a crowd of well-wishers packed solidly all the way down the left field line.
"You can see the smile on my face. I cannot stop smiling and I don't want to," said Silver. "To get back here, to take this start…I think all of my teammates, everyone that came out here to support me today, my parents, my doctors and my nurses for getting me here. This is one of the best days of my life."
Speaking of his parents, they were remarkably composed as they watched each senior called up to be recognized on the postgame ceremony and waited to take their turn with their now fully healthy son who will attend the University of Michigan in the fall.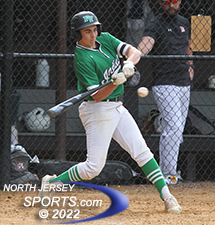 Pascack Valley junior Ryan Mancinelli picked up his fist varsity hit, a two-out double on this swing in the fourth inning.
"It is impossible to put it into words how proud I am how I feel right now looking at him. It's incredible," said Leslie Silver. "We would always say, just think about senior year when you will be back on the mound and everybody will be here cheering for you and that is what happened. We dreamed about this day and that dream has truly come true."
Michael Silver, Jack's father, shared a story of the inspiration gleaned from community support that helped see his family through.
"There was a poster that the school made; a big picture of him pitching and on the back of it every kid in the school signed it," said Michael. "That poster hung on the wall in the hospital and he looked at it every day. It was motivation for him to get back and have an experience like this game today."
Not everything went to according to the script, however. This was a baseball game and sometimes leadoff hitters get on base. The first batter that Silver faced in a varsity contest, Pascack Valley's Michael Criscuolo, beat out an infield single, advanced to third on two groundball outs and scored on an error to give the visiting Panthers a 1-0 lead. The first earned run that Silver surrendered was a long home run by Jimmy Shea leading off the third inning that put PV up 2-0.
There are multiple comeback stories here, however. Silver's for sure, Pascack Hills' from a rough start to its season and in this game where the Broncos got an unearned run back on a dropped two-out pop-up in the bottom of the fourth that allowed Ethan Brown to cross the plate and then a three-run rally in the bottom of the sixth that was set up by Brown, who reached on an error leading off.
Billy Mulholland, the last hitter faced in a quality start turned in by Pascack Valley junior right-hander Brandon Flanagan (5+ IP, 3 R, 1 ER, 5 H, K, 2 BB) singled and both runners scored when Joe Vernaglia greeted the bullpen with a hard single to centerfield. Nick Giannantonio's two-out single knocked in the final run of the game.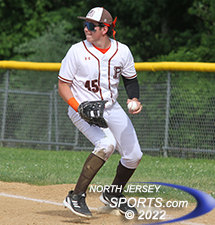 Joe Vernaglia drove in the winning runs with a two-run single in the sixth for Pascack Hills, which has now won 10 of its past 13 games.
Senior Kevin Scully worked around one-out double and a hit a batter with two outs to put the tying runs on base, but fielded a come-backer and ran the ball to first base himself to pick up an unassisted putout and the save. Brendan Maloney pitched a scoreless fifth inning for the Broncos and Davis Gannon a scoreless sixth to pick up the win, the 10 in the last 13 games for Pascack Hills, which improved to 11-9 on the season.
"You really could not have drawn this day up any better for Jack [Silver] and our whole team. It was Senior Day, he just beat cancer and you come out against Pascack Valley and lead us to a victory. He pounded the zone, kept us in it through four innings and we don't win today without Jack Silver," said Nick Evans, a Pascack Hills alum who is in his first season as the Broncos' head coach. "We had a real juggernaut schedule to start the season and we competed, we just couldn't find a way to win consistently. What we did through that tough stretch was we learned how to win. We finally broke through against Westwood on the back end of our series and now we have won 10 of our last 13. We are peaking at the right time with the state tournament right around the corner."
Pascack Valley has its own feel good story (more on this later perhaps) as junior Ryan Mancinelli picked up his first varsity hit, a two-out double in the fourth. Criscuolo had two hits, reached base three times and scored a run, for the Panthers, whose uniform tops still says Indians and whose record is now 13-9-1 on the season.
Both teams are in loaded state tournament brackets, which have yet to be released. Pascack Hills will be in amongst the like of Ramsey, Westwood, Mahwah and other contenders in North 1, Group 2, while Pascack Valley will be involved in the annual slugfest that is North 1, Group 3 where it is the defending champion and went all the way to extra innings in the Group 3 state final last season.
FOR MORE PHOTOS FROM THIS EVENT PLEASE CLICK HERE. TO BUY A COLLECTOR'S PRINT OF THIS STORY PLEASE VISIT 4-FeetGrafix.com.