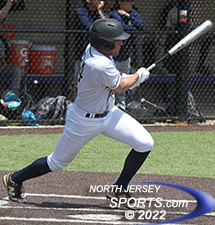 Elan Ofeck had two hits and drove in three runs for NV/Old Tappan, which advanced to the Bergen County Tournament semfinals with a 6-2 win over upstart Dwight-Englewood.
WOOD-RIDGE – Dwight-Englewood came in to this year's Bergen County Baseball Tournament as one of those Triple Crown-style underdogs, a team that qualified via a .650 winning percentage amassed against mostly small school competition. The Bulldogs bowed out on Saturday as so much more than that.
Coming off back-to-back tournament wins on the road over Big North Conference foes Paramus, the No. 11 seed, and No. 6 Westwood last weekend, Dwight-Englewood finally met its match at the Wood-Ridge Athletic Complex on Saturday. Third-seeded Northern Valley/Old Tappan and its ace, junior Alex Kranzler, ended the Bulldogs run from the No. 22 seed, third lowest of all entrants, to the quarterfinal round. Dwight-Englewood never really let the favored Golden Knights get comfortable, but they still came away with a 6-2 victory to become the third public school to reach the Final 4.
Old Tappan will play No. 2 Ramsey, a 6-3 winner over Bergen Catholic in one semifinal while No. 9 Ramapo, which shocked No. 1 Don Bosco Prep, 1-0, behind a three-hitter thrown by Nico Logothetis, will play fourth-seeded St. Joseph Regional in the other.
"We had so many opportunities. We were looking for that big hit with runners in scoring position, but credit to [Dwight-Englewood]," said Old Tappan head coach Tim Byron. "They made some big pitches in some big spots we had some bad at bats and that combination kept the game close for that long and once the 'Big Dog' goes out; it was a big difference in the game."
The Big Dog is Kranzler and he was staked to a two-run lead after the first inning, a 4-0 lead after the third and then was involved in tacking on the Knights' fifth run in the bottom of the fifth inning, but cramped up as he slid into second with a one-out double. Having thrown a complete game shutout in week's Round of 16 win over Wood-Ridge, Kranzler (5 IP, 0 R, 0 ER, 2 H, 8 K, BB, HBP) was on his way to another one before being removed while warming up for the sixth having thrown 84 pitches to that point.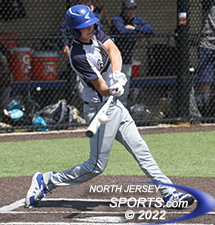 Everett Garber knocked in a run and scored another for Dwight-Englewood.
An RBI double by Everett Garber, who later scored on an error with no outs in the top of the sixth, gave Old Tappan one more reason to sweat on the sweltering turf in Wood-Ridge. The Bulldogs drew to within 5-2 and had a runner in scoring position with no outs.
"We were not going to pound out 10 runs against that guy [Kranzler]. We knew that, but once we went out we thought we could do a little damage because that is what we do; we run, we bunt, we pitch, we play defense and that is our game," said Dwight-Englewood head coach Frank Salvano, Jr. "I know the way Coach Byron prepares his teams, I know what we were up against here today and it was an honor to be here. We got something going late, we just fell a little short."
Kranzler pitched out of some foot traffic on the bases in the top of the first when Garber drew a two-out walk and Dan Russell beat out an infield single. Kranzler got the first of his 8 strikeouts to end the threat and the Knights took the lead quickly into their first turn at bat. James Keating dropped one into centerfield leading off, stole second and scored on Faybel Ventura's single. Lou Mosca then came through with a two-out single that scored Ventura and made it 2-0.
"I was down in the count and Coach Byron always tells when we fall behind to just try to put the ball in play. He threw me a fastball outside and I went with it," said Ventura, the senior shortstop speaking of his RBI single to the opposite field that gave NVOT the lead for good. "Getting a run or two early for Kranzler is big. He is our main guy and every time he is on the mound we just want to get him a lead and play defense behind him."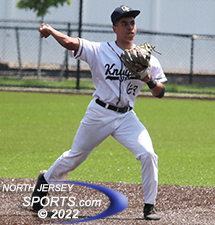 Faybel Ventura and Old Tappan will play Ramsey in the semifinals on Saturday.
Rhys Bowie (4 IP, 4 R, 2 ER, 7 H, 3 K. BB, 67 pitches), Dwight-Englewood's left-handed sophomore pitcher who threw the shutout against Westwood last week, was touched for two unearned runs in the bottom of the third when Ventura reached on an error leading off and Kranzler beat out an infield single with one out before Elan Ofeck delivered a two-out, two-run, two base hit to make it 4-0.
"We are always just trying to scratch some offense together. Our big saying is 'Pass it to the next guy.' No one is going to crank homers, we just always try to get on and get the next guy to do the same," said Ofeck, NVOT's senior first baseman. "[Bowie] is a great pitcher. He mixes his pitches really well, he has a great pick-off move and we really just didn't want to fall behind him in counts because he is the kind of pitcher that could put you away."
Ofeck added an RBI single in the fifth to make it 5-0, before Dwight-Englewood scratched out its two runs in the top of the sixth as Old Tappan turned to its bullpen. Drew Alfano's lead-off single was followed by Garber's RBI double and Russell's sacrifice bunt was thrown down the left field line, allowing Garber to score to make it 5-2. That was the Bulldogs' high water mark, however, as Keating settled in on the mound and retired the next six hitters in order to earn the save and NVOT's spot in the county semifinals, opposite Ramsey, which handed the Knights one of their three losses way back on Opening Day.
"It's a rematch, but we are both a lot better teams then we were back then," said Byron. "I look forward to it no matter who we were playing. It's good to be in the last four."
Dwight-Englewood's run is over, but not before the Bulldogs made some noise, which they hope to do some more of in the upcoming state tournament in an unfamiliar bracket. Despite is relative small size; D-E has been bumped up to Non-Public North A where it will be in with the likes of Don Bosco Prep, St. Joseph Regional, Bergen Catholic and some other traditional regional heavyweights.
"I don't understand it [the move up to A], but like I just told our guys, let's go win some games in that [bracket] and turn some more heads, pull some more upsets," said Salvano, Jr., whose father, former SJR head coach Frank Salvano, Sr. is the all-time winningest baseball coach in Bergen County history.  "I know Parochial A. I played in it and coached in it for 10 years as an assistant and I know they are the big boys, but those are the cards that we have been dealt and we feel like we have a shot against anybody."
FOR MORE PHOTOS FROM THIS EVENT PLEASE CLICK HERE. TO BUY A COLLECTOR'S PRINT OF THIS STORY PLEASE VISIT 4-FeetGrafix.com.