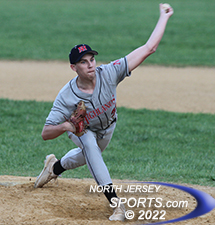 Junior Luke Trepicchio struck out the final batter of the game with the tying run on base to save Northern Highlands' 8-7 win over Ridgefield Park in the opening round of the Bergen County Tournament.
RIDGEFIELD PARK – With four runs in the top of the first inning and two more in the second, Northern Highlands was off to the dream start on the road in the opening round of the Bergen County Tournament on Wednesday afternoon. Clean up hitter Mike McGraw had already driven in four runs by the time host Ridgefield Park had even come to bat for a second time.
In a first round full of upsets and otherwise close contests, this game, which was supposed to be a toss-up according to the seeds, had all the markings of a lop-sided outlier. Instead, it was not decided until Ridgefield Park had the tying run on base with two outs in its final turn at bat.
"No lead in any high school baseball game is safe and that gets ramped up even more in a county [tournament] game," said Northern Highlands head coach Paul Albarella. "We stranded so many runners, we had chances to extend the lead numerous times, but credit to Ridgefield Park. We came out strong, but they battled and kept chipping away right down to the last batter."
Ridgefield Park scored two unearned runs in its last licks and with No. 9 hitter Mike Buda (2-for-4, RBI, R) beating out an infield single with two outs to flip the lineup, Northern Highlands left-hander Luke Trepicchio did not buckle under the pressure.
He blew a 3-2 pitch past the last batter of the game to preserve Northern Highlands' 8-7 victory that moves it into the Round of 16 where it will get a shot at top-seeded Don Bosco Prep on Saturday in Ramsey.
"I just try to always throw strikes no matter what happens," said Trepicchio, a junior who was called up from the JV level and found himself in the closer's role of a playoff game. "I try to stay calm and collected. I was not intimidated. It was exhilarating to be out there. I wanted to come through for my team and it was a great win."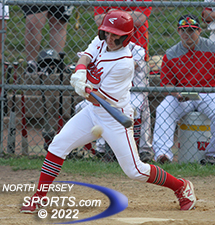 Mike Buda had two hits, scored a run and drove in another out of the No. 9 hole for Ridgefield Park.
Eight Highlanders came to the plate in the top of the first inning and six more batted in the second, but there were still some positive signs for Ridgefield Park, especially on the defensive side. Right before Nick Calderone (1-for-2, 2 RBI, SB, 2BB) smoked a two-out double to place Northern Highlands' third and fourth runs of the opening inning, RP rightfielder Brandon Portorreal made a brilliant grab. Racing into the gap, Portorreal, in full dive on the backhand, pulled Owen Roy's sinking line drive off the top of the grass for a key out that saved at least one more run. Portorreal also made a diving grab of a Ty Pennington flyball in the top of the sixth, this time diving toward the line to save another run in an inning that ended on a ground-out with the bases loaded.
There was also the bottom of the second inning when the Scarlets snuck back into the game. An error on a Buda groundball got Ridgefield Park on the board and another on a Sean Guzman (1-for-4) grounder let Sammy Aguilar (1-for-3, 2 R) and Portorreal to score to make it a 6-3 game. Then Ridgefield Park found some stability on the mound in Adam Conversano, whose off-speed stuff, especially his knuckle curve, vexed Highlands' hitters through 3 1/3 innings of scoreless relief.
"The kids fought and we found something with [Conversano] today. We haven't had that other guy behind Sammy [Aguilar], other than Derek Bauernschmidt, all year and it was too early to go to him. Conversano came through," said Ridgefield Park head coach Scott Papetti. "He kept us in the game and gave the offense some time to comeback."
After Highlands tacked on single runs in the third and fourth innings, Conversano (3 1/3 IP. 0 R, 0 ER, 2 H, 2 K, 4 BB) came on with one out in the fourth and retired six of the first seven hitters he faced. With his final pitch, he got a groundball to third with two outs and the bases loaded to keep his team on the margins at 8-3.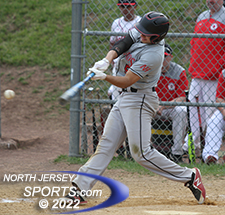 Joe Spaccavento drove in a run and stole two bases for Highlands, the No. 17 seed which will play No. 1 Don Bosco Prep in the Round of 16 on Saturday
Nick Bauernschmidt (1-for-4, R), Buda, Guzman and Shea Losino (1-for-4, 2 RBI, SB) all singled in the bottom of the sixth inning to finally get to Highlands reliever Justin Sammarco, who also provided quality relief for a Highlands staff that is down its No. 1 starter Gavin Soares, who is injured. Sammarco (3 IP, 2 R, 2 ER, 4 H, K, 3 BB) gave the Highlanders the length they needed to get to Trepicchio, who pitched through trouble not of his own doing in the seventh.
"Coming in you just have to throw strikes and rely on the fielders. They did their job and made good plays when the ball was in play," said Sammarco. "We left a lot of guys on [base], but as a pitcher you just have to rebound from that and try to get outs so we more chances to hit."
It felt like Highlands was in control from start to finish, but that was not really the case as Ridgefield Park, playing in its first county tournament game since 2013, got a leadoff walk from Aguilar to open the bottom of the seventh. Trepicchio then got two straight outs, a K and then a nice leaping grab by second baseman Will Figundio, but then Kyle Dembski's single was played into a Kyle Dembski charge around the bases and the Scarlets closed to within 8-7 as Aguilar also scored on the play.
An infield single by Buda extended the drama, but Trepicchio last fastball put Highlands (9-7) in the Round of 16 where it will be the decided, but live, underdog against Bosco, the clear cut No. 1 seed. They met in a regular season game last week and were tied 1-1 in the fourth before the Ironmen got their bats going in an 11-1 win.
"We just try to come out and play our best every day," said McGraw, Highlands' leftfielder. "Anything can happen in baseball and if play well we will have a chance."
Ridgefield Park bowed out, but it is in the midst of its best season in nearly a decade. The Scarlets are 11-8 on the season; they have locked up a league title and will be in the top four or five seeds in the North 2, Group 2 state sectional tournament bracket. They also gave Highlands a heckuva run on Wednesday.
"Being in the counties for the first time in a while, nine years, and playing a Group 3 school with a strong tradition, I thought we did OK," said Papetti, who has only two seniors, Jol De La Cruz and Richie Martinez, in his starting lineup. "We are still young. We are still learning how to win. I would have like a better end result today, but we hung in there and did a lot of good things, too."
FOR MORE PHOTOS FROM THIS EVENT PLEASE CLICK HERE. TO BUY A COLLECTOR'S PRINT OF THIS STORY PLEASE VISIT 4-FeetGrafix.com.