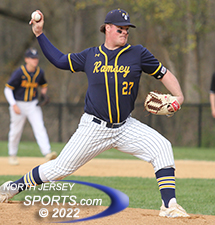 Senior Michael Featherstone threw 4 2/3 innings to pick up the win in relief and also had four hits, including a homer, to power Ramsey to an 18-5 win over Westwood.
WASHINGTON TWP. – Ramsey and Westwood have separated themselves in the ultra-competitive Big North Conference Patriot Division by the slimmest of margins but just enough so that this week's two-game series will decide the league championship. The head coaches of the respective sides are brothers, Game 1 of the series was tied through four innings and even with all of that on-field intrigue the real story was elsewhere.
Sunday night's game took place amid a greater purpose; part of the Autism Awareness campaign and it was not just lip service. It hits way too close to home for that.
"We did this with the SNAP (Special Needs Activities Program), which we volunteer for. Our players go and work with them every Wednesday night and we thought it would be great to invite them out here to throw out the first pitch," said Westwood head coach Nick Urbanovich. "My little guy (Nicholas) got diagnosed to be on the [autism] spectrum a couple of years ago, so this was a real family event to raise money for some good causes. I just wish it could have been a cleaner baseball game."
The last part was the only bummer from the Westwood perspective as Ramsey busted open a tie game by sending 11 hitters to the plate and scoring seven times in the top of the fifth inning. The Rams batted around again in the seventh, sending 13 more hitters into the box and added six more insurance runs in an 18-5 victory that makes the Rams the masters of their own destiny. A win in the second game of the series now scheduled for Wednesday would give Ramsey the outright league title. A series split would lead to a shared championship.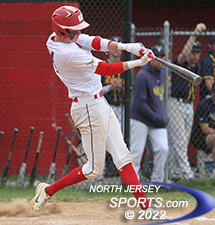 Connor Roche hitting a two-run homer in the first inning for Westwood.
If the latter happens then maybe the results of Monday's charity golf outing, the affiliated 1st Annual "Urbs Cup" should be used as the tiebreaker, but the parameters of what constitutes "a win" there is also subject to the sibling rivalry.
"We are doing the golf outing tomorrow and I am much better than him and that is a fact," said Nick Urbanovich. "If he says anything different it is a complete lie,"
Of course, Paul Urbanovic said something different.
"He is better than me because he golfs a lot more than me. I can outdrive him and that is all I care about," said the Ramsey skipper. "I am more athletic, it's just he has more discipline for golf."
Ramsey's baseball team has a plethora of talented athletes and none stood out more on Sunday than senior Michael Featherstone, who was forced into two-way action and responded big time. After starting pitcher William Kirk left with an injury after one inning pitched, Featherstone (4 2/3 IP, 3 R, 0 ER, 2 H, 4 K, 4 BB, 2 HBP) took to the hill and delivered 4 2/3 innings of solid relief to pick up the win. And at the plate, Featherstone made the most of his turns inside a lineup that has been smoking the ball as of late.
Featherstone (4-for-4, HR, 4 RBI, 3 R, IBB), who broke the ice with a three-run homer in the top of the first inning, was one of six hitters to drive in a least one run and all nine spots in the Ramsey order scored at least once.
Ready for a crazy stat? Ramsey (13-3, 6-1) has now scored 81 runs in its last four games and it is on a five-game winning streak.
Shortstop Robbie Caffrey (2-for-5, 4 RBI, 2R, 3B, 2B), centerfielder Anthony Pallone (2-for-6, 2 RBI, R, 2B) and designated hitter Danny Mack (2-for-4, 2 R, RBI) were all a part of the Rams' fast-turning lineup carousel.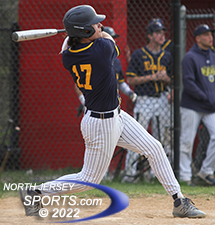 Robbie Caffrey had 2 hits and 4 RBI for Ramsey, which has now scored 81 ruuns in its last four games.
Mack had one of the game's most pivotal at bats when he followed Connor O'Hara's (1-for-5, RBI, R) two-out, bases loaded single with a two-out, sacks-full knock of his own during Ramsey's seven-run fifth that broke the game wide open.
"I just had to trust myself. In the beginning of that at bat I was trying to do too much, but I had to relax and do it for my team and not for myself," said Mack, who reached safely in all five of plate appearances. "This team is really starting to click. We are all coming together, swinging the bat well and trusting each other."
Brooks Kanwisher (1-for-4, RBI, 2R, SB), Anthony Irving (1-for-2, 2B, sac) who came one in the cleanup spot after Kirk (BB, R) left, Luke Monico (0-3, R, BB, HBP) and Aidan McNallly (0-for-3, 2BB, 2R) all contributed to the Ramsey onslaught.
Featherstone, also a standout basketball player for the Ramsey team that won a state sectional title this past winter, also sees the bigger picture. On his cleats were markings made by special needs students to whom he recently paid a visit.
"This is pretty personal for me as well. My sister [Kylie] is in college [at Loyola Maryland]. She is going for speech pathology and she is really invested in helping kids with autism, downs syndrome and all that stuff and I have been brought up with a consciousness of it," said Featherstone, who will play baseball at the University of Hartford next year. "I know how important this is to so many people. There is one kid named John Halloway who I always talk to in the hallways and I went to his class and brought a Sharpie. They are great kids and I just wanted to go in there and make them feel like a part of the team because they really are."
Connor Roche hit a two-run homer in the first inning and TJ Ardese scored twice for Westwood, which fell to 11-4 on the season and 5-2 in league play. Should they win in the rematch on Wednesday the Cardinals would grab a share of a league title for the first time in 14 years, back in the days of the old BCSL-American Division.
But if you were worrying about the result of a high school baseball game on Sunday night, you kind of missed the whole point, which was not lost on Paul Urbanovich, who got a little choked up with talking about his six year-old nephew.

"I get emotional when I think about him. He is awesome and he has come so far," said Paul Urbanovich. "I just got done telling reminding my team how lucky and fortunate we are to play this game. It's great to raise awareness, to raise money, to give back and we get to teach these kids that they can make an impact on so many different lives."
FOR MORE PHOTOS FROM THIS EVENT PLEASE CLICK HERE. TO BUY A COLLECTOR'S PRINT OF THIS STORY PLEASE VISIT 4-FeetGrafix.com.