Max Nasjletti had two hits, both doubles, stole a base and scored a run for Old Tappan, which improved to 12-2 on the season with a 5-1 win over Ramapo..
OLD TAPPAN – It has been a few years since Northern Valley/Old Tappan, a tradition-rich baseball program, has had a team like this and head coach Tim Byron is enjoying it so much that he very nearly cracked a smile after the Golden Knights improved to 12-2 with a 5-1 win over Ramapo on Friday afternoon.
"This is like one of our teams of old. In the last couple of years we were going to give you a good game, but we didn't really have too many horses," said Byron. "We have a good flow here now. These guys like to be out here. They are baseball kids and this is a lot of fun."
Sticking with the equine metaphor, Old Tappan had a thoroughbred on the mound in right-hander Alex Kranzler, who needed just 99 pitches to go the route. He gave up six hits, walked just one, struck out 12 and retired the final eight hitters he faced in a game that took just one hour and 35 minutes to complete.
Kranzler found a sweet spot on the outside corner against Ramapo's right-handed hitters and went there late in counts to get outs. Catcher Alex Gioffre set his glove on the black or maybe an inch or two outside of that and Kranzler hit the middle of the mitt. He also dropped his secondary stuff in for strikes the second and third time though the lineup to keep the Raiders off balance.
"I worked inside to open it up outside," said Kranzler, a junior who has already to play at the University of Missouri. "As the game went on I started hitting spots better, I started throwing a little harder and it worked out pretty well."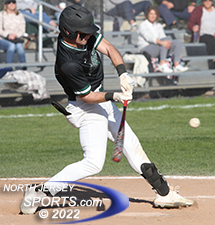 JT Psirogianes drove in the Ramapo run with two-out single in the first inning..
Ramapo, which was riding high after a 12-2 win over St. Joseph Regional on Monday, was late getting to the field after its bus was late, did not get a chance to take infield/outfield practice and then immediately applied the pressure in the top of the first inning when Jack Klein led off the game with a triple to straight away centerfield. Kranzler struck out the next two hitters before JT Psirogianes delivered a run scoring single right back through the box for a two-out RBI that put the Raiders up 1-0.
Klein (3 IP, 4 R, 4 ER, 5 H, 2 K, BB), Ramapo's left-handed starter, wriggled out of trouble in each of the first two innings and not all of it was his own doing. After walking James Keating (1-for-3, RBI, BB) leading off the bottom of the first and giving up a ringing double to Max Nasjletti that would have driven in a run had it not snuck beneath the centerfield fence and hitting a batter with two outs, Klein left the bases loaded by getting a groundball to the right side.
Back-to-back errors with one out in the bottom of the second spun the Old Tappan lineup back to the top, but Klein again buckled down to got two ground balls to keep Ramapo in front through two full innings. Old Tappan, however, did not waste its chance in the third. Nasjletti was hit by a pitch leading off and stole second from where he scored the game-tying run on Lou Mosca's (1-for-3, RBI, R) single which was followed immediately by Elan Ofek's two-run bomb to left that gave the Knights the lead for good at 3-1. OT tacked on with James Keating's two-out single that four batters later to make it a four-run inning.
"All I can say is that I love these guys and we go out to work together every game. We fight and we try to put up a number," said Nasjletti, NVOT's second baseman and No. 3 hitter who finished 2-for-3 with two doubles, a stolen base and a run scored. "Coach says 'Pass the baton,' and that is something we take seriously. We all have full confidence in the next guy to get the next knock, get the big hit and score the big run."
Elan Ofeck hit a two-run homer for Old Tappan..
Down three against one of Bergen County's top pitchers made it an uphill climb for Ramapo. The Raiders got two on with one out in the third before Kranzler got a flyout and a strikeout to end the threat. Kranzler gave up a two-out infield single in the fourth and back-to-back one-out infield singles in the fifth, but those three runners advanced a combined total of just one base.
Dialing in his off-speed pitches late, Kranzler struck out the side in the sixth and worked a perfect seventh to close it out.
"That kid [Kranzler] is a heckuva pitcher and he got stronger as the game went on, too. I thought we did a good job of pressuring early and I think maybe we left a couple out there, but that also is a product of going up against that kid who knows how to get big outs. He just kept pounding strikes," said Ramapo co-head coach Garrison Ward, whose team is now 7-7 and probably needing two more wins to lock up a spot in the Bergen County Tournament. "If we can get a few wins in a row here, I don't see how we could be left out when you look at the schedule we have played. I like the way we have been playing. Even today I thought we came in with no I/O on a rock hard field that we were unfamiliar with against a really good team and we competed."
Old Tappan, which has a win over Bergen Catholic this season, has already secured its county tournament place and will be seeded somewhere not too far behind presumptive No. 1 Don Bosco Prep.
"Was it good to beat Bergen Catholic? Yes, it was, but I say that about every game. That was not really the game that changed our season because we have been building and we have been getting better and better anyway," said Byron, whose only losses this season have come against Ramsey and Pascack Valley. "We are right there, but you always have to come to play. There are a lot of good teams out there, but if we can continue to do things like we have, pressuring on the bases and putting hits together, I like our chances."
FOR MORE PHOTOS FROM THIS EVENT PLEASE CLICK HERE. TO BUY A COLLECTOR'S PRINT OF THIS STORY PLEASE VISIT 4-FeetGrafix.com.