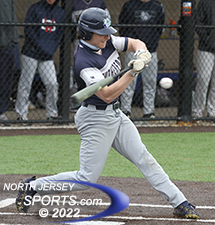 Pat Cerulli drove in three runs and scored another for Rutherford, which improved to 2-1 on the season with a hotly-contested 9-4 win in Wood-Ridge on Saturday.
WOOD-RIDGE – Because they are in different divisions inside the NJIC and because Rutherford is a Group 2 and Wood-Ridge is a Group 1, the two schools from just about the same neighborhood rarely face each other in any sport. Judging by the juice coming out of each dugout during Saturday's rare matchup on the baseball diamond, that really has to change.
High school sports need to get back to being local community events rather than trying to be some far flung enterprise pairing schools from across wide swaths of the state with little in common besides the size of their enrollments. Local is better for a lot of reasons, but most of all because the players, the high school kids that should be the focus, like it that way.
"When I was younger Rutherford/Wood-Ridge was a huge rivalry because we played them all the time in every sport. Any game we played was always physical with a lot of trash talk," said Rutherford third baseman Pat Cerulli. "Then you get to the high school level we never really play them that much. You could see that both sides really wanted this game today. It felt like a real rivalry game, tensions were high; there was a lot of talking. It was pretty cool. The atmosphere was great."
To add to the atmosphere was the crazy first inning weather that included a fast-moving rainstorm that made gripping the ball a bit of an adventure. Rutherford drew three walks, had two batters hit by pitched balls and put up an opening inning three-spot to put Wood-Ridge in chase mode right from the jump.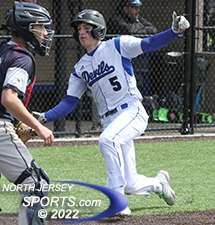 Senior Trey Packen scored two of Wood-Ridge's four runs.
The Blue Devils closed to within a run in the bottom of the third, but could never really get any sustained traction against Rutherford starter Gabe Francisco, who went the distance on a seven-hitter in a 9-4 victory at the pristine facility that is the Wood-Ridge Athletic Complex.
Franciso is a Super Senior and taking advantage of the extra year of high school eligibility that is the legacy of the lost COVID season of 2020. Franciso (7 IP, 3 R, 2 ER, 7 H, 10 K, 2 BB, 108 pitches) adds much-needed experience to a young Bulldogs' squad. Wood-Ridge has three Super Seniors on its roster, including the double play combination of the Giancaspro twins, Phil and Leo, and Stephen Crandall, a versatile player who can absorb some innings on the mound and saw an inning behind the plate against Rutherford.
"The only thing I don't like about being a Super Senior is that the other team likes to talk about it," said Francisco, a freshman at Bergen Community College who is studying biology. "It's okay, though. I am just taking advantage of an opportunity. I am 18; I am going to school and playing high school baseball against a lot of other 18 year olds."
Francisco led off the game by wearing a pitch and it kicked off Rutherford's three-run first inning all with the benefit of just one hit. Francisco and Alex Acosta each scored on bases loaded walks drawn by Luke Cerulli and Pat Cerulli and a questionable hit by pitch during Ryan LaRessa's at bat forced in the third run.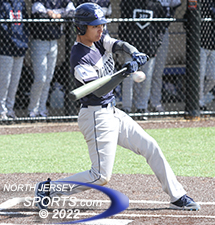 Danny Espinal had two hits, drive in a run and scored another for Rutherford.
Wood-Ridge was a perfect 4-0 coming into the game and looking to score some power points for state tournament seeding and maybe get a Bergen County Tournament home game. After giving up an unearned run in the top of the fourth on a two-out single by Cole Goumas (2-for-4, 2 RBI, R, SB), Wood-Ridge got back-to-back RBI singles from Michael Sarlo (1-for-4, RBI), a senior who recently accepted an appointment to the United States Naval Academy, and Devin Arce to draw to within 4-3.
That was the score into the top of the sixth inning when Rutherford pulled away for good. A two-out walk and then three straight two-out hits broke the game open. Franciso led off the frame with a walk and Luke Cerulli's ( 1-for-3, 3 R, RBI, 2B, 2 BB) base on balls three batters later get the carousel turning for Pat Cerulli (1-for-3, R, 3 RBI), who smoked a double to deep centerfield. Danny Espinal (2-for-3, RBI, R) and Goumas each added base knocks to bump the Rutherford lead back up to 8-3.
"These guys have played against each other since they were in Little League so there was a lot of excitement and a lot of local pride out here today," said Rutherford head coach Carmen Spina. "When you are playing against guys from your neighborhood it brings the best out of you."
Wood-Ridge fell to 4-1 with the loss, but that only means that it will not go undefeated this season. The Devils will be right in the mix for a league title, a county tournament birth and home field advantage in the North 1, Group 1 state sectional tournament where they reach the semifinals last season with many of the same players. Wood-Ridge has nine traditional seniors to go along with the three fifth-year players.
"It goes without saying; walks, hit by pitches and four errors. If you are going to give a team like Rutherford free passes and free bases they are going to make it work. It opened up the gates, they started running on us a little bit and they made us pay. They were the better team today," said Wood-Ridge head coach Michael Carcich. "In terms of counties and states, this is definitely a game we wanted to get. As a small school I love opportunities like this when you get a chance to jump up and bite one of the bigger guys. It didn't happen today, but credit to their kids. Francisco threw great, he threw strikes and kept us from putting together big innings."
Rutherford (2-1) has now won two straight after an Opening Day thumping against Ridgewood, which Spina decided to schedule to show his young team what it takes to compete at the top levels on North Jersey public school baseball. The Bulldogs have bounced back nicely.
"We had a rough start against Ridgewood and we played that game because we need to get better and we are not going to get better unless we play the best teams that we possibly could. They smacked us and we have been focused ever since," said Spina. "We had a great approach today. We battled, we played clean baseball and we have kids that can run. We are going to try to put a lot of heat on teams and continue to build from here."
FOR MORE PHOTOS FROM THIS EVENT PLEASE CLICK HERE. TO BUY A COLLECTOR'S PRINT OF THIS STORY PLEASE VISIT 4-FeetGrafix.com.