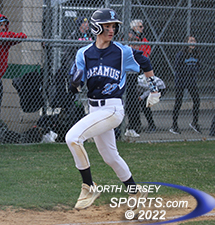 Sophomore John Cutrona doubled in the winning runs in the top of the seventh inning as Paramus came back from a 4-0 deficit to beat Ramapo, 6-5, on Monday to improve to 3-0 on the season..
FRANKLIN LAKES – All day long the Paramus hitters were testing Christian Cavagnaro he was up for it. Through six innings the Ramapo rightfielder had made seven putouts including all three in the fourth inning and a diving grab with the bases loaded that ended the top of the sixth inning that kept the Green Raiders in front for the time being.
All of that illustrates just how well-placed John Cutrona's game-winning hit was just one inning later. With two on and two outs in the top of the seventh and with Paramus trailing by a run, Cutrona, a left-handed batter facing a right-handed pitcher for the first time in his five at bats, ripped a double deep down the rightfield line, just inside the chalk and outside the reach of a hard-charging Cavagnaro.
"Going into that at bat I just wanted to find a way to help my team win. He put a pitch right there for me and I got it," said Cutrona, a sophomore and Paramus No. 2 hitter and starting shortstop. "[Cavagnaro] caught everything all day so when I was running down the line I was just thinking 'Please don't get that one."
The ball rattled around in the corner as courtesy runner Daniel McIntyre scored the tying run and Moresuke Koiwai dove in with what turned into the winning run in a come-from-behind 6-5 victory that ran Paramus' record to 3-0 on a season that is only four days old.
"Ramapo is a tremendous team with a lot of talent in that dugout and the only way you are going to beat them it is going to have to be with a heroic effort, something like Cutrona's double," said Doug Aday, whose first few days as the Paramus head coach could hardly have gone better. "Every day in this league the approach is to keep it close, to give ourselves a chance in the late innings. That is what this game was."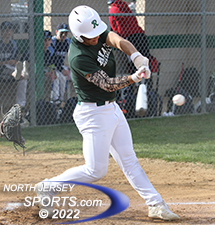 Michael Whooley had two hits and drove in two runs for Ramapo, which fell to 0-2 on the season
Ramapo, which was no-hit in its season opener by Pascack Hills sophomore Joey Giordano on Saturday, had a different kind of start in Monday's home opener as its first two batters of the game came around to score. Jake Lopez led off the bottom of the first with a walk and scored on JT Psirogianes' bomb of a triple to centerfield. Michael Whooley followed with a sacrifice fly and, three batters into the game, the Raiders had a 2-0 lead which they doubled in the bottom of the third again led by the top of the order.
Lopez (1-for-3, 2 R, SB) reached leading off on a catcher's interference, stole second and scored on Psirogianes' (2-for-4, 2 RBI, 2 R) double and Whooley (2-for-3, 2 RBI, R) singled in the Raiders' fourth run. It could have been worse for the Spartans as Gabe Sepiga came on relief and, after getting a ground ball out, he walked the next two hitters to load the bases with just one out, but then got a called strike three and a flyball to keep Paramus on the fringes with a 4-0 deficit.
Lopez, meanwhile, was solid through his first four innings on the mound for Ramapo as he stranded all six runners to reach base. He retired the first man he faced in the top of the fifth and should have had the second out, too, but Cutrona (2-for-3, 2 R, 2 RBI, 2 2B, BB) reached on an error and then Nicholas Avagnano got Paramus on the board emphatically. His blast easily cleared the centerfield fence and got the Spartans to within 4-2.
Ramapo had the chance to reestablish its cushion in the bottom of the fifth when Payne Teel led off with a single, Luis Ruiz followed with a double and freshman Charlie Wingfield drew a walk two batters later to load the bases with one out.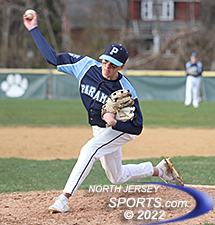 Paramus junior Vincent Cianni pitched the final 2 2/3 innings and picked up the win in relief.
Then Vincent Cianni, Paramus' third pitcher of the game, fielded a comebacker and started a 1-2-3 double play that really shifted the momentum in the Spartans' favor for good as they scored two runs in each of the last three innings. Ramapo got a two-out RBI single by Cavagnaro in the bottom of the sixth to nose back in front, 5-4, but Cutrona's two-run double in the top of the seventh, which came after No. 9 hitter Jared Ferrara singled with two outs and nobody on to flip the lineup, put the pressure right back on the Raiders and also on Cianni, who struck out the first two hitters in the bottom of the seventh before an error put the tying run on base and Lopez, in the on deck circle.
Cianni never let it get that far as he painted to the outside corner for a called strike three and the final out of an entertaining, if not freezing by the late innings, baseball game.
"That last inning I didn't really have my slider. My four-seamer was really hitting that spot [on the outside corner] and they were letting it go [for called strikes]," said Cianni, a junior right-hander who started the game in centerfield. "The last pitch I threw was the slider and I kind of hung it, but I got lucky. It kind of buckled him up and he didn't swing."
With a new coach, some quality young talent and a 3-0 start, Paramus is looking forward to what is possible this season.
"We had a tough year last year, but we have a new coach that is doing a great job and we have confidence," said Cianni. "
FOR MORE PHOTOS FROM THIS EVENT PLEASE CLICK HERE. TO BUY A COLLECTOR'S PRINT OF THIS STORY PLEASE VISIT 4-FeetGrafix.com.