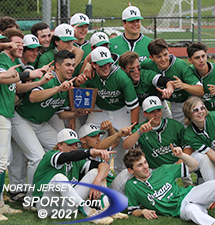 Pascack Valley celebrated its second state sectinal title in the last four years after a 5-1 win over Teaneck in the North 1, Group 3 final on Friday in Hillsdale.
HILLSDALE – There were so many question marks for every baseball team in New Jersey at start of this season. Not many had any returning varsity experience and trying to predict what was going to happen was a fool's errand. It didn't take too long into the 2021 campaign, however, for Pascack Valley to start to figure out just how good it might be.
"We really didn't know what was going to happen. We had a lot of new guys, there were only like three returning players, but after two weeks I knew we had a great shot at this," said PV senior shortstop Mason Baronian. "Our offense just exploded, our pitching held it down and we did not give up many runs. Halfway through the season we kind of knew what we had and what we could do."
What Pascack Valley (23-5) did on Friday was win its second state sectional title in the last four years. With a 5-1 win at home over sixth-seeded Teaneck, top-seeded PV finished off an impressive run through the notoriously difficult North 1, Group 3 bracket have given up just three runs in the four playoff games against quality opposition.
First it was a shutout of Parsippany Hills, then back-to-back 2-1 victories over West Milford and Roxbury and then yet another dominant pitching performance in the win over Teaneck. Anthony Sodano, the senior left-hander who was brilliant against West Milford, faced just two batters over the minimum through the first six innings. Sodano (6+ IP, 1 R, 1 ER, 2 H, 5 K, 4 BB) left after facing two batters in the seventh and with 101 pitches and Cole Porter, who will start Monday's Group 3 state semifinal against Millburn, got the final three outs and set off the celebration near the pitcher's mound.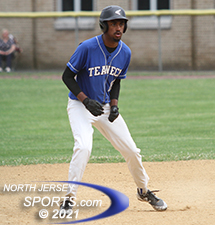 Daniel Scott had one of the two hits for Teaneck, whcih was making its first sectinoal final appearance since 2013.
Porter threw the first three innings of the win over Roxbury, the portion of the game that was played in Hillsdale on Wednesday before the rains game. Jared Shiffman threw the final four frames on Thursday morning when the game resumed at Morris Catholic High School in Denville. Roxbury had eliminated PV in 2019 and 2018, but the payback came in the sixth inning on Thursday when PV struck for two runs to grab the win.
"It's been a crazy week and it really shows how much trust we all have in each other. Two years ago the same thing happened against Roxbury and they came out on top. We stuck together, we put a couple of runs up late and it felt great to get that win," said Porter, a senior who will play next season at UMASS. "This is awesome. It was a beautiful day for baseball, we won a sectional championship and you can ask for much more than this. To do this with this group of guys is just awesome."
Pascack Valley put the pressure on Teaneck from the get-go as it put two runners on in the first inning and then pushed its first run across in the bottom of the second when it loaded the bases with no outs. Teaneck traded a run for two outs as Aries Samek, the senior shortstop on his way to Clemson University, turned a 6-6-3 double play as Anthony Rossomondo scooted home to make it 1-0.
The third inning was the back-breaker for Teaneck, which was making its first appearance in the section final since 2013. Without the benefit of even a single base hit, Pascack Valley sent 10 hitters to the plate and scored four times. Zach Novakowski reached on an error leading off, Charlie Saul was hit by a pitch, and Zach Traina drew a walk to load the bases with no outs. After a strikeout, Rossomondo, Dylan Criscuolo and Jimmy Shea each walked to force home runs. MJ Biener's sacrifice fly made it 5-0 after three innings in favor of a team that had allowed just two runs through that point in the state tournament.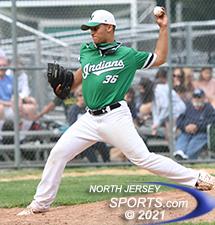 Anthony Sodano threw the latest gem for the PV pitching staff, which has allowed just three runs total in four state tournament games.
Pascack Valley turned two double plays in the game and allowed just three Teaneck baserunners to make it as far as second base. Daniel Scott drew a walk and advanced on a wild pitch before being stranded at second in the fifth. Michael Quinn walked and Gabe Castro singled as the first two hitters of the seventh inning and Scott singled to load the bases, but PV turned a 6-4-3 double play that pushed home Teaneck's lone run and Porter struck out the final hitter to send his team into the state semifinals.
"We have not really done anything spectacular in the state tournament, but we have done just enough to win. We have done the little things very well," said PV head coach Will Lynch. "Catch a groundball and make a throw. Hit a flyball with a runner on third base, catch a flyball, turn a big double play when you get the chance. And our pitching has been lights out for the last two months. We gave up two hits today and three runs in the whole tournament."
Lynch is in his 13th season as the head coach and has built quite a program up on the hill behind Pascack Valley High School. He is one of just four coaches to lead a public school to a Bergen County championship in the 2000s; he has won two sectional titles in the last four years after a 50-year drought and has won seven straight league titles while being grouped with some of Bergen County's best public school programs.
"It's all a credit to the kids we have had here. This group, they had the prom on Tuesday night. They went; they went to the diner and were home by 11 because they are committed to this. They want to be here and I had them in to hit at 7:30 Wednesday morning. They all showed up ready to go," said Lynch. "Then they went out to Morris Catholic, punched two across and got us to this game. They want to keep going."
FOR MORE PHOTOS FROM THIS EVENT PLEASE CLICK HERE. TO BUY A COLLECTOR'S PRINT OF THIS STORY PLEASE VISIT 4-FeetGrafix.com.