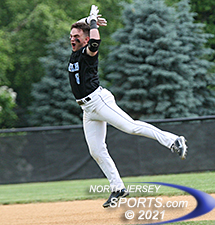 Tyler Stern had reason to celebrate as his hit and run opened the door to a huge second inning for Mahwah, which won the North 1, Group 2 state sectional title with a 12-2 win over Pascack Hills.
MAHWAH – As Mahwah's Tyler Stern looked in to take the sign from the third base coaching box he gave a good stare to make sure he was seeing things correctly. Then he took a deep breath and tried to relax the best he could. What Stern was a hit-and-run sign that was unfamiliar to him personally but the senior first baseman could not focus on that. Playing in a section final and trailing rival Pascack Hills, Stern now had a job to do.
Stern executed the second inning hit-and-run perfectly. What normally would have been a double-play ball, it instead travelled through the open right side of the infield and sparked an eight-run rally. That was more than enough run support for efficient starter Joe Salute. Stern capped off the celebration with a fifth-inning single to give Mahwah the North 1, Group 2 state sectional title with a 12-2 win over No. 6 seed Pascack Hills on Friday afternoon in Mahwah.
"After Pascack Hills scored that first run we had to turn it up and that's what we did," said Mahwah's Tyler Kittle, who was the 'run' part of the successful hit-and-run.  "Leading off that second inning, I knew I had to give us a spark and get us going. We had to work together and do whatever it took to win this game. This is what we talked about from our first practice until today. It is the greatest accomplishment in my life up to this point."
Pascack Hills (16-12) had all the momentum coming in. After being swept by Ramsey in the regular season, the Broncos battled back from a late four-run deficit to force extra innings and oust the second-seeded Ramsey in the semifinals. Mahwah also swept the regular season series, but it was the Broncos who struck first on a sacrifice fly off the bat of Billy Mullholland to give Pascack Hills a 1-0 lead through one-and-a-half innings.
The Thunderbirds had to strike back quickly and did. In the bottom half of the frame, Kittle worked a walk to set the stage for Stern. When he got the hit-and-run sign he knew it could not go worse than the previous time he received it earlier this season.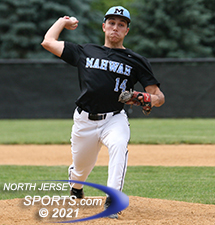 Senior Joe Salute has been a revelation on the pitcher's mound in the state tournament for Mahwah.
"I got the hit-and-run sign against Westwood and didn't swing the bat, which got the runner hung up in a rundown," said Stern. "This time, I knew I had to swing the bat and do whatever I can to get that ball to the right side."
That put runners on the corners with nobody out. Pascack Hills starter Zach Wernick induced a pop-up and had a chance to escape the inning with the No. 8 and 9 batters coming up, but that is when the game turned in Mahwah's favor.
Sophomore third baseman Zach Selton went with a low, outside fastball and golfed it into the right-field corner for a triple to score both Kittle and Stern and putting Mahwah ahead to stay.
"I was looking for something out over the plate, got a pitch on the outer half and went with it," said Selton. "Once (Kittle) got on and then Stern got that hit-and-run we knew were going to put up some runs. Everybody on this team feeds off each other and we had to step it up with some good at-bats."
Then with the count 0-2 on Sal Cantone, he punched one up the middle through the drawn-in infield to make it 3-1. The Thunderbirds did not get another hit in the inning, but by the time the inning was completed though the game was all but over. A trio of walks brought in two more runs and knocked Wernick out of the box. The Broncos went to the bullpen but to no avail as three straight wild pitches cleared the bases and gave Mahwah a commanding 8-1 lead.
"We work on the hit-and-run every day and that at-bat really got the ball rolling for us," said Mahwah head coach Jeff Remo. "I knew if we got some runs that I felt pretty confident with the way (Salute) has been throwing the ball lately. He is a great story in himself. He threw the ball well today and we made the plays behind him. Today was really a great day for Mahwah baseball."
Salute is a great story in perseverance. Going into the state tournament, the senior right-hander had all of one varsity win to his resume (a shutout over Fort Lee in his last start before the state tournament began). Along with allowing just one run in a complete game win in the quarterfinals over Mountain Lakes, Salute continued to pound the strike zone and pitch to contact. He scattered seven hits over his five innings of work but never let the Broncos get too comfortable in the box where they could put up a crooked number.
In the bottom of the fifth, Stern stepped to the plate with two outs knowing that one hit would let his team live a dream they have been imagining all season. He did just that by lining a shot into right-center field to bring home Landon Kurtz to invoke the mercy rule and send his teammates pouring onto the field in jubilation of Mahwah's first section title since 2013, which was also a win over Pascack Hills.
All nine of the players in the starting lineup for Mahwah (17-6) either got a hit or scored a run. That type of balance will be needed as the Thunderbirds advanced to take on Hanover Park in the Group 2 state semifinals next week. While the Mahwah players feel a sense of pride for what they accomplished they also hope this is just the warm-up for a bigger piece of hardware next weekend.
"To get to this point you have to be willing to sacrifice and we've all done that," added Stern. "We knew Pascack Hills was a good team, but we beat them twice during the season, so we felt confident coming in that if we played our game that we'd be alright. Pressure helps people perform to their greatest abilities and the pressure was on for this game.
"Nobody on this team cares about individual stats, the only stat that matters is getting that 'W' when it's all said and done. We are playing for tomorrow because we don't have that many left. We know there is going to be some tough competition with only section champions left. But if we come focused, ready to play, and we play our game I don't think anybody can beat us."
FOR MORE PHOTOS FROM THIS EVENT PLEASE CLICK HERE. TO BUY A COLLECTOR'S PRINT OF THIS STORY PLEASE VISIT 4-FeetGrafix.com.