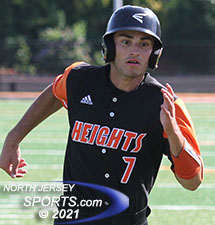 Nico Tsiolas roped a run-scoring triple in the second inning for Hasbrouck Heights, which topped Wood-Ridge, 4-3, to earn a spot in the section final for the first time since 2007.
HASBROUCK HEIGHTS – There is nothing original about interviewing Hasbrouck Heights coaches and players on Depken Field after big playoff victories. It happens all the time on the turf of the famed football venue, usually on Friday nights throughout the month of November as the Aviators make their annual run toward state, conference and/or league titles.
But it's June and it's baseball season, so these interviews were done not long after Connor Friedel had just stepped off the makeshift pitcher's mound, not dirt but a raised lump covered in green turf, and just in front of the portable backstop set up in the corner of the endzone. It was from under that contraption that Nico Tsiolas hit a second inning triple, one of the key moments in Hasbrouck Heights' 4-3 win over next-door-neighbor Wood-Ridge in the North 1, Group 1 state sectional semifinals on Thursday.
Hasbrouck Heights playing for a state sectional title in baseball? Baseball? Something like that has not happened on that part of Route 17 since 2007.
"This is what we have dreamed of for the past five years since Coach [Pat] Gabriele started coaching. My freshman year we got to the semifinals, sophomore year we got clipped and last year was cancelled," said Friedel, the senior who will play at Alvernia University next year. "This is a big accomplishment for us. We did not know that we were going to be this good, but we are 19-4, we are having fun and we just want to keep winning baseball games."
Recent history suggested that this game was going to be close and hotly contested.There is the natural geographic rivalry, it was Hasbrouck Heights that ended Wood-Ridge's eight-game winning streak to start the season with an extra innings victory and the Aviators swept the season series with a second extra innings win three weeks ago. Then there was a clash of views concerning when this game should be played. Biblical rain wiped out Tuesday's original date; the threat of storms set off the lightening detection system at Heights and forced a late Wednesday cancellation.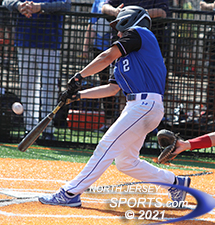 Wood-Ridge's Nick Marchitelli drove in two runs with a fifth inning triple.
That set of circumstances granted Friedel (7 IP, 3 R, 3 ER, 5 H, 4 K, 3 BB) the requisite rest needed to take the start and he ripped through the Wood-Ridge (21-7) lineup for the first four innings. He allowed just one hit and two walks over that stretch and had a 4-0 cushion at the end of it.
Friedel was hit by a pitch leading off the second inning against Wood-Ridge starter Nick Rizos (5+ IP, 4 R, 3 ER, 4 H, 2 K, 2 BB, 3 HBP), Nick Cuccio followed with a base hit and a fielder's choice groundball hit by Dario Morales came with a throwing error that allowed Friedel to score the game's first run. Tsiolas then crushed a fly ball to deep centerfield where there is no fence to slow down a well-struck ball skipping along the turf. Tsiolas pulled up a third base with a run-scoring triple and then scored himself on a wild pitch to give the Aviators a 3-0 lead.
"We tried to come out relaxed just like it was any other game. We took the same approach, cracked a couple of jokes like we always do and I tried to take that attitude into the batter's box," said Tsiolas. "We have been a relaxed team all year. We look at every situation as a chance to help the team, and that [triple] was my chance."
Heights tacked on a run in the bottom of the third on a two-out single by Cuccio (2-for-2, RBI) to go up 4-0 while the Blue Devils managed only three base runners in their first four times at bat.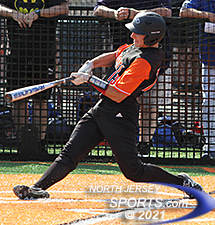 Nick Cuccio had two hits for Hasbrouck Heights, which will host Kinnelon in the section final on Friday.
That changed in the fifth when Phil Giancaspro doubled with one out and Braden Negro singled to turn the lineup over with runners on the corners. Leadoff hitter Nick Marchitelli followed with a two-run triple to the further reaches of centerfield and Trey Packen (2-for-4, RBI) followed with a single that made it 4-3.
Friedel settled back in and stranded two in the fifth and then worked a 1-2-3 sixth, which gave him a shot at the first complete game of his high school career, which would have spanned four seasons had last year happened. Friedel entered the seventh inning with 101 pitches thrown, nine short of the maximum, and need just eight of them to retire the final three hitters of the game. Rocco Minichiello settled under a flyball in left to close out the victory for Friedel and the Aviators.
"I've never had a complete game in high school before and it is amazing for the first one to come in the semifinals," said Friedel. "I knew I only had nine pitches left going into the last inning so I just wanted to pound the zone and I was able to get the job done."
Hasbrouck Heights' job is not yet fully complete. The Aviators, the No. 2 seed, will host No. 4 Kinnelon, which knocked off top-seeded Waldwick, on Friday afternoon. To the victor goes the section title.
"We preached to these guys every day all season; just be 1-0 today. Don't worry about the last game, don't what about what comes next, just be 1-0 today and win innings. We won two innings today, Wood-Ridge won one inning and that was enough for us to get through," said Gabriele, who will send Tristan Govea to the mound against Kinnelon as Heights seeks just its second sectional title in program history. "We are going to let them enjoy this for about 30 minutes and then we will start to prepare for tomorrow. It's all hands on deck and we are not going to hold anything back."
FOR MORE PHOTOS FROM THIS EVENT PLEASE CLICK HERE. TO BUY A COLLECTOR'S PRINT OF THIS STORY PLEASE VISIT 4-FeetGrafix.com.