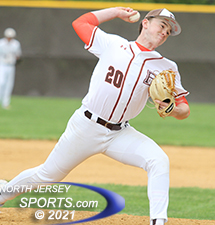 Kevin Scully gave up just one run and four hits in 5 2/3 innings for Pascack Hills, which advanced to the Bergen County Tournament Round of 16 with a 3-2 win over Bergen Tech.
MONTVALE – In a wild opening round of the Bergen County Tournament that saw No. 24 Dwight-Englewood, No. 22 Glen Rock, No. 20 St. Mary and No. 19 Hasbrouck Heights all pull first round upsets on the road, No. 21 Bergen Tech was doing its best to also crash the Round of 16. Bergen Tech, a program that has made the county tournament in each of the last two seasons that it was held (2021 and 2019) and the same amount of times in the last 50 years, scratched out a run in the top of the first inning against Pascack Hills ace Kevin Scully and then did everything it could to make its slim advantage stand up.
"A big team component is to score first. When you can do that, you put the pressure on the other team," said Doug Naccara, who is in his 10th year as Bergen Tech's head coach. "To get a run in the first inning was big and then our starting pitcher, Michael Costanzo, a junior, went out and threw great for four-and-a-third innings and really gave us a shot."
Costanzo (4 1/3 IP, 2 R, 1 ER, 6 H, 2 K, 1 BB, HBP), a crafty left-hander, did the old rope-a-dope as he worked in and out of trouble while keeping the ball off the middle of the Pascack Hills bats. It took an unearned run in the bottom of the fourth for the Broncos (nee Cowboys) to finally get even, a fielder's choice with the bases loaded in fifth for them to edge in front for the first time and an insurance run in the sixth to finally make up the number they needed to post a 3-2 win on Saturday afternoon in Montvale.
"They battled. They battled Scully as well as any team has this year. That is the most pitches he has thrown this year (113) and he didn't get through six innings. He threw the ball well, but Bergen Tech had a lot of good at bats," said Pascack Hills head coach Kevin Kirkby. "[Scully] did what he was supposed to. He kept us in it, he gave us a chance to win and we finally were able to get a few [runs].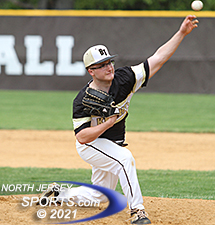 Junior Anthony Costanzo kept Bergen Tech in the game for all of his 4 1/3 inning pitched.
Bergen Tech's Sebastian Smith led off the game with a single and eventually scored on Michael Savino's RBI ground out to stake the Knights to the early 1-0 lead. Then Costanzo started sticking and moving. He gave up two hits in the first inning and stranded both runners. He gave up two hits in the second inning and stranded both runners in scoring position with a heckuva assist from leftfielder Lance Rozenfeld who turned his shoulder in hot pursuit of AJ Desautels' fly ball. Rozenfeld made the catch only a step or two in front of the chain link fence then held on as he crashed head on at nearly full speed.
Pascack Hills had the bases loaded with two outs in the third but Costanzo escaped again. It was an error that allowed Ethan Brown to reach safely leading off the fourth that finally set up the Broncos' tying run. Jake Morales' sacrifice bunt attempt was thrown away to put two on with no outs, but it still did not come easy as it took a two-out single by Matt Myers to get the game even.
All the while, Scully (5 2/3 IP, 1 R, 1 ER, 4 H, 7 K, 2 BB) just kept throwing strikes. The hard-throwing right-hander gave up just two hits and a walk from the second inning through the top of the sixth when the pitch count forced his exit with two outs.
"I just tried to pound the strike zone and allow my teammates to make plays behind me. I didn't try to do too much, just wanted to stay simple and throw strikes," said Scully, a junior. "It was a county game so I had a little more adrenalin than I usually do, but I didn't want to let that take over and overthrow."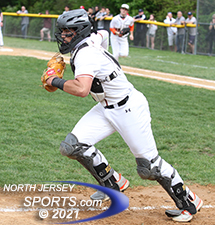 Billy Mulholland had three hits for Pascack Hills, which will play No. 7 Westwood on Tuesday night in the Round of 16.
Scully left with a lead because one of Constanzo's few mistakes was to hit Joey Belcolle leading off the bottom of the fifth and that was followed by a Billy Mulholland single that knocked Costanzo out of the box and a Joe Bucello walk that loaded the bases with no outs. Bergen Tech reliever Tommy Schmidt was so close to wriggling out of trouble as he fielded a comebacker and got the force at home for the first out and then struck out the next hitter, Desautels negotiated a two-out walk to push home the run that gave Pascack Hills the lead at 2-1.
Mulholland (3-for-3, RBI), the only hitter in the Pascack Hills lineup to have a multi-hit game, provided an RBI in a sixth inning lightning rally. Belcolle reached on a two-out walk, went to second on a wild pitch and scored on Mullholland's single to left to make it 3-1.
"I don't try to do too much at the plate. I just go up there hunting fastball most of the time," said Mulholland, the Broncos' No. 6 hitter on Saturday and their starting catcher. "I have a great team in the dugout cheering me on, I wanted to come through for the team and just put the ball in play."
Freshman Joey Giordano came on to close the door for Pascack Hills and he did, but Bergen Tech certainly did not make it easy on the promising southpaw. Giordano struck out the first hitter he faced when he entered with two out in the top of the sixth and then fanned the first batter of the top of the seventh, but then hit Savino with a pitch. A two-out double by Michael Morena got the Knights to within 3-2 and put the tying run in scoring position, but Belcolle made a diving catch on a flyball in foul ground on the first base side to end it as Pascack Hills avoided the upset trap that caught up four other higher seeds in the opening round.
Even still, Bergen Tech made a solid account of itself and has experienced steady growth under Naccara.
"It's a process with our guys. We try to develop them. We have been playing together in the summer, and trying to get better. There are such high academic standards at our school so we have a lot of smart baseball players," said Naccara. "A lot of people might look at us and not really respect us athletically that much, but that is kind of what feeds us. Our kids want to compete and today we played a great game."
Pascack Hills did, too, and will visit No. 7 Westwood on Tuesday for what might be the first night game in the history of the Bergen County Tournament's Round of 16. Usually that round is played on the same day at three different sites across Bergen County (Demarest, Emerson and Lyndhurst), but COVID has moved all games except the championship to the fields of the higher seeds and a shortage of umpires makes staggered starts a necessity at times.
Westwood won the first matchup of the season between the two teams, 2-0, and had the benefit of a first round bye. Scully, Pascack Hills' ace, will not be available, while Westwood will not have that disadvantage.
"They are going to be rested and they will have whoever they want to throw ready to throw. We don't have Scully, but we have a lot of other guys that we have a lot of confidence in," said Kirkby, whose team has now won six of its last seven games after a 3-6 start to the season. "Hopefully we can keep the game close, find a way to win and still be in this tournament come next Saturday."
FOR MORE PHOTOS FROM THIS EVENT PLEASE CLICK HERE. TO BUY A COLLECTOR'S PRINT OF THIS STORY PLEASE VISIT 4-FeetGrafix.com.