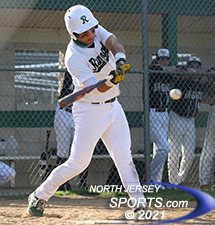 Mike Whooley's sacrifice fly tied the game in the bottom of the sixth inning before Ramapo won it in dramatic fashion, a walk-off grand slam by Jake Leonard one inning later, in a 6-2 win over Old Tappan.
FRANKLIN LAKES – Is it a Friday afternoon? Have a late-game situation that requires a baseball to travel a long distance? If so, then Ramapo has the guy.
Exactly one week after hitting a two-run home run in extra innings that lifted Ramapo to a win over Lakeland, senior catcher Jake Leonard was at it again, this time at home and in the bottom of the seventh inning of a nail-biter against Northern Valley/Old Tappan.
"I don't what it is about late innings on a Friday," said Leonard, who came up with the bases loaded and one out in a tie game. "But this is two weeks in a row now that I have been in that kind of situation."
And this time the end result was even better for Leonard and the Green Raiders. Needing just a ground ball to find a hole against the drawn-in infield or a flyball of medium depth against the shallow outfield set up, Leonard did much more. He cracked a grand slam well over the leftfield fence, a walk-off bomb that gave Ramapo a come-from-behind 6-2 win that sends the Raiders into Saturday's Bergen County Tournament opener on a high note.
Leonard had a prior chance with two on and no outs and his team trailing by two in the bottom of the sixth, but had a tough at bat that ended in a swinging strike three. He, needless to say, had a better turn at the plate on inning later.
"The sixth inning was obviously tough. I was frustrated with myself, but I came up in the seventh inning looking for redemption," said Leonard. "I didn't get it done in the sixth inning, so I went up there saying "Get a good pitch to hit, put it in play and walk it off."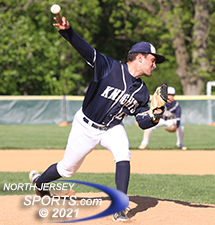 Old Tappan's Elan Ofek threw five quality innings allowing just three hits and two runs.
He did just that, but the late inning fireworks overshadowed what, for five-plus innings, was a crisply played pitcher's duel between a pair of strike-throwing right-handers, Old Tappan's Elan Ofek and Ramapo's Nico Logothetis, who each threw five sparkling innings.
Ofek (5+ IP, 2 R, 2 ER, 3 H, 6 K, BB), dropping in a curveball for called strikes consistently, gave up just two hits and faced just two batters over the minimum through five innings scoreless frames. Logothetis (5 IP, 2 R, 0 ER, 4 K, 3 BB) was similarly effective as he gave up just one hit through five, but it was two of the three walks that he issued that came back to sting him.
Faybel Ventura drew a one-out walk in the top of the second, went to third on a perfectly executed hit-and-run with Rob Cheneski singling through the vacated right side and then scored on a throwing error to give Old Tappan a 1-0 lead. The Golden Knights doubled that advantage in the top of the fourth when Lou Mosca, who drew a leadoff walk, stole second, went to third on a Kyle Lee grounder to the right side and scored on another error to make it 2-0.
Logothetis, however, did his job by keeping his team in the game before giving way to sophomore southpaw Jake Lopez (2 IP, 0 R, 0 ER, 1 H, 2 K, 0 BB, W), who held the line until Ramapo could get its bats going. That came in the bottom of the sixth when Ofek, maybe tiring, walked John Pane to get Ramapo's game-tying rally started.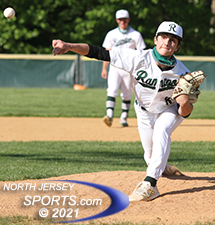 Nico Logothetis did not allow an earned in five solid innings for Ramapo, which improved to 8-5 on the season.
Ramapo used the hit-and-run to its advantage when Dean Ferrara put a ball in play with Pane on the move to put runners on the corners. Tyler Cosgrove got Ramapo on the board with a single back through the box and Mike Whooley drew the Raiders even with a sacrifice fly that made it 2-2.
Lopez, who faced the minimum six batters in his two innings of work and picked up the win in relief, worked a 1-2-3 seventh and got his team right back in to hit.
"Nico [Logothetis] pitched well. He fought through a couple of innings and limited damage the couple of times he got in trouble and battled back," said Garrison Ward, who shares Ramapo's head coaching duties with Mike Esposito. "And Jake Lopez has been great for us all year. He's a sophomore transfer who came over from Indian Hills. Every time we have put him in he has answered the bell. He pounds the zone and that is what high school baseball is all about. Just throw strikes and he does that."
After Ofek went five strong, Old Tappan needed three relievers just to get through the four outs and Ramapo got a break to start the bottom when Reid Duffus' hard groundball was mishandled and gave the Raiders a leadoff baserunner. Richie Sica and Pane, who walked and scored in each of the last two innings batting out of the No. 9 hole, drew consecutive bases on balls to load the bases with no outs. A pop-up on the infield gave Ramapo a temporary reprieve before Leonard stepped into the box and put a dramatic end to the festivities.
"We lost a tough one to Hudson Catholic a couple of days ago so we wanted to come out here today, set a good tone and get moving in the right direction. Our coach [Mike Esposito] made us adapt this underdog mentality the other day and we want to carry that with us into the county tournament."
In a season of entertaining parity among all Bergen County public schools, Old Tappan fell to 6-8 and will head into Saturday's Bergen County Tournament opener on a two-game losing streak after winning four of  its previous five games to play its way in. The Knights, the No. 11 seed, will host No. 22 Glen Rock.
Ramapo's season has been a whirlwind. Two early games against Paramus were lost to the lingering effects of COVID, so the Green Raiders have pieced together a schedule that has seen them play opponents from five different counties (Bergen, Passaic, Hudson, Monmouth and Morris). The result is an 8-5 record, a No. 12 seed in the Bergen County Tournament and a first round home game against No. 21 Bergenfield in Saturday's opening round.
"We've played in five different counties, a bunch of different teams and if someone has an open date, we will play. It's a COVID year and we just want to give these kids every chance to play. They missed a whole year and we don't want to take anything for granted," said Ward. "Hopefully today give us a little momentum. You never want to go into the county tournament on a loss, especially with a good Bergenfield team coming in. They have beaten some good teams, but we are excited to have a home game and we think we can make a little bit of noise in the tournament."
FOR MORE PHOTOS FROM THIS EVENT PLEASE CLICK HERE. TO BUY A COLLECTOR'S PRINT OF THIS STORY PLEASE VISIT 4-FeetGrafix.com.