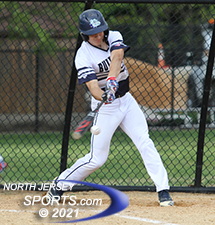 Dom Ciani had two hits, drove in a run and scored three times for Rutherford, which beat Glen Rock, 10-2, on Tuesday and improved to 9-1 heading into the Bergen County Tournameant seeding meeting..
RUTHERFORD – Rutherford picked up its ninth win of the season in 10 games on Tuesday afternoon, a 10-2 triumph over visiting Glen Rock. It was the Bulldogs' last game before Wednesday night's meeting to determine the field for the Bergen County Tournament and their resume is now pretty well-polished with a 9-1 record.
So, where does Rutherford, a Group 2 program that perennially punches above its weight on the county stage, figure to land when the tournament seeds are announced?
"We will play with a lot of confidence and we will play hard no matter what the seeds are. A lot of guys get bent out of shape about what seed they are, but we do not worry about it. As long as we are in that is all that matters," said Rutherford head coach Carmen Spina, who has brought the Bulldogs to the semifinal round on three different occasions. "It does not matter to us because in 2012 we were the last seed and we made it to the Final 4, so we will be ready to play anyone."
They certainly were ready for Glen Rock, a Bergen County Tournament bubble team that came in with a 6-4 record and could really have used a signature win on the road to burnish its credentials. Instead, senior right-hander Cal Chase worked a 1-2-3 top of the first inning before the Bulldogs strung together three straight singles by Dom Ciani (2-for-4, 3 R, RBI), Chase (2-for-4, 2 RBI, 2 R) and Brendan Kelly (2-for-4, 2 RBI) in the bottom of the frame, the last of which gave the home team a 1-0 lead.
Glen Rock starter Mike Silver, a senior left-hander who will pitch next year at The College of New Jersey, picked off a runner to limit the damage and then got his team even in the top of the second with a one-out single that plated Owen Litvany, who had led off with a double. Rutherford edged back in front in the bottom of the second on an RBI single by Alex Acosta, Glen Rock retied the game at 2 when Justin Destaso singled in Hayden Yuzon, who led off the top of the third by crushing a triple to deep centerfield,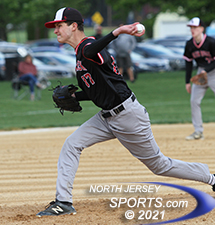 Glen Rock senior Mike Silver, who will play next year at TCNJ, pitched much better than his final line suggested.
The back-and-forth ended in the bottom of the third when Glen Rock's defense met the treachery of playing at Memorial Field, which is situated on the banks of the Passaic River. The wind is always swirling and its skin infield certainly takes some getting used to. The Panthers committed four errors in the frame which led to four unearned runs. Rutherford scored six times in total to take an 8-2 lead.
Chase had a two-run triple in that rally to back himself on the mound. The senior right-hander went the distance on a 6-hitter, he struck out 11, walked just one and retired 13 of the final 14 hitters he faced.
"I knew Glen Rock was a good team. I've played against Glen Rock before in my freshman year. They have been a rival of ours and I knew they were going to give us a battle. I had a good first inning and I thought I was rolling, but I made a few mistakes and they got even [at 2]," said Chase. "As a pitcher it always feels great to pick yourself up with a hit. As soon as I hit that ball over the centerfielder's head I knew that the game was broken open and more runs started pouring in. That was the catalyst."
Chase's bomb chased home Pat Cerulli and Ciani and Sam Kelly, Alex Gomez and Acosta also scored in the inning as Rutherford took control. The Bulldogs added an unearned run on a Danny Espinal single in the fourth and got a Ciani RBI single in the fifth to go up 10-2, but, to Glen Rock's credit, it avoided the mercy rule by stranding five runners on base through the final two innings.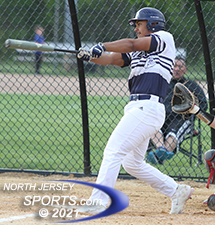 Alex Acosta had two hits, drove in 2 runs and scored another for Rutherford.
"You can't use the wind or the field conditions as an excuse," said Glen Rock head coach Matt McGrath, a Rutherford alum. "One bad inning in the field and they really put the pressure on us and we just could not get the bats going after that."
Rutherford was also solid defensively. Gomez, the starting catcher, cut down two runners trying to advance on balls that got to the backstop and third baseman Gabe Francisco made a heady play in the top of the second when the outcome was still in the balance. Fielding a groundball cleanly with a runner on second and no out, Francisco faked the throw to first and then threw behind the lead runner and eliminated the threat from scoring position.
Glen Rock fell to 6-5 with the loss and is still on the Bergen County Tournament radar. The top 24 teams as determined by the selection committee will play in the traditional county setup while up to eight more will be selected for the inaugural baseball version of the Bergen Invitational Tournament.
"We are hoping to get a seat at the table," said McGrath. "We would like to get into the county tournament but we would definitely play [in the BIT]. We would never turn down games, especially as the state tournament deadline is coming towards us. We'll see what happens, but hopefully we can sneak in the back door of the county tournament."
Teams' county tournament applications are evaluated on their first 12 games. Rutherford would have liked to have played its full complement, but had independent games against Bloomfield and Nutley washed out. They were unable to be rescheduled in time and Spina could not find any other opponents to fit in on open dates.
In the grand scheme of things, however…who really cares?
"With everything that has happened over the last year and the fact that we did not play at all last year, it is just so much fun to be out here with this group playing baseball games," said Spina. "I love the game, I love the guys we compete against and I just want to keep going."
FOR MORE PHOTOS FROM THIS EVENT PLEASE CLICK HERE. TO BUY A COLLECTOR'S PRINT OF THIS STORY PLEASE VISIT 4-FeetGrafix.com.