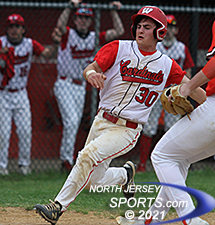 Freshman Mike Carcich coming home with Westwood's second run in the bottom of the fifth inning of Westwood's 2-0 win over Pascack Hills on Monday afternoon.
WASHINGTON TOWNSHIP – Baseball can be so complicated with everything from the signal being sent in from coaches touching their elbows, knees and toes, its situational hitting and fielding thought processes and its analytics that measure everything from spin ratios to exit velocity.
How about some obscure and confusing statistics? Anybody know what On Base + Slugging even really means?
Or, baseball can be so, so simple.
How about this…Throw friggin' strikes.
Westwood senior right-hander Cooper Pepenella was not snapping off 12-6 curveballs or firing 90 MPH fastballs with heavy arm-side run past over-matched hitters. What he did do was throw the ball within the confines of home plate's borders and between the knees and the word "Hills" on the jerseys worn by Pascack Hills' hitters and Pepenella did so consistently.
With a solid defense behind him, Pepenella (7 IP, 0 R, 0 ER, 5 H, 4 K, BB) coaxed Pascack Hills into putting the ball in play and the result was a tidy game of baseball played in less than two hours and ended with a 2-0 Westwood victory that upped the Cardinals' record to 7-1 on the season.
"I am not going to blow the ball by people. I don't throw as hard as some other kids around, so I just have to hit my spots," said Pepenella, who needed just 49 pitches to get through the first five innings and 90 for the complete game victory. "It's nice when you get in that groove of throwing strikes. Even if you give up a hit you just shake it off, focus on the next batter and throw another strike."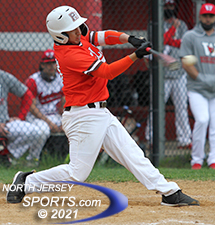 Joe Bucello had two of Pascack Hills' five hits.
Matched against Pascack Hills starter Kevin Scully (5 IP, 2 R, ER, 3 H, 9 K, 4 BB), who put together a quality outing of his own, Pepenella cruised through the first four frames, the last three of them nursing a one-run lead. Westwood went in front in the bottom of the first inning on a whirl around the bases by freshman leadoff hitter Robbie Carcich, who drew a walk, advanced on a couple of balls in the dirt and scored on an RBI groundout by Connor Roche.
"This is like a dream come true. I always wanted to come to Westwood and play as a freshman. I could have gone to [St.] Joe's or Bergen [Catholic] or another school like that, but I wanted to play with these kids," said Carcich, whose father is Wayne Hills baseball coach and newly-minted Westwood basketball coach Rob Carcich. "This is awesome. To be 7-1 right now, to beat Pascack Hills today, a great team and program, is a great feeling."
Westwood's other run, which came in the bottom of the fifth inning, was remarkably similar as another freshman starter named Carcich, first baseman and twin brother Michael, reached on an infield single and advanced on three separate wild pitches. With the way Pepenella was commanding the strike zone, the two-run cushion was almost an embarrassment of riches.
"We got a great pitching performance from Cooper. I think he only walked on guy. He was around the dish with multiple pitches and that is all you need to do. Velocity does not matter, you just have to throw strikes," said Nick Urbanovich, who is in his fourth season as Westwood's head coach and now has his first win over Pascack Hills. "You could call [Pepenella] our ace, but what we really have is a bunch of guys that throw strikes. That helps out and we play good defense. We have been averaging maybe one error a game. We don't strike a lot of people out, so we have to make plays and we do. That keeps us in baseball games."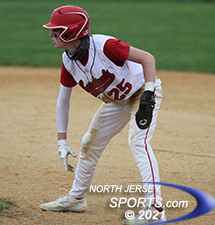 Freshman Robbie Carcich led off the bottom of the first inning with a walk and came around to score the game's first run for Westwood, which improved to 7-1 on the season.
It takes a deep study of the scorebook to find the times that Pepenella was in real trouble. He gave up a single to Pascack Hills' second batter of the game, Andrew Sullivan, but a caught stealing by catcher Joe Agar meant that Pepenella faced the minimum in the frame and he worked 1-2-3 innings in the second, third and fourth.
Scully lead off the top of the fifth with a single, but a base-running error by a courtesy runner led to a 1-3 double play on a pop fly in foul territory. Joe Bucello (2-for-3), the only Pascack Hills batter to have a multi-hit game, followed with a two-out single, but a flyball ended that mini-threat.
Pascack Hills put two runners on base in the same inning only once in the game and that came with two outs in the sixth when AJ Desautels (1-for-3) collected his team's only extra-base hit, a double down the leftfield line, and Sullivan (1-for-2) drew its lone walk. Westwood's defense stepped in to quell the rally as second baseman Erik Rank made a nice short-hop stab on Matt Myers' line drive up the middle and flipped to Roche for the force out at second base. Pepenella worked around a two-out single in the seventh to finish off his complete game gem.
Pascack Hills fell to 3-6 with the loss and finds itself in a unique spot. Then nicknamed the Cowboys, they won outright Group 2 state titles in 2019 and 2018, the same year it won a Bergen County championship, a public school rarity. With the pandemic wiping out 2020, Pascack Hills is the de facto defending league and state champion despite not having any of those players still in uniform. Even the mascot has changed as local journalists try to get used to using the new Broncos moniker.
"We are not getting the big hit when we need to and we have really found a way all year to kind of shoot ourselves in the foot on the base paths also. Whether it is getting picked off, doubled up, not advancing on balls, just stuff like that. Our youth and inexperience is really showing," said Broncos' head coach Kevin Kirkby. "Our pitching has been great. Scully threw the ball well today, and we really have had two bad innings really, one against St. Joe's and one against Ramsey, all year. Other than that, our pitching has been fine. We just have to find a way to hit the baseball and play 'D', but I still think that we are going to be a different team come the state tournament…assuming we can get ourselves into it."
Pascack Hills is going to squeeze an independent matchup in the schedule on Tuesday before the back end of the Westwood series on Wednesday in Montvale as it looks to close the gap on .500. After a 4-0 week last week and then a weekend win over Northern Highlands, Westwood is rolling toward a spot in the Bergen County Tournament as well as now being in control of the league title race.
"We are not talking to them about any of that. We are young. We only have four seniors total and we start two freshmen [the Carcich twins] and two sophomores [third baseman Colby Laughton and leftfielder TJ Ardese], and we have a solid junior class," said Urbanovich. "It's a good group to be around and we are just going one game at a time. Pascack Hills again on Wednesday, so our focus is on having a good practice tomorrow. We are not thinking much beyond that."
FOR MORE PHOTOS FROM THIS EVENT PLEASE CLICK HERE. TO BUY A COLLECTOR'S PRINT OF THIS STORY PLEASE VISIT 4-FeetGrafix.com.