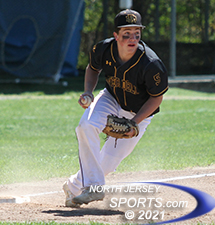 Aidan Cochran had a hit, drove in a run and scored another a four-run first inning for RIver Dell, which won on the road, 5-4, on Saturday in Old Tappan.
OLD TAPPAN – In two weeks of running around North Jersey watching public school baseball, the best analogy for what is going on can be found in those commercials for financial products that close with the disclaimer that "past performance is in no way indicative of future results." That best explains Saturday morning's matchup between Northern Valley/Old Tappan and visiting River Dell.
 
Rewind the season just about 18 hours and River Dell was on the losing end of a double digit decison against Ramapo, while on that same Friday afternoon Old Tappan was busy putting up 20 runs in a mercy rule victory over Paramus. None of that played any role in the outcome on Saturday.
River Dell put up a four-spot in its first turn at bat to quickly put any leftover sting behind it and then posted the kind of one-run win that can turn its season around…or more likely will play not part in its results going forward. Either way, the Golden Hawks won the day, 5-4, and picked up their second win of the season.
"I think it has been crazy for every team statewide. Just talking to a lot of other coaches, defense has been a little tough…it's been a long layoff. We didn't get a lot of practice time, it is hard to go inside to get work in because of the pandemic and it has been hard to get into a groove, to get into any kind of rhythm not just for us but for everyone," said Dennis Sasso, who is in his second season as River Dell's head coach, but his first with actual games to manage. "You trust that your kids are doing everything they can to prepare and that they are putting in the work, but I just think you don't know what you are going to get when the first pitch is thrown because of the layoff."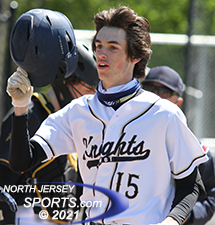 Old Tappan's James Keating after his two-run homer in the bottom of the first inning.
The first handful of pitches was pretty important on Saturday as River Dell built a rally with the No. 2-5 hitters in the opening inning. Matt Kelm and Christian Hay drew back-to-back one-out walks and Aidan Cochran drove in the game's first run with a single to left. Shortstop Jack Guerrero then smoked a two-run double to left-center that gave River Dell a three-run cushion. Guerrero scored the Hawks' fourth run on an error on a ground ball hit by Brendan Walker that extended the inning by one extra out.
"We just couldn't come out today and worry about the Ramapo loss or think about a strikeout or mistake from yesterday. It's baseball, it's a mental game and you have to put everything behind you and be ready for the next game," said Guerrero. "We've had a few hiccups the last couple of games, but today showed that if we can get a big hit or two and play well defensively that it will turn out positively for us."
River Dell (2-6) did play well defensively, committing just one error on a ball put in play in the game. Even still, the first inning looked like the precursor to a slugfest as the Knights answered River Dell's four runs with three of their own. Fable Ventura (2-for-2, R, 2 BB), Old Tappan's leadoff hitter, drew a walk and junior James Keating (1-for-4, HR, 2 RBI, R) then crushed a no-doubter, a two-run blast over the leftfield fence for his second home run of the season. Lou Mosca (1-for-2, 2 R, 2 SB, 2 BB) and Alex Krantzler each drew walks and a couple of stolen bases and a ball to the backstop later, Old Tappan had drawn to within 4-3
River Dell starter Brendan Walker then settled in to get two strikeouts and a comebacker to escape further damage and the offensive output then slowed considerably for both teams, especially when the bullpens got involved.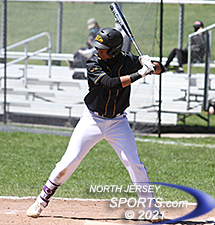 Jack Guerrero had a two-run double in the opening inning for River Dell, which picked up its second win of the season.
Old Tappan got even on a sacrifice fly by Rob Cheneski in the bottom of the third, River Dell nosed back in front 5-4 on Christian Hay's sac fly in the top of the fourth and that was it. Old Tappan reliever Kyle Lee allowed just one hit and one walk in 3 2/3 innings of scoreless relief only to be slightly outdone by River Dell's Ryan Wittkamp, who did not allow a hit in getting 10 outs out of the RD bullpen.
An error and a walk put Wittkamp (3 1/3 IP, 0 R, 0 ER, 0 H, 5 K, 3 BB) in a tight spot in the fifth but he stranded two in scoring position by getting a called strike three for the final out. He got two called strike threes in the sixth and then worked around a leadoff walk in the seventh, ending the game with the last of his five strikeouts.
"I was prepared from the get-go. We have been having a rough go of it the last couple of games, but I trust all of my teammates and I knew we were going to get the job done. We came here, we did the work and we got the 'W'," said Wittkamp, a right-hander who picked up the win in relief. "It's been a crazy season already. It all started with COVID. We almost got shutdown before we even got going. Luckily we were able to stay on the field and now we are playing four games a week. We are happy to be out here every time and we are just figuring it out as we go."
Old Tappan (2-5) left eight runners on base in the game, six of them in scoring position and had two runners thrown out on the base paths, one of them trying to steal third with two outs and the No. 3 hitter at the plate. The Knights have had a tough schedule early with season-opening series against Pascack Valley and Ridgewood and an independent matchup against Bergen Catholic, but it can get late early in a high school baseball season.
"We were two evenly matched teams here today, honestly. We had a lot of runners in scoring position, their guys executed when they had to and we had a lot of guys strike out without swinging with runners on base. Give them credit, they battled. Our guys struggled to get the clutch hit," said Old Tappan head coach Tim Byron. "We are putting ourselves in a bad position for the county [tournament], but hopefully we can put a couple of good games together and qualify. If we pitch a little bit we can be half-decent but we have to get there before it is too late."
FOR MORE PHOTOS FROM THIS EVENT PLEASE CLICK HERE. TO BUY A COLLECTOR'S PRINT OF THIS STORY PLEASE VISIT 4-FeetGrafix.com.