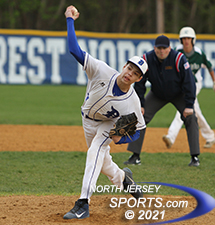 NV/Demarest's Andrew Argenziano, shown here making his first varsity start as a freshman in 2019, is now a hard-throwing junior who has committed to Columbia University.
DEMAREST -- The cancelling of the 2020 spring sports season drove home the seriousness of the pandemic that gripped New Jersey and the world. The return of spring sports a couple of weeks ago is a hopeful sign that the worst is in the rearview mirror. This being a local high school sports website, the way for us to gauge just how much things have changed in 13 months is through high school athletes.
Back in 2019, in a time where the only people wearing masks at athletic events were catchers and home plate umpires, Andrew Argenziano was the rare freshman to get a chance to be a varsity baseball contributor. He was the closer for a good Northern Valley/Demarest team that qualified for the Bergen County and state tournaments. His first chance to start a game came against Ramapo, which had multiple future Division 1 players in its lineup and 21 seniors on its roster.
"When I was a freshman, I just remember being scared when I took that start against Ramapo. I just thought that KC Hunt [now playing for nationally ranked Mississippi State] or [John] Whooley (Villanova) was going to hit a bomb off of me," said Argenziano. "Or maybe both of them would."
As high school baseball made its triumphant return a little less than two weeks ago, Argenziano is no longer a 5-11, 160-pound freshman. In 2021 he is a hard throwing junior right-hander that stands 6-foot-5 and is a Division 1 recruit himself. Argenziano has committed to Columbia and was the Ivy League University's first commit for the Class of 2022. Having drawn the interest of ACC, SEC and Patriot League schools Andrew instead chose to play baseball in New York City just like his brother Joe, who is a sophomore pitcher at NYU.
"I talked to the Columbia coaches all last summer. I really like them. They are great guys and Columbia is a great school and a great baseball program," said Andrew. "I love the City, it just felt like the right fit for me it was a kind of easy decision. That is where I want to be."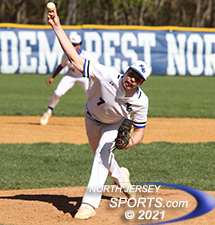 Argenziano struck out 11 in four innings last week against Teaneck.
Before he steps onto the campus in Morningside Heights in the fall of 2022, however, Argenziano still has plenty of high school baseball in front of him and he is off to a good start this season. He has thrown 7 2/3 innings in his two starts so far and has struck out 17. In his last start against a quality Teaneck lineup, he record 12 outs, 11 of them via the strikeout before exiting with a high pitch count.
He throws a curveball and has a change-up, but the fastball is Argenziano's bread and butter and he throws it often.
"His growth to this point has been tremendous and he is only going to get more efficient. Once he gets locked in, once he is able to get that pitch count down and get that breaking ball over all the time, he is going to be an even tougher matchup," said Demarest head coach Marc Houser. "He works so hard, he enjoys learning and one of the things we are trying to teach him is to pitch to contact. His stuff is good enough to get outs on weak swings. He will get there not only physically, but also emotionally. He loves the game and he works really hard at it."
As Demarest's clean-up hitter, Argenziano has two home runs on the season including a two-run shot in a 7-4 win over Dumont on Thursday that upped the Norsemen's record to 5-2 in the season heading into an independent matchup against Ramapo on Saturday. He will likely be on the mound next on Monday as Demarest opens a home-and-home series against Bergenfield inside the Big North Conference National Division.
"I just want to get out there and compete. That is the biggest difference from when I was a freshman to now. I feel like I can be one of the best players on the field and I want to help my team win," said Argenziano. "We have a good team here and I want to do everything I can, hitting or on the mound, to help us compete for a league title and make the counties and states."
FOR MORE PHOTOS FROM THIS EVENT PLEASE CLICK HERE. TO BUY A COLLECTOR'S PRINT OF THIS STORY PLEASE VISIT 4-FeetGrafix.com.