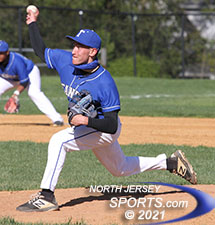 Dylan Morrill gave Teaneck the length it needed from its starting pitcher as he went six innings and picked up the win in an 8-7 victory on the road at NVDemarest.
TEANECK – Teaneck's infield is quite established. Aries Samek is one of New Jersey's best players, a senior shortstop and leadoff hitter headed for Clemson University. The right side of diamond includes first baseman Daniel Scott and smooth-fielding second baseman Luis Ramirez, who will both play at Bloomfield College in 2022.
The other spot is occupied by a less-known commodity, sophomore third baseman Gabe Castro, who was still looking for his first varsity hit heading into his fifth-inning at bat with the bases loaded on the road at unbeaten Northern Valley/Demarest on Monday afternoon.
"I came up there with the bases loaded and I already knew I was going to get a hit. When I was on deck I was confident and I couldn't wait to get up there and get a chance," said Castro. "I got to 3-2 and he gave me a fastball and I just tried to drive it to right field."
As it turned out, right-centerfield was the destination of the line drive off of Castro's bat and his first ever varsity hit was a two-out, three-run double that cleared the bases. Castro came around to score on Dylan Morrill's RBI single that wiped out the last of Demarest's five run lead.
Teaneck went ahead with a three-run sixth then held on for an 8-7 victory on the road on Monday afternoon. The Highwaymen improved to 2-1 on the season, while Demarest fell to 4-1 in what promises to be a season-long battle in the Big North National Division, which is well-stocked with quality public school programs.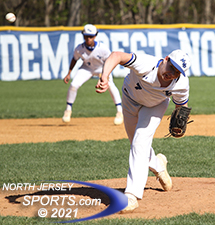 Demarest junior Andrew Argenziano struck out 11 in just four innings.
Teaneck scored all 8 of its runs after the fourth inning and that was after it forced Demarest starter Andrew Argenziano off the mound do to a rising pitch count. Argenziano, the hard-throwing junior right-hander, recorded 12 outs and 11 of them came via the strikeout. He did not allow a hit and struck out the side in each of the first, second and third innings, but the Highwaymen combatted all of those Ks by running deep counts and they took advantage of some mistakes to run the pitch total up to 47 after just two turns at the plate.
Teaneck loaded the bases in the top of the second on an error, a hit-by-pitch and a walk, but Argenziano (4 IP, 0 R, 0 ER, 0 H, 11 K, 4 BB, HBP, 91 pitches) fanned the next two hitters. He also left two stranded two in the third before Demarest got its bats going in the bottom of the frame against Morrill (6 IP. 5 R, 4 ER, 4 H, 5 K, 3 BB, 108 pitches), Teaneck's right-handed starter who had faced the minimum over the first two frames.
Jacque Hervieu (0-for-2, R, RBI) got the rally started by drawing a two-out walk out of the No. 9 hole. Chris Short (1-for-3, 2 R) drew a walk and Maxwell Solomon beat out an infield single to load the bases for Jesse Greenberg, who stroked a three-run triple to deep centerfield. Greenberg then scored on a wild pitch to get give Demarest a 4-0 lead that expanded to 5-0 on Hervieu's RBI groundout in the bottom of the fourth.
Argenziano struck out the last two hitters he faced in the top of the fourth before Teaneck's bats got to work in the fifth. Samek reached on an error, which opened the door to the five-run rally and Ramirez, Scott and Tyler McDonell all drew walks ahead of Castro's (2-for-2, 4 RBI, R) game-changing triple. Ramirez (1-for-3, RBI, 2 R), Scott (1-for-3, RBI, 2 R) and Castro each added RBIs in the top of the sixth as Teaneck opened an 8-5 lead.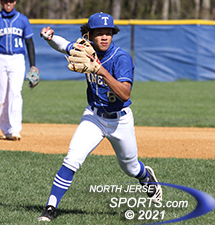 Second baseman Luis Ramairez is part of Teaneck's talented infield. He also hit a double, stole a base, drove in a run and scored twice.
"We adjusted and we got [Argenziano's] pitch count up. We ran a lot of 3-2 counts, but he made all of the big pitches that he needed to and got the strikeouts that he needed," said Teaneck head coach Ed Klimek. "You always want to get to the other team's bullpen and today that is what worked for us."
Morrill made it through six innings before Demarest got a shot at Teaneck's bullpen in the bottom of the seventh. Short and Greenberg each singled and each came around to score; Short on an error and Greenberg on Drew Hefter's two-out single. Scott was able to notch the game's final out and the save with a groundball as the Highwaymen won the series opener before it switches to Teaneck's home field on Wednesday.
The loss was a tough one for Demarest, but four wins in five games is a good start for a team that had only one player, Argenziano as a freshman in 2019, with even one inning of varsity baseball experience.
"I guess I would have [signed on for a 4-1 start]. This was a tough one, but as a high school coach in a tough league in the Big North and in Bergen County, yes it is a good start," said Demarest head coach Marc Houser. "We have a young team and prior to this season I was not really sure where we were at. We are putting up a lot of runs in the games we have played so far and we are coming through in some clutch at bats, which is a good sign for us."
After a light schedule in the first week, Teaneck is about to ramp things up. Four games this week and five scheduled for next are going test the Highwaymen for sure.
"We have some quality players and I think we are going to be in it until the end. I feel like we can win the league this year, but talk to me at the end of next week and we will see where we are at," said Klimek, who is in his 29th season as Teaneck's head coach. "This has been my only job ever. Twenty nine years and I still love being around these kids. These guys love baseball. When I don't have practice they are at the field for three hours. We've been at this a long time, we are always competitive and hopefully this year we can get over the hump."
FOR MORE PHOTOS FROM THIS EVENT PLEASE CLICK HERE. TO BUY A COLLECTOR'S PRINT OF THIS STORY PLEASE VISIT 4-FeetGrafix.com.