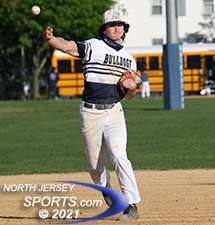 Cal Chase stroked a two-run double during Rutheford's 10-run third inning in a 14-4 win over Hawthorne on Monday.
RUTHERFORD – Playing mistake-free in the field is the goal of every high school baseball team, but the reality is that nearly every team in every game is going to commit an error or two along the way. What separates the average teams from teams with championship aspirations is how they respond to those miscues. If Monday was any indication, Rutherford will be a team to watch for the remainder of the season.
After booting three balls in the top of the third inning to squander a lead to Hawthorne, the Bulldogs wasted no time in getting it back. They responded quickly and emphatically by having one patient at-bat after another. By the next time Hawthorne recorded an out Rutherford had regained the lead and kept its foot on the gas.
Four different players had hits in the bottom half of the third that scored two runs. Dom Cianci's two-run single tied the game and Cal Chase followed with a two-run double to put Rutherford ahead to stay amid a 10-run inning en route to a 14-4, six-inning win over Hawthorne at Memorial Field in Rutherford.
"We just had to do our thing and let our hands flow through the zone," said Chase. "I thought we hit well today but we have to cut down on the errors we made today. When we face teams in the county and state tournament in a close game, those errors could cost us the game. But we had confidence the whole way and we always feel like we can hit."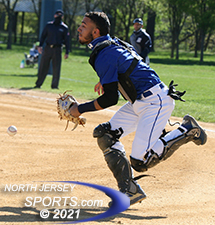 Chris Sanchez had a pair of hits and scored twice for Hawthorne.
Hawthorne got on the scoreboard first when courtesy runner Ashton Navarrete alertly never stopped running on a dropped throw at first base and scored to put the Bears up. Rutherford answered with runs in each of the next two innings before a trio of blips in the field allowed the Bears to retake the lead, 4-2, in the top of the third inning. It was gut check time for the Bulldogs and a different approach at the plate allowed them to find their groove.
After a single, a walk, and a hit batsman to open the inning Cianci stepped to the plate and delivered a single through the left side to tie the game at 4. Chase, who started the season 8 for 9 coming into this game, roped a double to plate two more runs and give the Bulldogs a 6-4 lead still with nobody out. Gabe Francisco and Pat Cerulli also hits that scored two runs apiece as the Bulldogs put up a 10-spot to take full control of the game.
"Their pitcher was throwing a lot of strikes so we just wanted to keep our hands back, take the ball to the opposite field, and hand the bat to the next guy in the lineup," said Cianci. "The most important part of giving away the lead was that we didn't give up and we battled back immediately. We just try to win the next game and see how far it takes us."
Francisco did a little bit of everything for Rutherford (3-0). He scored three runs, had a pair of hits, and pitched three scoreless innings in relief. Cianci, Chase, and starting pitcher PJ Airey each notched a pair of hits.
Chris Sanchez led the way for Hawthorne (0-2-1) going 2-for-3 with two runs scored. Jayden Shwed and Jayson Brudzynski drove in runs for the Bears.
During a stretch where they will play six games in seven days the Bulldogs know that they cannot have any lapses or take anyone lightly if they want a shot at an NJIC-Colonial Division title and a potential high seed in both county and state tournaments.
"It wasn't pretty and the conditions down here are always brutal, but we did what we had to do today," said Rutherford head coach Carmen Spina. "We're a young team but we also have great senior leadership. PJ did a great job in eating up some innings and we just have to make the routine plays behind him. We have our top two pitchers ready to go for Lodi (today) and we'll keep grinding away. This is a game we'll learn from and we'll get better from this."
FOR MORE PHOTOS FROM THIS EVENT PLEASE CLICK HERE. TO BUY A COLLECTOR'S PRINT OF THIS STORY PLEASE VISIT 4-FeetGrafix.com.