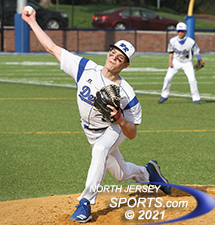 Junior Drew Packen, making his first ever varsity start, threw 5 innings and struck out 11 for Wood-Ridge, which improved to 2-0 with an 10-1 win over Cresskil on Tuesday.
WOOD-RIDGE – Because there was no continuity between the last high school baseball season in 2019 and this one, because this year's senior leaders were sophomores that might not even have played a competitive varsity inning prior to this week and because there were so many uncertainties associated with the return of the spring sports after a one year hiatus, preseason previews and prognostications were about as useful as a bicycle to a fish.
The only way to know if a team is actually going to be good in 2021 is to throw some pitches, swing some bats and compile some results. Judging by the tiny sample of the season's first 48 hours, Wood-Ridge is going to be pretty good and then some in the NJIC and the Group 1 hierarchy.
With Tuesday's 10-1 victory over Cressskill combined with a season opening rout of Ridgefield, Wood-Ridge is now 2-0 with a run differential of 25-2 and has showed off its deep pitching staff and circular lineup in the process.
Right-hander Trey Packen threw five dominant innings against Cresskill. He allowed just two hits, walked just one and 11 of the 15 outs he recorded came via the strikeout. With a three-pitch arsenal that includes a fastball, curveball and slider, Packen, a junior who spent his freshman season at Bergen Catholic, threw just 70 pitches and walked off with plenty of gas left in the tank.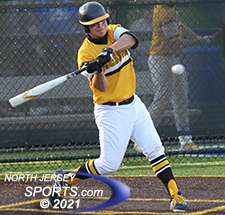 Matt Naccarella had one of Cresskill's three hits and scored the Cougars' run.
"It's good to be back out here for the high school season. To be out here with my friends and being able to contribute to the win feels nice." said Packen, who made his first-ever start for the Blue Devils. "I feel like my slider and curveball were big factors today. The off-speed pitches really helped."
Packen worked around an error and a walk in the top of the first inning by striking out the side and then got involved in the rally that put the Blue Devils in control in the bottom of the inning. Junior Mike Sarlo (1-for-2, RBI), the rare catcher who bats leadoff, reached on an error and Packen (1-for-4, R) followed with a single that put runners on the corners. An errant pickoff throw allowed Nick Pfeiffer, the courtesy runner for Sarlo, to score the game's first run. Nick Rizos (1-for-3, 2 RBI, 2R, HBP) was hit by a pitch and Nick Marchitelli got down a bunt that turned into an infield single to load the bases before Phil Giancaspro stroked a clean two-run single to stake Wood-Ridge to a 3-0 lead that only grew from there.
The Devils added three unearned runs in the third. Rizos reached on a one-out error to get that that rally rolling. Marchitelli (2-for-3, RBI) and Leo Giancaspro (3-for-4, RBI) had RBI singles and DH Mark Prioleau scored on another pickoff throw error against Cresskill starter Kiel McGee, who pitched better than his final line. McGee battled through 4 1/3 innings and the Cougars, playing their season opener against a quality team on the road on a turf field, did well to extend the game the full seven innings.
"We made five or six errors, we threw the ball around and they scored three runs in the first inning on just a couple of hits. That was the game. Trey [Packen] pitched well, he had a whole bunch of strikeouts and he kept us off balance," said Cresskill head coach Donnie Merritts. "We have to clean things up for sure, but I have a bunch of kids that did not play as sophomores that are now seniors. They missed two years and it showed out there today in our first game. We will get better. We have Hawthorne [on Wednesday] and North Arlington on Thursday for our home opener. Looking forward to those games and I probably speak for everybody when I say that we are happy to be out here playing high school baseball."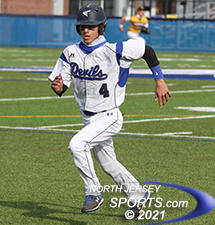 Phil Giancaspro had three hits, an RBI and scored a run for Wood-Ridge..
Cresskill (0-1) got its run in the top of the fifth when Matt Naccarella hit a leadoff single back through the box and Jon DiTore hit a two-out, ground-rule double which hopped over the right field fence to make it 6-1, an important run because Wood-Ridge put up a 4-spot in the bottom of the inning that would have invoked the mercy rule. Rizos had a two-run single, Sarlo drove in a run with a single and Nino Iacovino pushed home a run by drawing a bases loaded walk.
Cresskill's Tyler Lam and Ronald Presta, two freshmen, soaked up the final 1 2/3 innings in relief as they got their first tasted of varsity baseball, while Wood-Ridge's bullpen threw two dominant frames. Rizos (1 2/3 IP, 0 R, 0 H, 3 K, 0 BB) struck out three of the five hitters he faced and sophomore Devin Arce struck out the final hitter of the game to end it.
"I consider Cresskill to be a good team and a solid program, so this is a good win. They might have been a little shaky defensively because this was their first game, but we still had to take advantage. To come out and put up three runs in the first inning I think set the tone," said Wood-Ridge head coach Michael Carcich. "I do think that this is one of the best defensive teams that we have had. We are fast in a lot of spots, we can get to balls and we are strong up the middle. Defensively we are a pretty good team and if we can stay consistent with our pitching and defense we are going to stay in a lot of games."
FOR MORE PHOTOS FROM THIS EVENT PLEASE CLICK HERE. TO BUY A COLLECTOR'S PRINT OF THIS STORY PLEASE VISIT 4-FeetGrafix.com.