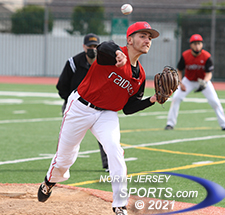 Senior Andy Ramos allowed just one hit over 6 innings for Cliffside Park, which opened its season with a 9-3 win over Ridgefield Park on Opening Day.
CLIFFSIDE PARK – Danny Roman and Andy Ramos, now senior leaders on Cliffside Park's baseball team, were freshmen when they made their varsity debuts. They were overmatched at times, okay, many times, but under the guidance of then head coach Ben Luderer, it was just the start of what was supposed to be a long-lasting relationship that was going to carry through four years of high school baseball and then well beyond.
It was impossible to predict back then just how the road would turn.
"It's so different. Ben was our coach since we were freshmen when we were starting on varsity as freshmen. We are seniors now and it [stinks] that we don't have Ben as our coach anymore," said Roman. "Not only was he my high school coach, he was my club coach. I played for him in the summers too and it is sad that he is not here to see us performing. He would love this because I think we are going to be pretty good this year.
Ben Luderer was a young man, strong physically and just entering the prime of his life. Happily married, gainfully employed and making a difference in the lives of the young athletes he coached, Luderer was a full-fledged community asset.
Then, he was lost to COVID-19 in the earliest stages of the pandemic and his death was one of the first signs that the virus meant business as it wiped out the 2020 spring sports season and so much else all across the globe.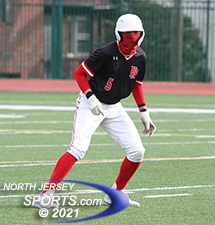 Sammy Aguilar scored in the first inning to put Ridgefield Park in front.
Steve Jano has stepped into the unfillable shoes as the head baseball coach and is balancing the remembrance of his departed friend with the now, the urgency that comes with the busy schedule of high school baseball, which made its triumphant return from lockdown with Monday's Opening Day.
"It was a lot of emotions out here today. Weird was the main word, especially being down third base and seeing his jersey there [hanging on the fence]. I enjoyed listening to him coach and interacting with the kids. It is what he was good at. He just knew how to deal with people, people of all different attitudes and temperaments. He always turned a negative into a positive. He was one of the most positive people I have ever met," said Jano. "I am almost five years older than him, but he was like a big brother to me. I miss him more and more every day, the kids miss him and it is great that we will keep celebrating his life all season."
There was a pregame ceremony, a first pitch thrown by Luderer's widow and then Ramos took the mound with his heart pumping out adrenalin that had been stored up for the past two years. Not surprisingly he hit the first batter with the first pitch of the game, walked the next two and committed a balk that allowed the second of Ridgefield Park's two first inning runs to score.
"Today, I couldn't focus in school all day. We did not get to play junior year and I just couldn't wait to get out here and compete," said Ramos. "The first inning, obviously, did not go as I had planned."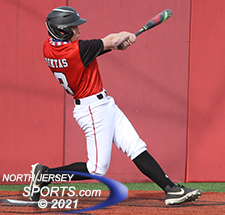 Pete Diktas had 2 hits, scored 3 runs and stole 2 bases for Cliffside Park, which will play Ridgefield Park again on Tuesday.
But the rest of the day did. Ramos calmed down, settled in and dominated from there. He allowed just an unearned run in his six innings of work and retired 10 of the final 11 hitters he faced. Ramos struck out nine and walked two on 85 total pitches before turning the ball over to Roman (1 IP, 0 R, 0 H, 2K, BB), who struck out the final two batters of the game in a scoreless seventh inning to secure Cliffside Park's 9-3 victory.
Sammy Aguilar and Sean Guzman scored the first inning runs for Ridgefield Park (0-1), but Cliffside answered in the bottom of the opening frame with back-to-back run-scoring doubles by Richard Joa (3-for-4, 3 RBI, 2R) and Ramos, who was a perfect 3-for-3 with 2 RBI, a run scored and a stolen base.  
Alex Vasquez, who reached on an error leading off the top of the third, scored on a Jol Freddy DeLaCruz sacrifice fly to give the Scarlets a 3-2 lead, but they were not able to touch Ramos the rest of the way and the Red Raiders responded by sending 10 hitters to the plate and scoring four times in the bottom of the third. Randy Ramos cracked a two-run single, Antonio Rinaldi (3-for-4, RBI, SB), who had three hits out of the No. 9 spot in the order, drove in a run with a single to right and Roman drew a walk with the bases loaded to make it a 6-3 game.
Cliffside Park (1-0) added two runs in the fourth, another in the fifth and had four different players put up multi-hit games. Guzman had the lone hit for Ridgefield Park, which has six sophomores and a freshman in a starting lineup that should improve as the season goes forward. The next chance comes on Tuesday as the same two teams meet for the second game of the home-and-home series in Ridgefield Park.
The Bergen County Baseball Tournament is back for 2021, the state playoffs will happen and Cliffside Park has both of those tournaments in its sights, but is not getting ahead of itself.
"To talk about the present you have to go back a couple of years. Our group right now, our main guys, we are seniors now. We have been building this up not only since freshman year but since middle school we have been playing together. It feels great to get the chance to come out and compete for Coach Ben and compete with a group of guys that have been together for the last few years" said Ramos. "We all want to go to states, to counties, but we just have to take it one game at a time. If we get ahead of ourselves then we might go into tomorrow thinking it is going to be an easy game. We are not going to do that. We are going to go into every game hard every time."
FOR MORE PHOTOS FROM THIS EVENT PLEASE CLICK HERE. TO BUY A COLLECTOR'S PRINT OF THIS STORY PLEASE VISIT 4-FeetGrafix.com.